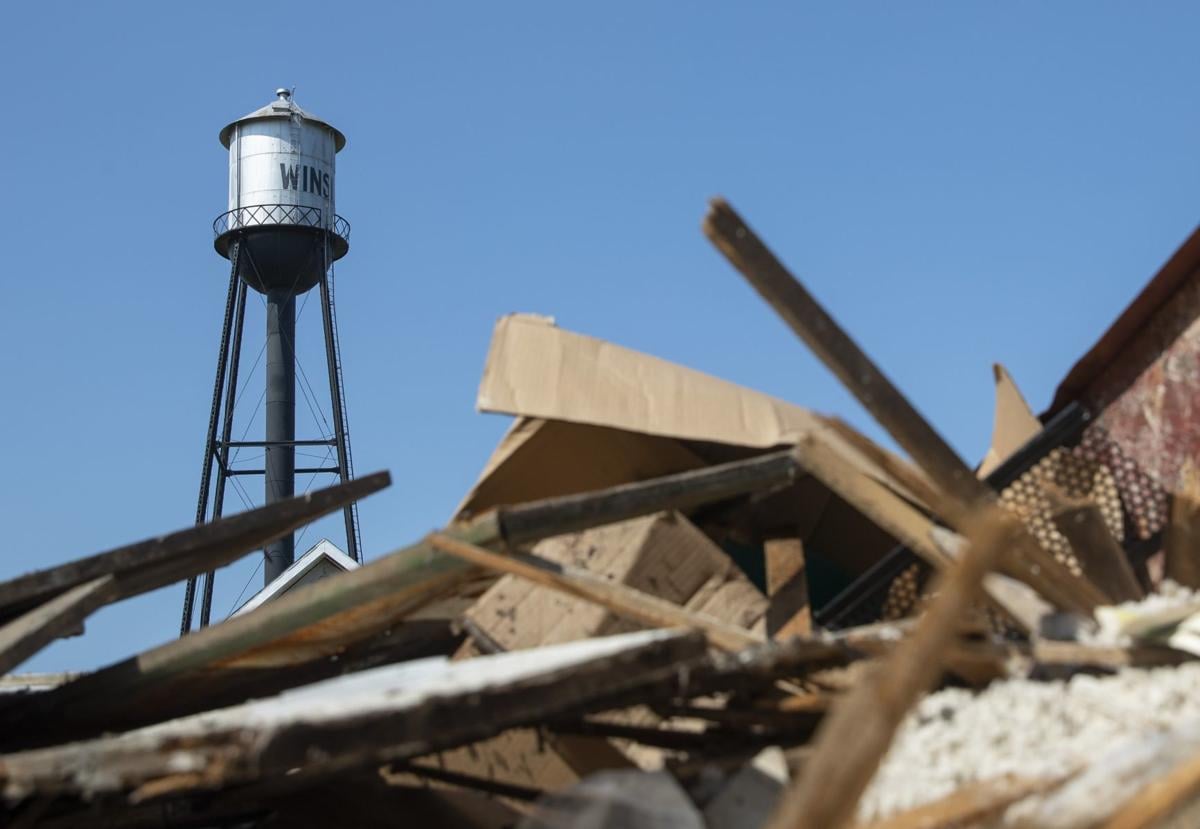 Half the households in flood-battered Winslow are willing to pack up and move to higher ground to avoid the risk and heartache of future flooding. 
The leaders of the tiny village in Dodge County — population 100 — think relocating the entire town after it was heavily damaged by Elkhorn River flooding in March is the only way to ensure Winslow's survival. 
But a group of state and federal officials who met in Winslow Thursday night said plenty of hurdles stand in the village's way.
Those obstacles include state law, the likely millions of dollars needed to put in new streets and utilities in Winslow 2.0 and its dwindling population. 
"We all want what's best for Winslow, I want to make that abundantly clear," said Molly Bargmann, a recovery supervisor for the Nebraska Emergency Management Agency. "We want to get to yes, but there's a lot of no's right now."
Even in the best-case scenario, she said, it's unlikely that any houses would be able to move to a new site this year, another delay for flood-weary residents who just want life to return to normal. 
Ed Nelson, who's lived in Winslow for more than a decade, is skeptical that relocation will ever happen. 
"We ain't going nowhere," he said after the meeting, shaking his head.
Only about 10 families are currently living in Winslow, according to Nelson. The rest have moved — permanently or temporarily — to nearby towns like Hooper, Scribner and Fremont, while they fix up their houses or wait to see if relocation pans out.
Winslow, a roughly four block-by-four block gravel-road town of modest homes surrounded by farmfields, is 12 miles north of Fremont and about an hour's drive from downtown Omaha. 
Nearly every structure in town — all 48 buildings — took on water when the Elkhorn, which flows about a half-mile from town, spilled over a levee meant to protect Winslow.
Many of the houses were damaged badly enough that if residents were to rebuild, building regulations would require them to raise homes by a foot or more to reduce the risk of future flooding.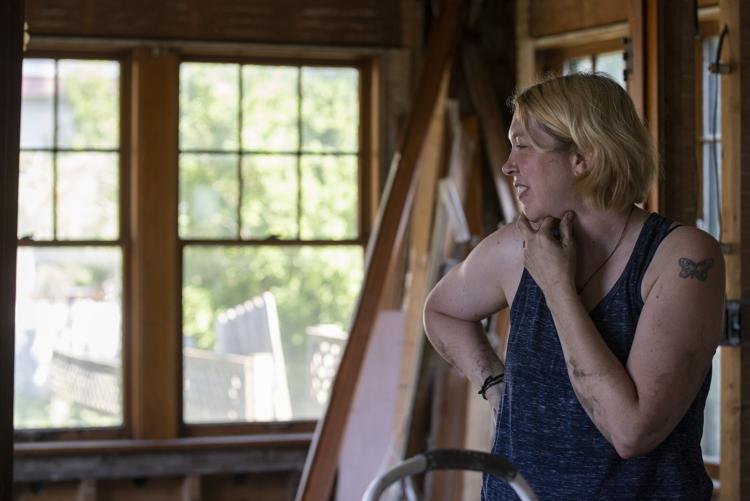 Elevating homes and buildings is expensive and unpopular, so Volunteer Fire Chief and Village Trustee Zachary Klein proposed uprooting and moving the town — including any houses that are structurally sound — to a new location out of the floodplain. Other towns have done it, including Niobrara, Nebraska and Valmeyer, Illinois.  
Not everyone is on board. About five families want to stay put in Winslow. Others have already moved on and prefer a federal buyout of their flood-prone property. But 27 households have indicated their willingness to relocate.
One site on a hill nearby fell through, but the village is currently eyeing a 72-acre farmland plot three miles away, across from Logan View Junior-Senior High School. It sits 80 to 90 feet higher than Winslow, and local donors have offered to pick up roughly $630,000 of the $900,000 price tag. 
"If we fail, we fail. If we have to go buy a house in another town, we go buy a house in another town," Klein said Thursday night. "I'm not done fighting." 
But a new town would require new infrastructure — roads, water pipes, sewer lines and other utilities.
Klein is researching state, federal and local recovery funds and grants to help fund that — including what could amount to about $560,000 in aid from the Federal Emergency Management Agency — but Winslow is not flush with cash.
The village is already carrying a big tax and debt burden, including bonds on the levee that failed in March and $200,000 in disaster expenses it hopes will be reimbursed by FEMA. 
The tax base is small. Pre-flood, the assessed value of all the property in the town was about $2.7 million, and the village had an annual operating budget of just $17,000 or so.
Last year, Winslow had the highest property tax rate in Dodge County, at about $3.82 per $100 assessed value. For comparison, the rate in the much-larger city of Fremont was $2.08.
"I don't know how you get past the financial side," said Lynn Rex, executive director of the League of Nebraska Municipalities. "That's the dilemma ... what you really need is finances."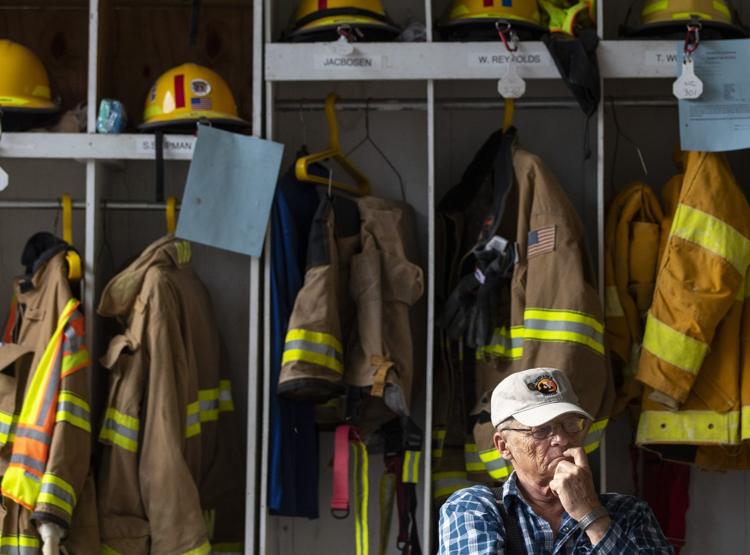 And then there's the legal question — can Winslow even start over and relocate under current state law?
Rex and Pat Sullivan, a real-estate and municipal lawyer, said Nebraska law wouldn't allow Winslow to just pick up and move. State law requires new municipalities to have a population of at least 100 — that would be a stretch for new Winslow. 
Residents could vote to dissolve the village — not unheard of in Nebraska — and try to create a new sanitary improvement district. But sanitary and improvement districts (SIDs) are usually led by developers who use the governmental entity to issue debt and levy taxes to pay off the costs of installing roads and utilities.
While Winslow 2.0 would ideally include extra lots for sale — there's a housing shortage in Dodge County — several officials Thursday said it would be difficult to find a developer or bond underwriter willing to take on that risk given the relatively small number of people who want to relocate. And as an SID, not an official village, Winslow might become ineligible for state and federal disaster recovery funds. 
"The statute has not caught up in this respect," Klein said. "It needs to. This isn't the only community that's smack-dab in the middle of a floodplain. If we cannot come up with a plan that's going to help move Winslow, what are you going to do for the next town?" 
The office of State Sen. Lynne Walz of Fremont, who represents Dodge County and Winslow, is working on a bill that would amend current law to allow a smaller city or village to relocate after a catastrophic flood. 
Settling the legality of relocation would put the village in a much better position to secure funding, Klein said. But it will still take precious time for the bill to wind its way through the Nebraska Legislature. 
"I can't keep people waiting forever on the possibility of relocation," he said. 
Meanwhile, some people in Winslow are still displaced, and the spring flood season is just months away. 
"By the time you get a bill introduced and passed, this whole year's just going to be shot," Nelson said. "The only thing I hope is it doesn't flood this year like it did last year."
Sign up for World-Herald news alerts
Be the first to know when news happens. Get the latest breaking headlines sent straight to your inbox.
Be the first to know
Get local news delivered to your inbox!