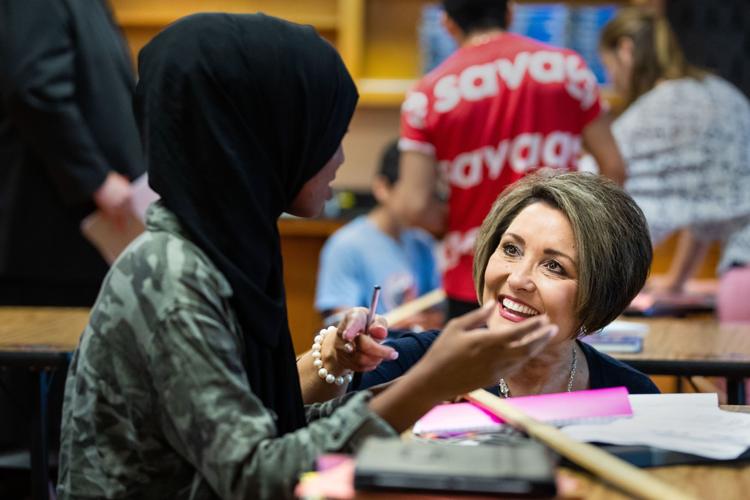 Students in John Sayer's class had barely begun their chemistry exam when the classroom door swung open.
In walked Kathy Kennedy, a North Carolina education consultant, trailed by a half-dozen adults.
The kids knew something was up as Kennedy walked slowly and quietly among the desks, bending over and whispering to several of them.
Stephen Grammer, principal at Schuyler Central High School, watched her closely. He had little choice but to pay attention.
Kennedy was there on a mission.
The Nebraska Department of Education is paying her $4,000 a day to make his school better.
This scene is familiar in some of the state's struggling schools. Over the past 12 years, Kennedy and her associates at KLK Consulting of Fayetteville, North Carolina, have received contracts worth more than $2.3 million to help improve dozens of schools in Nebraska.
Since 2007, the Omaha Public Schools awarded the firm contracts for nearly $1.4 million.
The state, since February 2016, has awarded contracts worth $965,000, primarily for intervention in Schuyler and three other low-scoring schools that state officials identified as "priority schools."
Perhaps more than any other person, outside of government officials, the North Carolina consultant has put her fingerprints on school improvement in Nebraska.
Test scores, released last month, are a promising sign for the state's intervention strategy. Scores went up at Loup County Elementary School in Taylor and Druid Hill Elementary School in Omaha, two of the four priority schools where Kennedy's firm has provided coaching and training — though Druid Hill students still score near the bottom of the state.
At the two other priority schools, Schuyler and Santee Middle School in Niobrara, data is inconclusive, or it's unavailable because the intervention just started this school year or the schools are small and the data is masked to prevent identifying individual students.
State and OPS officials say her work is effective. Critics, including State Sen. Lou Ann Linehan, say the state should explore cheaper alternatives, for instance learning from Nebraska's own standout schools.
Both sides are interested in seeing Nebraska build up its own expertise and capacity to intervene and train local teachers and administrators on a bigger scale and at a lower cost. That's something state officials say they intend to do but are not prepared to roll out yet.
The state's accountability system, built by members of the Nebraska State Board of Education over the past few years, is a kinder, gentler system of intervening in low-performing schools.
Rather than the drastic measures prescribed under No Child Left Behind, such as removing principals and teachers in chronically low-performing schools, the state's approach is one of diagnosing the problems impeding achievement, drawing up a plan and helping to get the school back on track.
If schools don't improve after three years of state intervention, state law empowers the state board to either draw up a new plan or decide "if an alternative administrative structure is warranted," though it's not clear in the law what that structure would look like.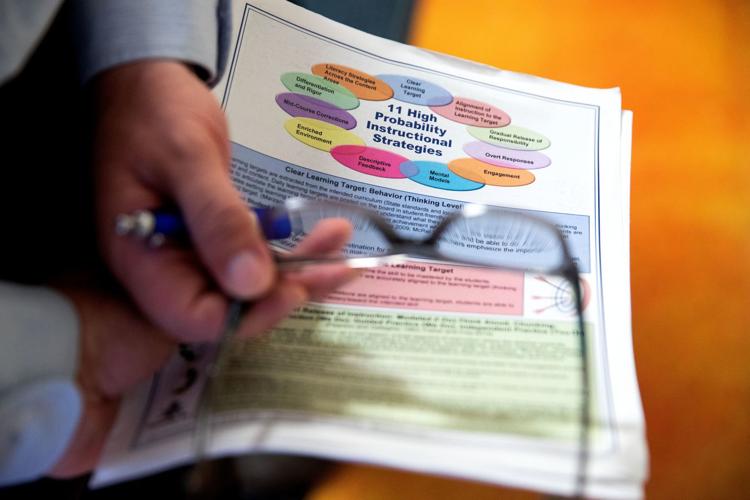 Kennedy, in an interview with The World-Herald, said she is an expert in what educators call pedagogy — the art and science of instruction — and can lead teachers to a deeper understanding of what they do.
Instruction is the No. 1 predictor of increasing student achievement, she said.
When coaching teachers, she's light on judgment, heavy on support, she said.
"I think the promoting-the-positive style, that focuses on teachers' talents versus fixing their lesson, is what I'm best known for," she said.
Kennedy said her coaching is supported by 35 years as an educator. She's held various public school education jobs: teacher, assistant principal, principal, executive director. In 2015, she retired from her post as associate superintendent of instructional design and innovation for the Moore County Schools in Carthage, North Carolina.
She is a former independent consultant with Kagan Professional Development, an education organization based on the research and writings of education guru, professor and clinical psychologist Spencer Kagan.
While a principal at Long Hill Elementary in Fayetteville, North Carolina, she praised Kagan's strategies, such as cooperative learning and teaching to multiple intelligences, for raising achievement. In layman's terms, multiple intelligences means there are many ways to be smart, not just one such as IQ.
While Kennedy was principal at Long Hill, in the 1998-99 school year, it was named a U.S. Department of Education Blue Ribbon School.
Kennedy said that while she recommends Kagan strategies, her coaching is based on research from a variety of leading researchers. (Folks with an education background might recognize them: Larry Lezotte, Robert Marzano, David Sousa, John Hattie and others.)
Her first consulting job in Nebraska was in OPS over a decade ago, after an administrator heard her speak at a Florida conference.
Since then, in OPS, she and her associates have coached teachers and principals, helped with curriculum and worked on improvement plans in more than two dozen schools.
Her typical rate for the work in OPS is $2,000 a day, plus reimbursement for expenses including airfare, rental car, hotel and meals. She is contracted to work in OPS this school year at Conestoga, Skinner and Belvedere Elementary Schools and to help at other high-poverty schools.
Because of her experience in OPS, members of the Nebraska state board hired her firm, KLK Consulting, in 2016 to play a central role in its strategy of intervening in priority schools. The initial three priority schools were Loup County, Santee and Druid Hill. Schuyler was added after state officials decided that Druid Hill made sufficient progress to be delisted. She's worked in them ever since, helping to write and implement intervention plans, and monitoring Druid Hill.
According to officials in OPS and the State Education Department, Kennedy has particular expertise in training educators, including helping principals to become instructional leaders who can then coach teachers to make them more effective.
Under her current Nebraska state contracts, the state pays Kennedy $4,000 a day for on-site visits to priority schools. That daily rate is more than a beginning Nebraska teacher makes in a month. Her associates in the firm get $3,000 a day.
She doesn't visit the schools every day.
For example, under KLK's $118,000 state contract to work at Schuyler this school year, Kennedy is scheduled to work on-site 44 days, and an associate 18 days. Kennedy is also to be available for 45 hours of off-site consulting at $400 an hour.
Asked if her pay was reasonable, Kennedy noted that under her state contract, she pays her own expenses, including liability insurance, airfare, hotel, rental car and parking fees.
Because she's an independent consultant, the district and state pay her no benefits, health insurance or retirement, she said.
She said her rates are half what some national consultants get.
On a typical three-day trip to visit Nebraska priority schools, she said, she flies into Omaha, drives to Schuyler, then hits Loup County in Taylor and Santee in Niobrara.
She said those are long days with a lot of driving.
"It sounds like it might be a luscious life, but it's not," she said.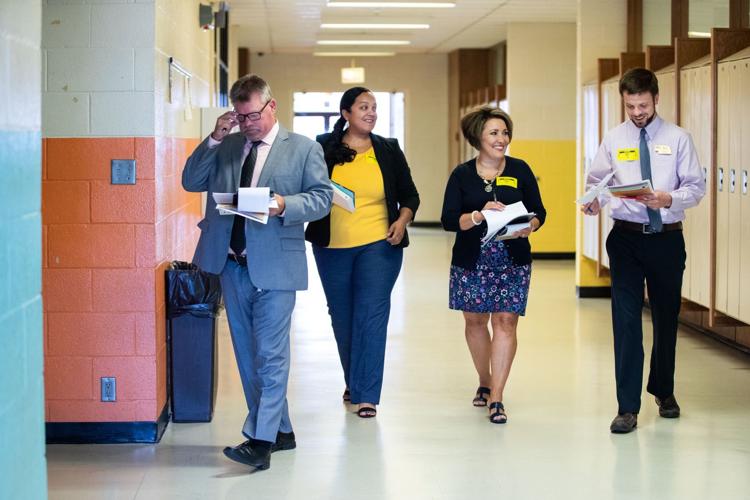 The World-Herald shadowed her on her initial visit last fall to Schuyler, a school about 60 miles northwest of Omaha.
Schuyler last year became the latest school dubbed a "priority" for state intervention.
State officials chose it because of its substantial immigrant enrollment, citing stagnant or declining test scores, low English proficiency and high absenteeism.
Kennedy's gentle approach was evident as she coached administrators on how to pop into a classroom and look for signs of effective teaching.
After several minutes observing the chemistry testing, Kennedy led Principal Grammer and the other educators into the hallway, where they huddled.
She prodded them to come up with examples of what the teacher did right.
Working from a handout, they wrote the teacher a "30-second feedback" note. She coached the group to start the note with something nice, a "cushion statement," then bring to the teacher's attention the effective things he or she is doing.
She noted, among other things, that the teacher's test questions were worded to make them relevant to the students.
Kennedy said a teacher may be doing good things subconsciously, and by pointing them out, he or she can keep doing them and get better at it.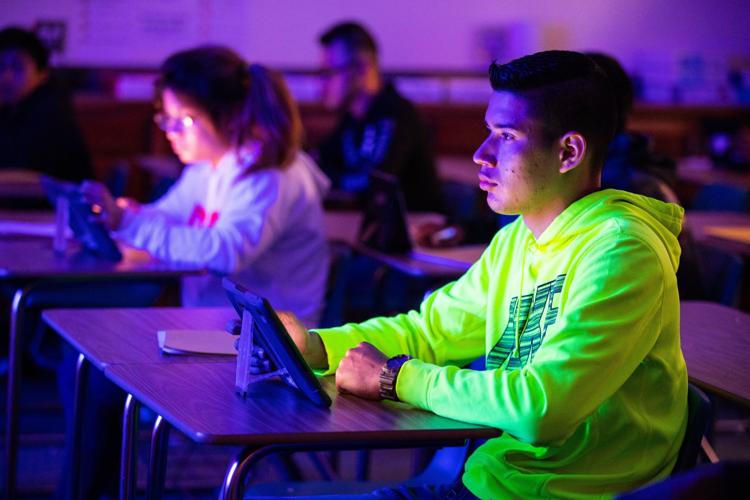 In another classroom, the group observed Spanish teacher Brandi Zavadil, who incorporated a toy ball into her lesson.
The kids recited a phrase, "Este es un muchacho," (translated to "This is a boy" in English") and tossed the ball to another student.
The receiving student recited the phrase and, if correct, tossed the ball to someone else.
The teacher got high marks from Kennedy and the group.
"You have vocabulary. You have engagement," Kennedy told them.
"Did you see positive interdependence — a gain for one is a gain for others?" she asked.
Absolutely, the group said.
Equal participation? Yes, they answered.
Kennedy recommended how to craft a positive note to the teacher, suggesting that they start with: "What a delight to see you and your students in action today ... "
"We noticed how your cooperative learning strategies of the ball toss ... "
During a break from the classroom visits, Kennedy told The World-Herald that teachers may not realize when they're utilizing effective strategies, she said. Good administrators are "expert noticers" who can point them out and "bring the unconscious to the conscious state."
When teachers purposefully plan rather than teach off the cuff, the lesson is better, she said.
She and her associates demonstrate model lessons and share research-based methods with teachers. She wants teachers to work smarter, not harder.
"We want it, every day, to be hair-on-fire teaching, the best that we've got, and we purposefully, intentionally plan for these things," she said.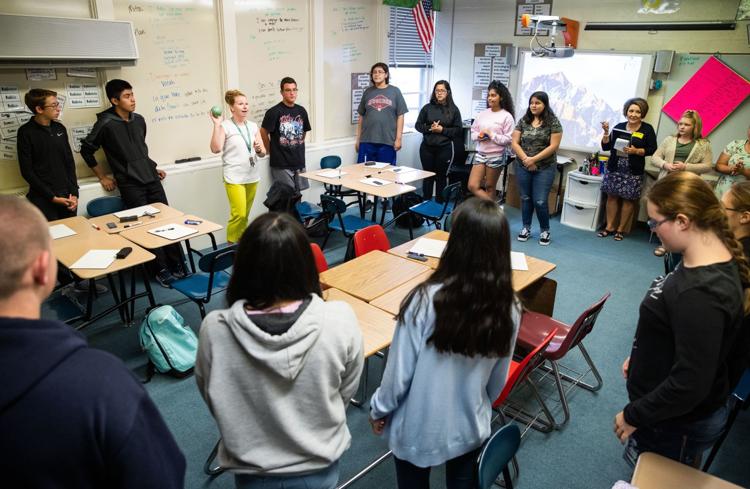 Grammer, the Schuyler principal, said Kennedy has "done some good things, (she) helps us to observe and evaluate our staff a little better."
"Has she done anything super fantastic? Probably not. Has she done anything super worse? No."
He said teachers like the new style of feedback, especially getting immediate, positive feedback, he said. By November, he said, he was spending more time in the classrooms observing.
"Right now I think I've been in the classroom 122 times in the first two months. That never would have happened before."
To make time for classroom visits, he said, the counselor, truancy officer and assistant principal had to pick up some of his duties.
Because intervention started just this school year at Schuyler, there's no way to gauge whether test scores are up.
At another priority school receiving KLK help, Loup County, school officials received some good news in the December release of state scores.
The grade school, labeled a priority school in 2015, is now classified by the Nebraska Department of Education as a "great" school — the district is, too.
Rusty Ruppert, the superintendent of the Loup County Public Schools, said that in his district Kennedy has helped establish common terminology and approaches.
"The things she's brought to the system have been positive," Ruppert said. "And her approach is positive."
Although pleased with the rating, Ruppert said it is "only the next step in our continuing educational quest to be the best we can be."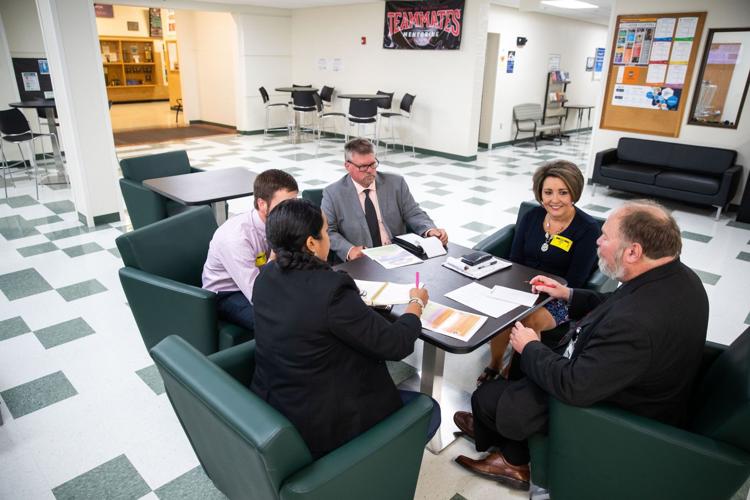 Progress is harder to gauge at the other two schools that received priority intervention.
No test scores are available for Santee Middle School, which was put on the priority list in 2015. The school is still listed as a "needs improvement" school, the lowest classification.
At Druid Hill in OPS, there are good signs but no dramatic turnaround in scores.
Kennedy's firm had already been working at the low-achieving school when the state named it a priority school in 2015. A year later, it was delisted when state board members decided that it had made sufficient progress. Scores are up this year, but it remains a "needs improvement" school, though its rating is under review this month and could move up to "good." Proficiency on state tests is well below the state average.
He credited "a multitude of leaders," including Melissa Comine, then an OPS executive director, and Principal Cherise Williams for creating a great leadership team at Druid Hill.
He said Kennedy did a nice job supporting the school improvement team, but the school also received additional resources, including adding a full-time science teacher.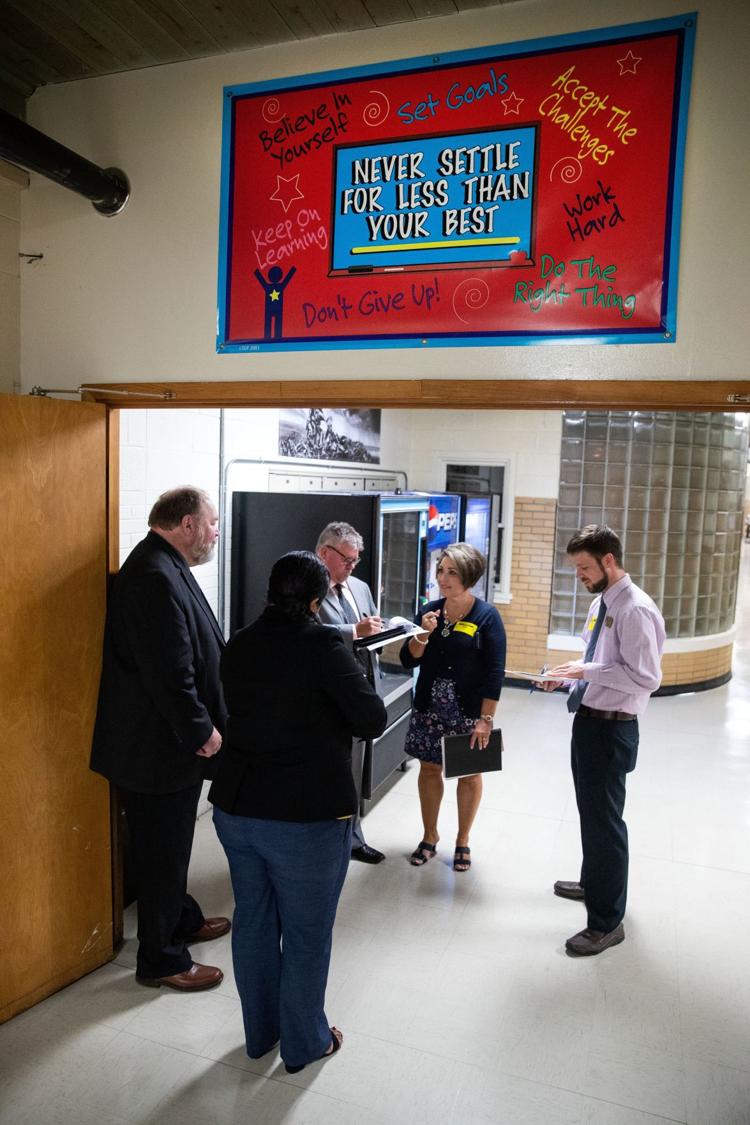 Comine, now the district's chief academic officer for curriculum instruction and support, said Kennedy has been valuable in supporting struggling schools.
She helps the district build leadership in those schools, coaches teachers around clear learning goals, interprets academic standards and makes sure that learning goals are aligned to state standards, Comine said.
OPS looks across the country for consultants with "global expertise," she said.
"Kathy is one person, along with other people, that we've found that has been able, in some specific areas, to provide us some support and bring some unique expertise that's an extension of what we're already doing," she said.
Former state board member Pat McPherson has argued that the contracts with KLK don't contain concrete measurable goals for schools, to gauge whether students are improving, such as targets for test scores or graduation rates.
"It seems to me when you're giving the kind of money that we're giving her, that you ought to have some kind of measurable results that say 'Hey, this is really working or it isn't,' " McPherson said.
He noted that Druid Hill, despite intervention from OPS and the state, remains a "needs improvement" school in the latest ratings.
If she's not delivering anything extraordinary, he said, the Education Department should use the money the state sets aside for priority school improvement — nearly $800,000 — and do it itself.
Nebraska Education Commissioner Matt Blomstedt said that what Kennedy does is not "revolutionary," it's just employing good educational practices.
He said he believes the state is getting a reasonable return on its investment.
The rate she charges is in line with what national education consultants get, he said.
However, he said, the state can't afford to pay her to intervene in every school across the state that needs help.
That's where the capacity-building comes in, he said.
It would be more efficient if employees of the department or the educational service units could do what she's doing, he said.
"I'd love to be in 87 'needs improvement' schools," the number of low-performing schools initially identified when the state ran classifications for the first time four years ago — priority schools were picked from that list, he said.
Rachel Wise, a member of the Nebraska State Board of Education, said state personnel are working closely with Kennedy to develop a protocol so the department can eventually take over.
State Sen. Linehan, chair of the Revenue Committee and a member of the Education Committee, said the state doesn't need to look outside the state for successful strategies.
"I wonder why we don't look at schools in Nebraska that are beating the odds — Lexington, York and Syracuse come to mind — and ask what they are doing? And then emulate it," she said.
"They are realizing huge growth. Why not copy success?"
Kennedy said she's confident that the priority schools will continue to improve.
Because of the practices and the systems that they're putting in place, she said, "there is no doubt in my mind that they're going to beat the odds — no doubt in my mind. They just have to continue the path that they're on without any distractions."
Be the first to know
Get local news delivered to your inbox!