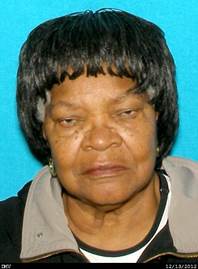 Omaha police are asking for help in finding a missing Omaha woman who suffers from dementia.
Family members last saw Eunice Haywood about 1:30 p.m. Saturday when she dropped off a grandson near 47th Street and Crown Point Avenue, said Officer James Shade, a police spokesman. Haywood was driving a tan 1997 Ford Taurus sedan. The Nebraska license plate number is SBD248.
Police officers checked the church and grocery where she has been known to drive to, but they did not find her. The church is at 3616 Spaulding St., and the market is located at 72nd Street and Ames Avenue. Officers also checked hospitals. Haywood's cellphone was turned off.
She was described as a 5-foot-2 and 218 pounds with black hair, brown eyes and glasses. She had been wearing a turquoise button-down shirt and black pants. Haywood uses a cane.
Anyone with information on her whereabouts was asked to contact 911.