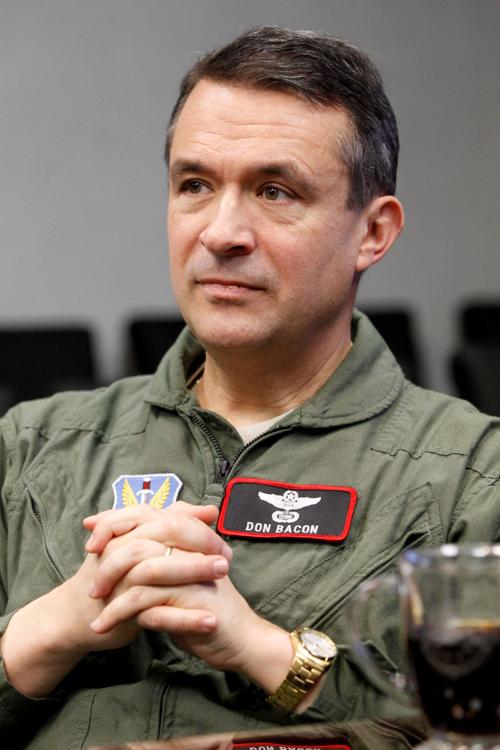 Retired Brig. Gen. Don Bacon believes President Barack Obama deserves a "large share" of the blame for Iran's growing influence in the Middle East and the violence that has engulfed the country of Iraq.
Bacon also believes that, after four deployments in the Middle East, he could put his military experience to use in Congress.
Tuesday, Bacon, 51, became the first Republican to formally launch a bid for the Omaha-based congressional seat now held by Democrat Brad Ashford.
Several other Republicans have expressed an interest in a 2016 run, including former State Treasurer Shane Osborn and State Sen. John Murante.
A lifelong military man, Bacon is a newcomer to Republican political circles in Nebraska. However, he already has managed to gain some solid GOP support, including a high-level endorsement from former Nebraska Gov. Kay Orr.
Orr was on hand as Bacon announced his candidacy to about 60 friends and supporters. Also in attendance were Bellevue Mayor Rita Sanders and Papillion Mayor David Black.
Bacon is not a longtime Nebraska resident, but he is familiar with the state. A native of Illinois, Bacon served at Offutt Air Force Base three times during his 29 years in the U.S. Air Force. Two of his four grown children live in the area. And when he decided to retire last fall, he and his wife, Angie, moved to Papillion.
"We are Nebraskans by choice, and you can look for us to spend the rest of our lives here," said Bacon.
He tried to draw a distinction between himself and his potential future opponent, calling Ashford a "career politician" — a reference to the 16 years Ashford served in the Nebraska Legislature. In November, Ashford won the House seat by beating incumbent Republican Lee Terry.
"We need a conservative outsider to change Washington," Bacon said. "I'm not a career politician. I've never sought public office before."
He also made it clear that he plans to put his unusual last name to political use. (In the military, his nickname was Bits.)
"I think I can one-up Joni Ernst with this slogan: 'A vote for Bacon will always be a vote against pork,' " said a smiling Bacon, referring to a famous campaign ad last year about pig castration that helped put Iowan Ernst on the political map and into the U.S. Senate.
During his time in the military, Bacon served in numerous fields, including intelligence, electronic warfare, reconnaissance and public affairs. He had 16 different assignments, and the family moved 17 times.
During the Iraq War, he commanded an electronic warfare squadron.
He said foreign policy and military issues would be among his top priorities in Congress.
Bacon argued that Obama hasn't been aggressive enough in countering the rise of Iran in the Middle East. He also blamed the president for withdrawing combat troops from Iraq too suddenly, leaving a vacuum in that country that Iran and the Islamic State terrorist group have filled.
"I think we should have been more careful and conscientious with our withdrawals," he said.
In addition, Bacon said, Obama is not being tough enough in negotiations with Iran over nuclear weapons.
Bacon said he supported a decision by 47 Republican U.S. senators to send a controversial letter to Iran's leaders, warning them that Congress might not support any nuclear agreement Obama negotiates with Iran.
"Iran is a threat to the whole region," not just to Israel, Bacon said.