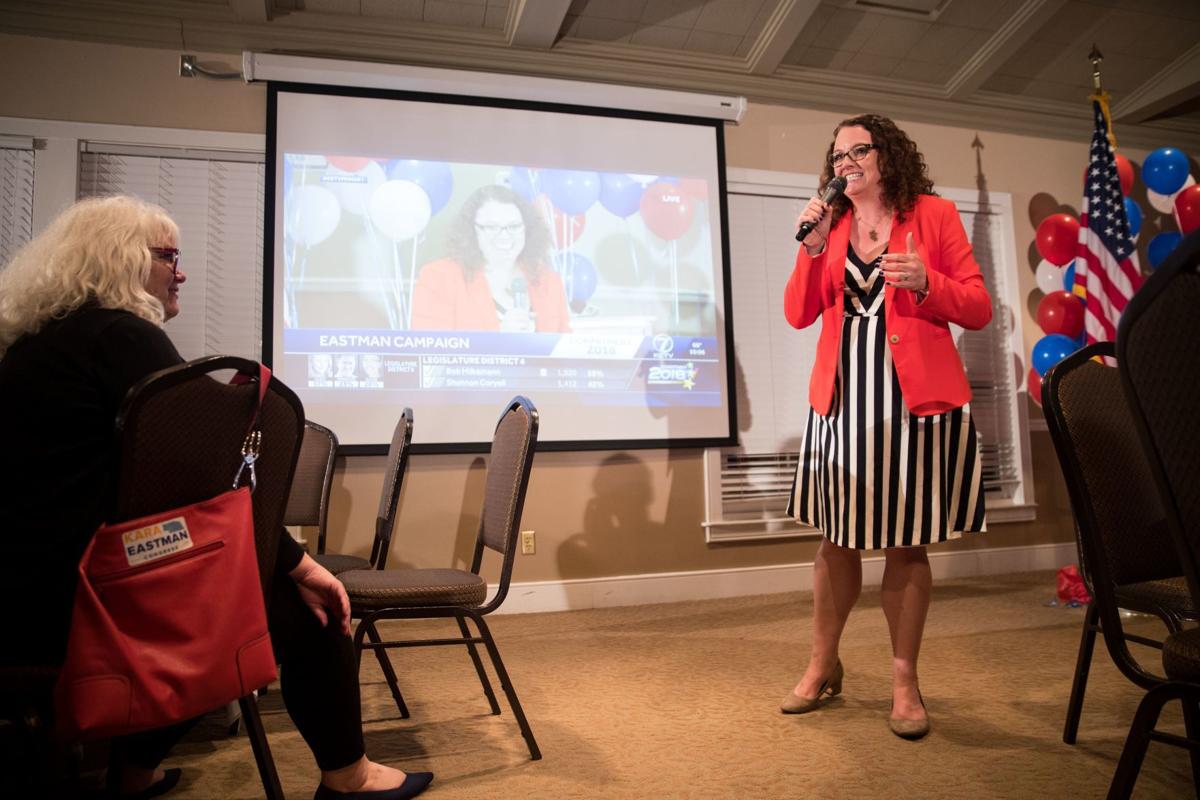 The Congressional Progressive Caucus, a group that includes U.S. Sen. Bernie Sanders of Vermont and Rep. Keith Ellison of Minnesota, endorsed Democratic nominee Kara Eastman on Friday in her race against Rep. Don Bacon, R-Neb.
Rep. Mark Pocan, D-Wisconsin, asked members of the Progressive Change Campaign Committee to help Eastman raise money in small donations from individual donors to help her compete with Bacon, who in April listed $830,000 in campaign cash on hand.
The Progressive Caucus' political action committee pledged $5,000 as a start for the general election, though it would not disclose a fundraising goal. The Progressive Change Campaign Committee, already connected her with 3,000 progressive donors in the primary.
Another group of small donors that aims to help Democrats in swing districts, Swing Left, announced this week that it had funneled almost $55,000 in small, individual donations toward Eastman's campaign.
Bacon said he valued political donations from either side of the aisle as free speech, whether from individuals or a group: "I support people getting involved and helping to elect representatives that they agree with."
Eastman's campaign is also courting the Democratic Congressional Campaign Committee. The DCCC, the official campaign arm of House Democrats, backed Eastman's opponent in the May 15 Democratic primary, former U.S. Rep. Brad Ashford.
Eastman, unlike Ashford, is not listed on the DCCC's Red-to-Blue list that identifies Democratic candidates in races national Democrats believe the party can take a seat from a Republican officeholder.
"Our whole campaign was built on being the underdog," Eastman told a Progressive Change Campaign Committee call involving donors, supporters and reporters. "Engaging people who hadn't been engaged in politics before."
The small-donor fundraising model assumes that new or infrequent political donors who invest in a campaign are more likely to sustain active support for a candidate, to feel more invested and to give again when needed.
Sanders and Barack Obama used the approach against the more established Hillary Clinton in costly presidential primaries in 2008 and 2016. President Donald Trump raised more from small donors in his 2016 campaign than Sanders and Clinton combined.
Eastman used the model to raise $356,000 to run against Ashford.
"I'm really proud of what we accomplished," Eastman said on the call, "and feel like it's just the beginning of something incredible."
Officials with the Progressive Caucus said Eastman's clear support of Medicare for all and for expanding, not just protecting, Social Security and Medicare is resonating.
Bacon said in a statement Friday that forcing people off their health care plans and into a one-size-fits-all government plan would lead to rationing and extreme wait times. He also said such plans would cost trillions.
"I want people to have more choices, not less," Bacon said. "I don't think this kind of spending helps the economy in any way."
Officials with both progressive groups said candidates the groups have backed in other states have found that voters in urban, suburban and rural areas will support someone they agree with economically, even from another party.
A potential donor on the call asked Eastman about her stance on the Hobby Lobby decision that allows closely held, for-profit corporations to resist regulations based on religious reasons. In this instance, the store did not want to provide employees health insurance coverage of some types of birth control and won in court.
Eastman said that while she supports religious freedom, there must be limits when that freedom infringes on employees' personal decisions and rights. The questioner said he planned to send money to her campaign.