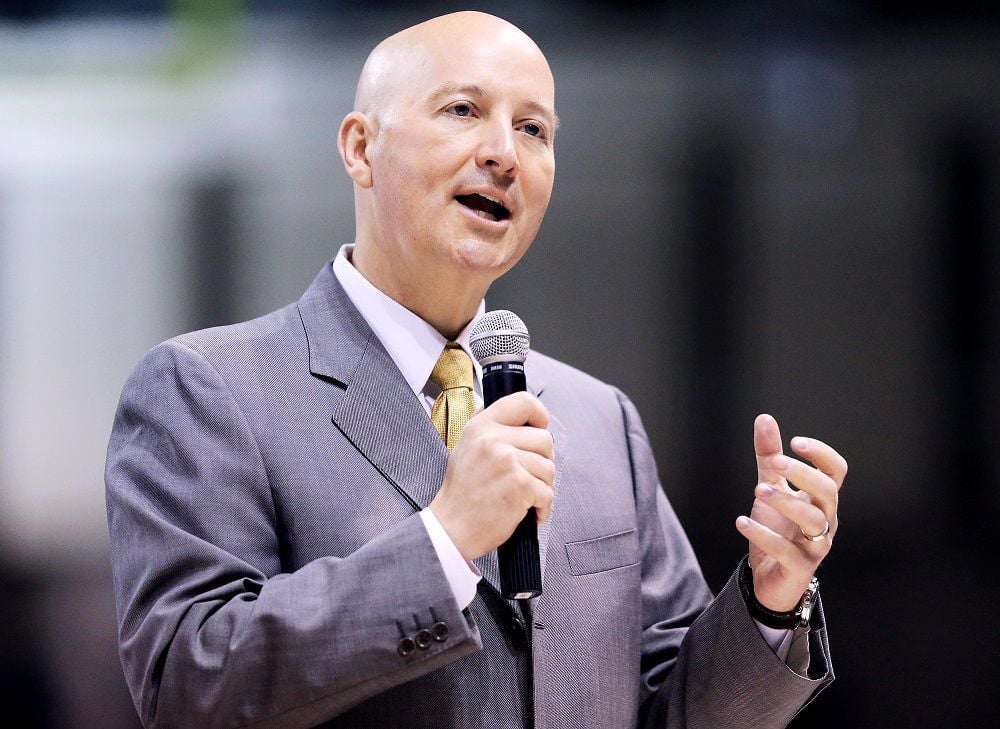 LINCOLN — Gov. Pete Ricketts has given another $100,000 to a group working to preserve the death penalty in Nebraska, but opponents of capital punishment have raised far more dollars overall.
Retain a Just Nebraska said Tuesday in financial disclosures that it has collected $2.7 million during its two-year campaign to keep the Nebraska Legislature's repeal of the death penalty. On its list of contributors are the campaigns of 10 state senators who voted for the repeal and Hollywood actress Susan Sarandon.
The tally for Nebraskans for the Death Penalty, the group backed by the governor, stands at about $1.2 million.
The pro-death penalty group reported having about $128,000 in cash on hand heading into the Nov. 8 election, when voters will pass judgment on the 2015 repeal. The death penalty opposition group said it had just under $47,000 on hand.
Despite being far outspent, death penalty backers are confident that a majority of voters will cast ballots to restore capital punishment, said Chris Peterson, a spokesman with Nebraskans for the Death Penalty.
"We don't believe there's a large number of voters yet to be persuaded," he said. "I'm not sure the opponents are making a wise investment."
Dan Parsons of Retain a Just Nebraska said the death penalty supporters seem to place confidence in their own poll showing that voters want to keep capital punishment by a 2-to-1 ratio. But Parsons called the August phone survey "bogus" because it didn't ask respondents if they would favor replacing the death penalty with life in prison without parole for those convicted of first-degree murder.
"They didn't ask the second half of the question," Parsons said Tuesday. "This is going to be a close election."
Tuesday's reports filed with the Nebraska Accountability and Disclosure Commission mark the first time that the groups have been required to disclose fundraising activity this year. The reports show that during the first nine months of 2016, the anti-death penalty group raised nearly $1.8 million, compared to $278,000 for the pro-death penalty side.
State lawmakers in 2015 approved a bill to repeal the death penalty and then overrode the governor's veto of the legislation. Nebraska joined a list of 20 states that have abolished the death penalty and became the first politically conservative state to end capital punishment since North Dakota in 1973.
The pro-death penalty group has spent most of its money on a petition drive, which collected more than 143,000 valid signatures to force the referendum and put the repeal on hold. The spending translated into about $6.30 per signature.
The governor has now given a total of $300,000 to Nebraskans for the Death Penalty. His father, Joe Ricketts, gave $100,000.
Joe Ricketts founded discount stock brokerage TD Ameritrade, and Pete Ricketts worked as an executive for the company before pursuing a career in politics. The Ricketts family now owns the Chicago Cubs major league baseball team.
The Judicial Crisis Network, a national group known for funding a campaign against the confirmation of President Barack Obama's choice for the Supreme Court, also gave $100,000 to the Nebraska pro-death penalty group this year. That's in addition to the $300,000 that it gave in 2015.
Citizens for a Sound Government, based in Denver, gave $50,000 this period, in addition to the $35,000 it gave last year. That same group ran attack ads against then-Attorney General Jon Bruning, who was an unsuccessful challenger to Ricketts for the 2014 GOP nomination for governor.
Last year, the anti-death penalty group relied heavily on nearly $600,000 in contributions from a Massachusetts-based organization called the Proteus Action League. Affiliated with hedge fund investor and political philanthropist George Soros, the league gave an additional $250,000 this year.
The other big contributors are the Washington, D.C.-based Civic Participation Action Fund and the Open Society Policy Center. Each group gave $500,000.
The Civic Participation Action Fund says one of its goals is to reform criminal justice policies that discriminate against poor and minority communities. It has partnered in the past with Koch Industries on a project to reduce incarceration rates.
The Open Society Policy Center describes itself as a nonprofit organization that advocates for criminal justice reform and other issues. In the past, it has joined with international human rights groups to fight torture and push for greater transparency in the use of military drone strikes.
Parsons said Retain a Just Nebraska also has obtained mostly modest donations from nearly 3,000 donors, 87 percent of whom live in Nebraska.
The state senators who donated to the anti-death penalty cause from their campaigns this year are Heath Mello, Sara Howard and Bob Krist of Omaha; Colby Coash, Kathy Campbell, Adam Morfeld, Kate Bolz, Patty Pansing Brooks and Matt Hansen of Lincoln and Mike Gloor of Grand Island.
Sarandon, who portrayed an anti-death penalty activist nun in the film "Dead Man Walking," gave $500.
Retain a Just Nebraska has spent hundreds of thousands of dollars on statewide television, radio and digital advertising. In addition to orchestrating the petition drive, Nebraskans for the Death Penalty has spent money on social media, emails and mass mailings.
Spokesmen for the groups wouldn't comment about their plans heading into the final weeks before the vote.