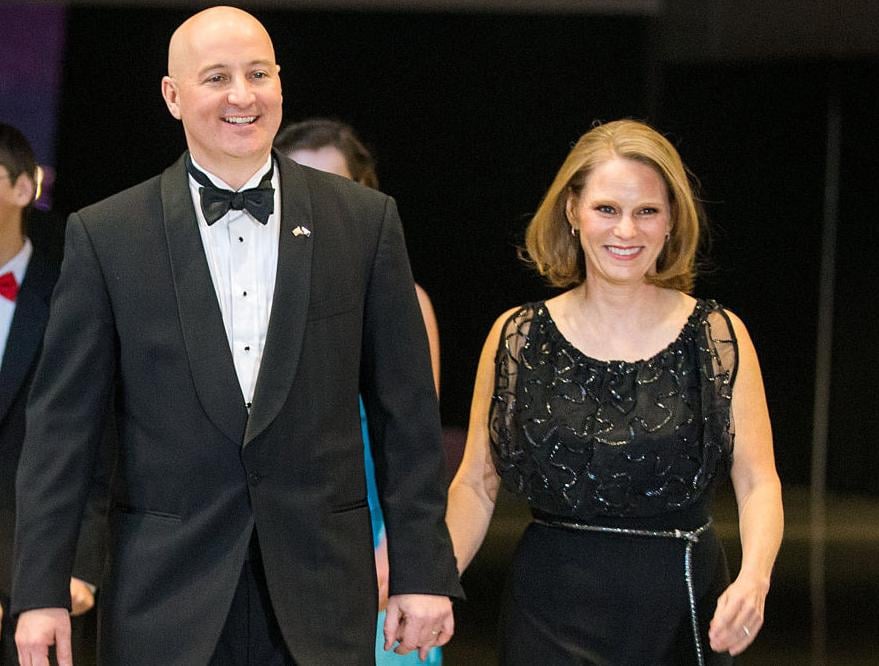 Nebraska Gov. Pete Ricketts lives in a house divided, politically speaking.
The Republican governor's wife, Susanne Shore, has donated $4,700 to Democrat Hillary Clinton in both the primary and general election and $1,000 to the Hillary Victory Fund, a joint fundraising operation between the Clinton campaign and state parties designed to help get Democratic candidates elected at the local and state level.
Shore also has officially registered as a Democrat.
In contrast, her husband hasn't donated a single dollar to Republican Donald Trump's campaign, although his GOP mega-donor parents — Marlene and Joe Ricketts — have given at least $1 million to a pro-Trump super PAC.
Ricketts has publicly endorsed Trump, but after a lewd tape emerged last week of Trump referring to women in derogatory terms, the governor released a statement condemning Trump's remarks as "dangerous." After the tape, Ricketts said he would not donate any money to Trump's campaign, said Taylor Gage, the governor's spokesman.
"Donald Trump's comments are not only reprehensible and offensive, but they are dangerous. His apology video was inadequate," the governor said.
The Rickettses are hardly the only family in America who have gone their separate ways in this year's roller-coaster presidential election. Former New York Mayor Rudy Giuliani is among Trump's top surrogates, but his daughter, Caroline, is backing Clinton. Former GOP presidential candidate Jeb Bush is a Never Trump guy, but his son, George P. Bush, is backing the flamboyant New Yorker.
"I would say Mr. and Mrs. Ricketts are experiencing the same kind of political differences that a number of couples across the land are experiencing," said Kevin Smith, a political scientist at the University of Nebraska-Lincoln. "I would imagine it makes the discussion of the political race a little lively over the dinner table."
Of course, Shore's decision to back Clinton is hardly a huge surprise. She was a registered Democrat before her husband ran for public office. She switched her party affiliation to Republican during the gubernatorial primary in 2014 to vote for her husband and then registered as an independent.
She has given to both Democrats and Republicans in the past, including Clinton in 2007 and Republican Mitt Romney in 2008.
But her decision this year to donate to Clinton, along with her husband's decision not to write Trump a check, reflects a fundraising gap between the two presidential candidates in both Nebraska and nationwide.
Clinton has outraised Trump in this Republican-rich state by more than a 2-to-1 ratio, with the help of old-guard Democrats such as Omaha billionaire Warren Buffett and former Omaha Mayor Mike Fahey.
In contrast, many of the typical Republican donors — such as Ricketts — are missing in action on Trump's campaign finance report. In fact, both of Trump's state co-chairmen — former Nebraska Gov. Dave Heineman and State Sen. Beau McCoy — do not show up on Trump's campaign report.
Heineman, however, hasn't consistently donated to presidential candidates in the past, although McCoy gave a $250 donation to Romney in 2012.
Walter Scott Jr., chairman emeritus of Peter Kiewit Sons' Inc., is another longtime Republican donor who has not given to either presidential candidate this year. Scott typically gives to GOP presidential candidates, with donations to Romney in 2012, John McCain in 2008 and George W. Bush in 2000 and 2004.
Clinton had raised $572,000 and Trump had raised $259,000 in Nebraska as of Sept. 21, according to the Open Secrets website, which compiles and analyzes the candidates' federal reports. Nationwide, Clinton also has trounced Trump in the money game, raising a staggering $373 million, compared with $165 million for Trump's campaign.
Hal Daub, a former Omaha mayor, said he wonders whether many of Nebraska's Republicans prefer to donate to pro-Trump super PACs as opposed to giving to Trump's campaign. (Such donations are harder to track, in part because individuals can often hide their contributions by giving to a limited liability company, which does not have to disclose its donors.)
Daub also noted that he does not believe that Trump's campaign has a finance chairperson in Nebraska. His job in 2012 as Romney's state finance chairman was to make contact with potential donors and to hold fundraisers in the state.
Daub himself is a staunch Trump supporter. But he, too, has yet to donate to Trump's campaign.
Daub said he made it a priority this year to give to local candidates, such as Don Bacon, who is running for the U.S. House in the Omaha-based 2nd District. He said he planned to donate to Trump later this week. "It's on the schedule. ... I'm not made of gold, you know," Daub said.
Many of the Nebraskans who are aligned with Clinton have donated. Clinton has a leadership team of more than 50 in the state. And many of them, such as Buffett, have donated $2,700 to Clinton — the maximum allowed under federal law.
In fact, Clinton's financial report is a who's who of Democratic politics. It includes such notables as former Omaha Mayor Mike Boyle and his wife, Anne Boyle, a former member of the Public Service Commission. It also includes former Omaha Mayor Jim Suttle.