When Lu Ann Kluch takes her seat at the head of the Papillion City Council chamber twice a month, she knows she'll see some things differently.
She may need to speak a little louder. She may have to point something out that seems silly — like the discussion about updating park restrooms when she had to remind everyone that women have no choice but to sit when they use public toilets.
Kluch is Papillion's only elected female leader. These are the things that come with the territory.
And she's not the exception. Women remain underrepresented at all levels of politics in Nebraska, particularly at Kluch's level: local government.
The next opportunity to change that is around the corner, with 2018 elections for many federal, state and local offices.
Of course, the mayors of the state's largest and third-largest cities are women.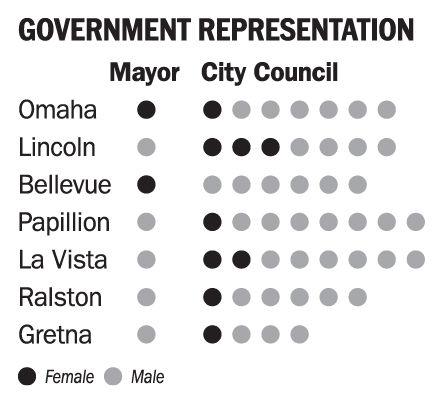 But look at the front of the room at any area city or county meeting, and the faces are overwhelmingly male. In Springfield, there are no elected women leaders. The Sarpy County Board is all men. In Bellevue, Mayor Rita Sanders works with an all-male council.
In Omaha, Mayor Jean Stothert and Councilwoman Aimee Melton work with six male council members. Douglas County has one woman among its seven board members.
Papillion, Gretna and Ralston each have one woman on their councils. La Vista has two women on its eight-person council, and Valley has two on a council of five that includes a female mayor.
Lincoln and Lancaster County have the most balance: three women on the seven-member City Council, and three women among five County Board members, respectively.
"From simply a democratic standpoint, you have a demographic group that is clearly underrepresented," said Kevin Smith, chairman of the political science department at the University of Nebraska-Lincoln. "That's not to say a male cannot represent female interests or vice versa. But when it's overwhelmingly dominated by one group, that seems a little strange."
La Vista City Council member Deb Hale said the problem is attracting people to get involved in city government in general. She said the low rate of women isn't a problem.
"I honestly don't think it matters," Hale said.
But Kluch said lopsided representation hurts a city's ability to meet the needs of all of its citizens.
"I like the guys I'm on council with," she said. "They're smart men. They localize. They are considerate. They study. I have nothing against any one of them. But we see issues differently.
"Our uniquenesses are what make us powerful when we put them together."
Jodi Benenson agrees. "The more closely the government represents the country, the state, the city, the county as a whole, the more representative its policies are likely to be," said the assistant professor in the School of Public Administration at the University of Nebraska at Omaha. "Any one group making decisions for the population can have severe implications."
There are differences in how men and women govern, Smith said. Women generally are more likely to prioritize issues related to health care, social services, children and the environment, according to one study. Women also enjoy and are better at the collaboration required once in office, Smith said.
These distinctions are significant when examining how public policy is formed, Benenson said, and gender isn't the only variable.
"We need to be thinking about representation broadly," she said. "The intersection of not just women, but women of color, women and different religions, income status, immigration status."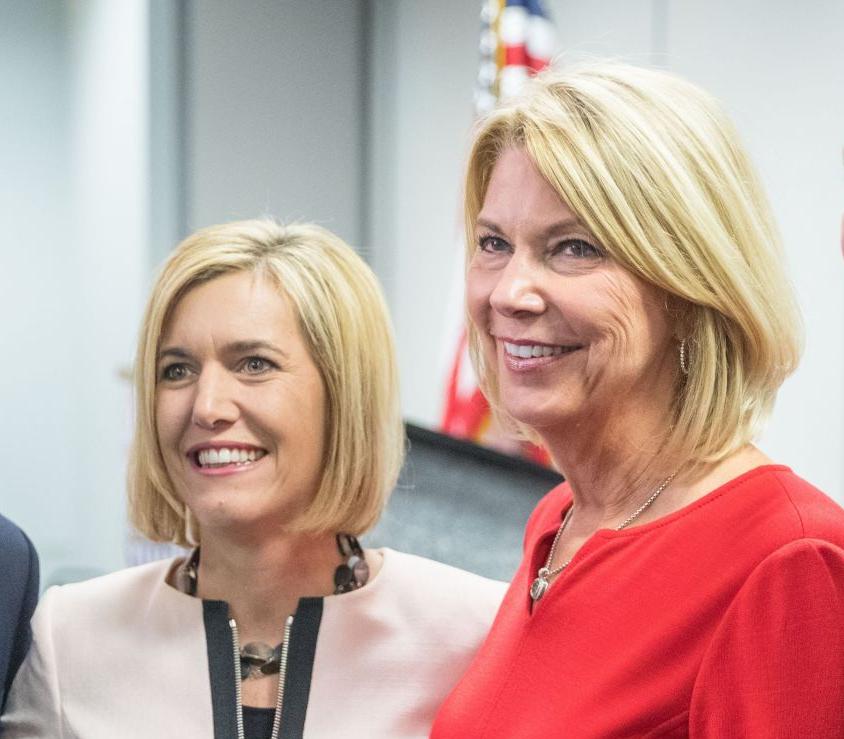 Make no mistake: When women run for elected office, they are competitive. Reports — including one this year from Rutgers University — say the data show no consistent gender disparity in candidate win rates.
The problem is that not enough women run.
There are a lot of reasons women may be deterred, Benenson said. Women generally are more risk-averse, less confident and less competitive. They're not asked to run as often.
Women in elected office in the Omaha area said other women have given them a variety of reasons they won't run. They don't want to detract from time with family. They don't want to lose friendships over political views. They're focused on their careers. The pay is too low.
And, Melton said, "Politics have just gotten nasty. I get it."
Stothert has endured attacks based on her gender, including a T-shirt depicting Stothert as a stripper on a pole and a particularly crude tweet.
In an interview, Stothert didn't mention those attacks. But she said women must ask themselves, "Do I want to put myself out there for those negative comments? Do I want to put my family out there?"
There are also the times women are actively discouraged from running.
When Stothert first ran for City Council in 2009, she'd been on the Millard school board for three terms.
"I had quite a few people tell me at that time, 'Maybe stick with school board because that's where women should be. Not City Council. That's a job for men.' " Stothert said.
The World-Herald interviewed 11 women serving in elected and appointed offices in Sarpy and Douglas Counties. Most of the women said they felt respected by, and had positive experiences with, their male colleagues. None said being a woman prevented them from doing their jobs. A few said they've never noticed a difference in how they're treated.
But most had more than one example of being treated differently.
There were the times they were interrupted or talked down to. The times it was assumed that they were a secretary or intern. The scrutiny of their appearance. The times they were called a certain b-word for being assertive.
When Stothert was newly elected mayor, she stepped into a City Hall elevator full of men one morning, and a man said, "Good morning, honey."
Someone told the man she was the new mayor. The man responded, "What are you going to decorate your office with? Stuffed animals?"
Women have to be experts in everything, Stothert said, because their competence is more often questioned.
And they have to be more likable, Melton said. "You do have to be a little careful about how you come across and how you approach things when you are trying to be strong."
Many of the women said they expect a lot of what they've encountered to fade as younger generations step up.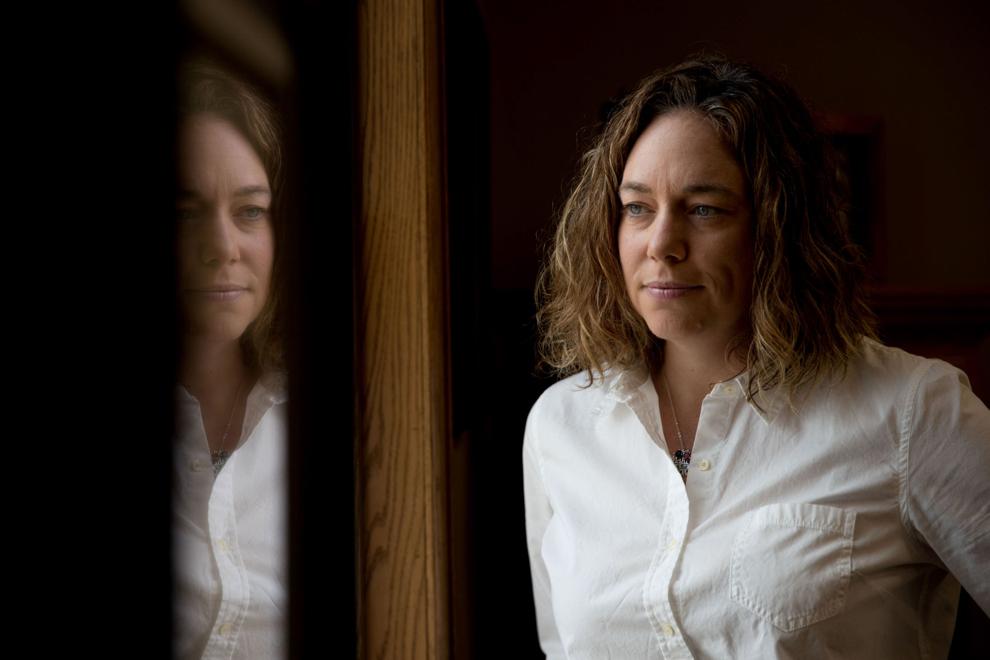 The solution to women being underrepresented in public office? Women have to show up, Gretna Councilwoman Angie Lauritsen said.
"And you have to be assertive. ... If people want to call me whatever they want to call me for speaking my mind, for having a voice, then so be it," she said.
Outreach efforts that persuade talented people to run for office help, Smith said.
Both parties said they want to attract more women to office.
"The fact that we do not have a single woman of any party affiliation elected at the statewide constitutional offices is something the Democrats plan on ending in 2018," said Jane Kleeb, chairwoman of the Nebraska Democratic Party. "Women bring to the table a strong sense of fairness and focus on our families. It is critical for our sons and daughters to see more women leading our state government."
The Nebraska Republican Party partners with the Cornhusker Republican Women's Club, among other groups, to recruit women for office.
"We are proud to be the party that elected Nebraska's first congresswoman, female governor, female U.S. senator and female mayor of Omaha," said Executive Director Kenny Zoeller in a statement.
Among others: U.S. Sen. Deb Fischer, R-Neb., hosts an annual seminar that encourages women to get involved in their communities, in and out of politics. The League of Women Voters hosts workshops, and UNO on Wednesday is holding a "Running and Winning" workshop for girls to meet with female elected leaders.
The Greater Omaha Chamber of Commerce held sessions on running for and serving in office — whatever the gender — at a September leadership conference.
Benenson is organizing a new Women in Public Policy Week for next spring to help students envision being engaged citizens.
"We need to be starting outreach to people at a younger age," she said.
Another thing that can help: Women encouraging other women.
"Women really need to start supporting each other and be proud of each other's accomplishments," Stothert said.
Lauritsen said, "It's going to take strong women that are already in that position to say it's 'OK, you can do this job.' "
World-Herald staff writer Emily Nitcher contributed to this report.
Words of advice from women in office
We asked three women office holders what they would say to someone who is considering a run.
Jean Stothert, Omaha mayor: "Believe in yourself and your abilities. Focus on what you are best at. Be courageous. Embrace optimism. Value relationships and work to improve them in your professional life and your personal life. Most importantly, try. You can't win if you don't try."
Lu Ann Kluch, Papillion councilwoman: "I say, 'Go for it!' While there will be many ups and downs, in the end, representing your constituents to the best of your ability and getting to know so many of them is highly rewarding. Many issues will have you use all your skills of logical thinking, determination to research and ability to fully listen to all sides of that issue — but in the end when you make your vote that represents your area, and for what is best for your community, you will experience a feeling of great satisfaction."
Angie Lauritsen, Gretna councilwoman: "There is no 'right' time to run for office, and, yes, you can fit it into your life."