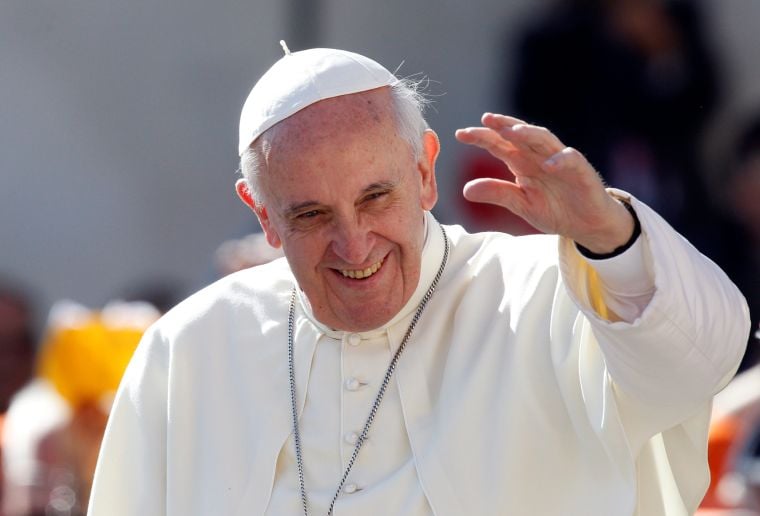 Pope Francis said in a wide-ranging interview published Thursday that the Catholic Church's moral structure might "fall like a house of cards" if it doesn't stop obsessing over abortion and same-sex marriage and start concentrating on compassion.
Eileen Burke-Sullivan, a Creighton University associate professor of theology, said the pope's comments are a dramatic example of his continuing effort to set a more merciful tone for the church.
"All too often, the Catholic Church comes across as heavy-handed, archconservative and uncaring," said Burke-Sullivan.
Six months into his papacy, Francis set out his vision for the church and his priorities as pope in a remarkably blunt interview with La Civilta Cattolica, the Italian Jesuit magazine. It was published simultaneously Thursday in Jesuit journals in 16 countries, including America magazine in the U.S.
Omaha Archbishop George Lucas said the pope is challenging "all of us to more conform to Christ in terms of compassion."
Lucas and Bishop James Conley of the Diocese of Lincoln said nothing in the pope's interview indicates any change in church teaching.
"He's saying that our doctrine begins and ends with God's love," Conley said.
In the 12,000-word article, the pope departed sharply with many of the priorities of his immediate predecessors, John Paul II and Benedict XVI. They were both intellectuals for whom doctrine was paramount.
Francis took a different turn in his comments, saying the church has grown obsessed with preaching about abortion, contraception and same-sex marriage.
Burke-Sullivan said it's clear from the interview that those issues remain important to Francis, but he's saying the church must also speak out more on other problems, such as chronic poverty.
"(Poverty is) as immoral as some of these other issues the church has hammered," she said.
In the interview, Francis expanded on his groundbreaking comments over the summer about gays.
"A person once asked me, in a provocative manner, if I approved of homosexuality," he said. "I replied with another question: 'Tell me: when God looks at a gay person, does he endorse the existence of this person with love, or reject and condemn this person?'
"We must always consider the person."
Rich Ketter, a member of a local Catholic support group for the lesbian, gay, bisexual and transgender community, said the pope's comments were a hopeful sign.
"We need to see each other as creatures of God," said Ketter of Caring Catholic Families. "The purpose of the church is to spread the good news and not worry that God is going to smite us for this or that."
Rev. James Martin, editor at large for America magazine, said mercy has been a hallmark of Francis' papacy from its earliest days.
"The interview shows a gentle pastor who looks upon people as individuals, not categories," he said.
Francis said the church must be like a "field hospital after battle," healing the wounds of its faithful and going out to find those who have been hurt, excluded or have fallen away.
"It is useless to ask a seriously injured person if he has high cholesterol and about the level of his blood sugars," Francis said. "You have to heal his wounds. Then we can talk about everything else."
"The church sometimes has locked itself up in small things, in small-minded rules," he said. "The most important thing is the first proclamation: Jesus Christ has saved you. And the ministers of the church must be ministers of mercy above all."
The admonition is likely to have sharp reverberations in the United States, where some bishops have already publicly voiced dismay that Francis hasn't hammered home church teachings on abortion, contraception and homosexuality — areas of the culture wars where U.S. bishops often put themselves on the front lines.
Francis acknowledged that he had been "reprimanded" for not speaking out on such issues. But he said he didn't need to.
"We cannot insist only on issues related to abortion, gay marriage and the use of contraceptive methods. This is not possible," he said. "The teaching of the church, for that matter, is clear and I am a son of the church, but it is not necessary to talk about these issues all the time."
Conley, the Lincoln bishop, said Francis hasn't skirted those issues during his papacy, and the interview makes clear that he strongly supports church teachings on those matters.
"He's chosen to emphasize God's mercy but also recognize the sin of abortion, contraception and homosexual acts,'' Conley said.
The bishops of the Des Moines and Sioux City dioceses in Iowa could not be reached for comment.
Omaha's Rachel Kraft, who considers herself a conservative Catholic, said the church and its members spend too much time arguing over such issues as abortion and same-sex marriage.
Kraft, a member of Our Lady of Lourdes Catholic Church, said the pope is saying that Catholics are aware of the church's teachings, and it's unnecessary to hit people over the head with them.
Nancy Kilbride, a member of St. Patrick's Catholic Church in Council Bluffs, agreed.
She said Francis wants the church to welcome people, not exclude them.
The pope addressed that point, saying: "This church with which we should be thinking is the home of all, not a small chapel that can hold only a small group of selected people. We must not reduce the bosom of the universal church to a nest protecting our mediocrity."
This report includes material from the Associated Press and the New York Times.