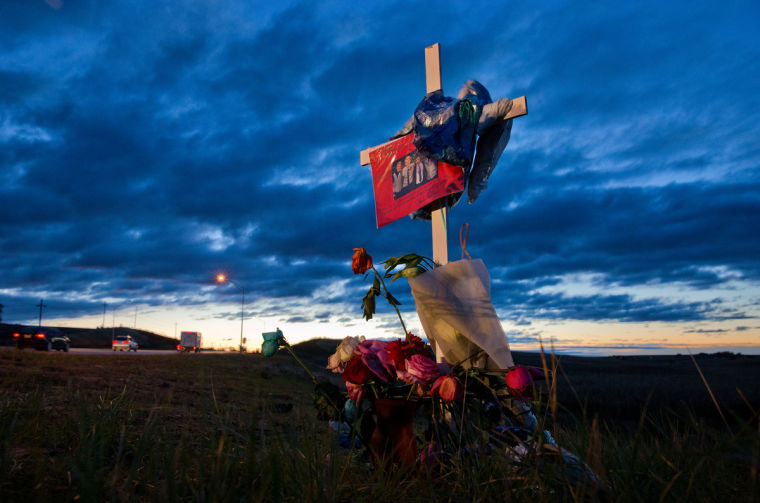 Most of the year, traffic at the Sarpy County intersection is nothing out of the ordinary.
Vehicles cruise down Highway 370 outside Gretna and only some will turn at 180th Street to residential areas. Drivers rarely try to cross the now four-lane highway to get from one side to the other.
Once fall starts and Halloween approaches, that all changes for a little more than a month.
Scores of vehicles have to stop at the intersection on their journey south toward Vala's Pumpkin Patch. At closing time, brake lights flicker as stop-and-go traffic crawls along the county road. It's common to see a constant flow of drivers at the junction as they head home.
While the intersection leading to Vala's can jam this time of year, it doesn't fit the qualifications for the Nebraska Department of Roads to install a traffic signal that would stop east-west traffic. Stop signs are in place for north-south traffic on 180th Street.
Traffic there has been counted before, the last time on a summer day in Vala's off-season.
The Roads Department will study the intersection again — but that will happen after a highway widening project finishes up and on an average traffic day outside of Vala's season.
In the meantime, people who frequent the area say that the intersection has serious safety problems and that something needs to be done.
It's been two weeks since 15-year-old Nate LaFave died in a traffic accident at the intersection. Two other Omaha teenagers were injured.
But the situation shows that there's no mechanism to install a signal when short-term events make an intersection busy. Without heavy traffic year-round, it's possible that an intersection would need to develop a bad accident record before it would ever qualify for a signal.
Short of a traffic signal, one alternative is placing a message board to warn drivers about potential problems. But the Roads Department only brings one out at the request of law enforcement, and this year, law enforcement largely didn't see a need for one.
State Sen. John Murante of Gretna, who travels Highway 370 daily, said the Oct. 11 accident should prompt the Roads Department "to take a long, hard look at that intersection that's proven itself to be fatal."
The intersection was the site of 12 crashes between January 2008 and March 2013, according to the Roads Department. Six of those accidents resulted in injuries.
In the fatal accident two weeks ago, driver Madeline Shely, 16, suffered a brain injury. She is recovering at Lincoln's Madonna Rehabilitation Hospital.
As of midweek, passenger Carly Anne Kelly, 15, was upgraded to serious condition at the Nebraska Medical Center. A Facebook page devoted to her recovery reported that she awoke from a medically induced coma and is breathing on her own.
The accident is still being investigated.
The Roads Department emphasized that it designs and maintains safe roadways.
The department follows federal guidelines and doesn't install a signal unless one or more criteria — namely traffic counts and accident data, among others — are met and an engineering study determines that it will improve the intersection's safety and operation. And a signal isn't required if the study finds that it would have substantial negative effects on the overall corridor.
At an intersection like the one at 180th Street and Highway 370, officials said it's important for people to drive defensively and look twice before pulling into the intersection.
Allan Abbott, a former director of the Roads Department, said placing a signal needed only part of the time may not improve safety and could be frustrating for drivers.
"People love traffic signals as long as the green light is on when they get there," Abbott said.
In the last traffic study, which was conducted during an eight-hour period in July 2009, nearly 7,300 vehicles passed through the intersection.
Vala's busiest days draw some 16,000 people, most of whom use the intersection, owner Tim Vala said.
Vala said measuring traffic in mid-July when his business isn't open is like measuring Werner Park when there's no Omaha Storm Chasers game.
"To say there's no consideration for us when we pull in over 200,000 people a year ... is ridiculous," he said.
Farther east on Highway 370, Werner Park has two traffic signals at its main entrances.
A traffic study projected that the 120th Street and 126th Street intersections along Highway 370 would meet the criteria for a signal in the opening year of the ballpark and development.
The study estimated a peak of about 4,000 vehicles for ball games and daily more than 34,000 trips, including some cars both coming and going, generated by surrounding development.
Although the development is planned to include offices, retail space, a hotel, bank, restaurants and housing, none of that has been built yet.
Last year, Werner Park brought in more than 433,400 people for its 74 home games that spanned a six-month period.
Installing a traffic signal isn't always based on projections.
The Roads Department determined that a signal was needed at Highway 6 and Blue Sage Parkway near Elkhorn South High School before this school year. The school operated its first two years without one, but one was activated after a steady increase in traffic volume, more development in the area and a bump in school enrollment, said roads spokeswoman Mary Jo Oie.
Open just 42 days this fall, Vala's is unlike other events that have peak traffic times an hour or so before and after.
Placing a portable message board is an alternative. But that is done upon the request of law enforcement because the Roads Department isn't always aware of local special events, Oie said.
The board was brought out and activated only once this year — in the days after the fatal accident. While it's still there, officials said it hasn't been turned on since.
For the past several years around this time, the Sarpy County Sheriff's Office requested message boards for the highway approaches to the intersection.
They would activate the signs as needed with this message: Turning Traffic Ahead/Be Prepared to Stop.
The sheriff's office started asking for the boards when the highway was just two lanes and traffic would back up. They didn't request them this year because that portion of highway was widened to four lanes and construction had finished.
"We didn't think we needed sign boards this year," Capt. Greg London said.
On Oct. 12, the day after the fatal accident, a Nebraska State Patrol trooper working in the area observed a heavy volume of traffic and requested a message board for westbound traffic on Highway 370 before the intersection, State Patrol spokeswoman Deb Collins said.
The board remains in place and can be used as needed, she said.
London said message boards along the highway, where they've been placed in years past, don't help to alert drivers using 180th Street.
The teenagers involved in the fatal accident were traveling south on 180th Street when their Jeep Cherokee collided with an eastbound pickup truck at the Highway 370 intersection.
While some people might wonder if law enforcement could help direct traffic, the intersection's size and constant flow of vehicles during Vala's season make it impossible, London said.
"That intersection is so big it would take two people to direct traffic, and we cannot tie up staffing," he said.
The Roads Department said a private funder could finance a signal, but only if it met the criteria.
Vala said he wouldn't pay for one, at least not now, although he would consider sharing the cost with a nearby neighborhood.
"I think we pay enough taxes, and we're a benefit to the state that we'd be paying for something they should," he said.
The Sarpy County Sheriff's Office said deputies will monitor the area closely during the last week Vala's is open.
Abbott said addressing the intersection is not "an easy situation." He believes the Roads Department will come up with what it believes is the best solution.