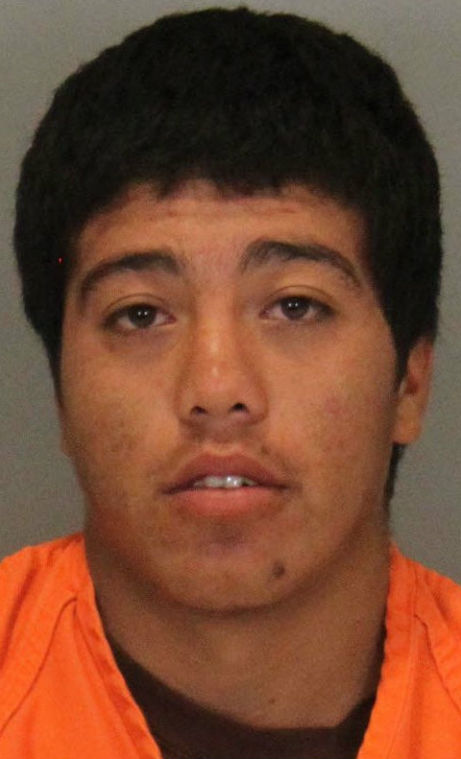 Douglas County Attorney Don Kleine struggled to find the right word to describe the rape and beating death of a 93-year-old woman.
Despicable. Disgusting. Horrific.
His chief deputy, Brenda Beadle, finished the thought.
"Nauseating," she said. "It just makes you sick."
Kleine added an official description to the list Thursday: first-degree murder.
That's the charge now faced by Sergio Martinez-Perez, 19, in connection with the Sunday attack on Louise Sollowin at the South Omaha home that she had lived in since World War II.
Kleine said autopsy results indicated that Sollowin died of blunt-force trauma to her head and body. Family members say she was beaten so badly that blood covered the room and her face and body were riddled with broken bones.
The county's top prosecutor said he is charging Martinez-Perez under Nebraska's felony-murder rule, which applies to deaths that occur during the commission of another crime, such as sexual assault or burglary. As such, Martinez-Perez will not face a separate first-degree sexual assault or burglary charge.
Omaha police — called to the home during the attack by Sollowin's daughter, who also lives there — say they found Martinez-Perez, naked and asleep, on top of Sollowin.
Martinez-Perez reportedly told police that he had been drinking all night and was "angry at women" because he had been rebuffed by a woman at a bar earlier that night.
He also told police that he has been in the Omaha area for only a few months. Federal authorities have begun proceedings to determine his immigration status.
The savage beating death left Sollowin's family reeling.
Unfortunately, Kleine said, the case is not without precedent. In the past four decades, prosecutors have charged other men, other teenagers even, for vicious attacks on elderly women.
"You can't compare cases because they're all horrible," Kleine said. "This is in the unimaginable realm."
---
Other attacks on elderly Omaha-area women
2005 — Elaine Anderson, 83, was pushed down a flight of stairs at her South Omaha home, 2314 S. 23rd St. She was raped and beaten by Jason B. Williams, 27, a neighbor. Anderson, who had lived in the house for six decades, died a little more than a year after the attack. Her family said she never fully recovered. Williams was sentenced to 54 to 61 years in prison.
1999 — An intruder slashed an elderly woman's throat and robbed her to buy crack cocaine. Lucille Bennett, an 87-year-old widow, was found in her home near 20th and Lake Streets. She was sitting on the edge of her bed, reading the Bible, when she was attacked from behind, authorities said. "Mother Bennett,'' as she was known, was left to bleed to death. Daryle Duncan, who was 36 at the time of the slaying, was convicted of first-degree murder in 2001 and sentenced to life in prison.
1998 — Sally Leu, 83, was found beaten to death in the basement of her home at 33rd Street and Curtis Avenue in north Omaha. Jeremy Garner told police that he pushed Leu — who had been known to bake cookies for him and pay him for doing odd jobs — down the stairs and beat her with two canes, a rock and several cans of food. He said he did so after she accused one of his friends of trying to break into her house. Garner was sentenced to life in prison.
1994 — Maude Keirle, 94, was beaten to death after confronting an intruder in her home in the Florence area. Marshall Horn, then 17, pummeled Keirle with a board, then dragged her body outside to hide it under her porch. Horn blamed his actions on alcohol. Keirle, an organist for her church, had lived in the house since 1905. Calling the crime "cowardly," a judge sentenced Horn to 30 years to life in prison.
1993 — Mary Buso, 80, was raped and smothered inside her home at 1931 S. 15th St.
Richard Allen, then 32, cut out a window screen to get into the house, leaving fingerprints behind. A decade later, police matched the prints to Allen, and he admitted to the crime. Allen, who also was charged in the 1998 rape of an elderly woman in Benson, is serving a life sentence.
1977 — Sadie Mae McReynolds, 97, was raped in her Ashland, Neb., home and died two weeks later. Decades later, Jeffrey Glazebrook, who was 17 at the time of the attack, was tried and convicted of murder. However, that conviction was overturned because testimony was allowed about Glazebrook's past criminal record. Glazebrook, now 53, is serving 30 to 60 years in prison for tampering with a witness at his trial in McReynolds' death.