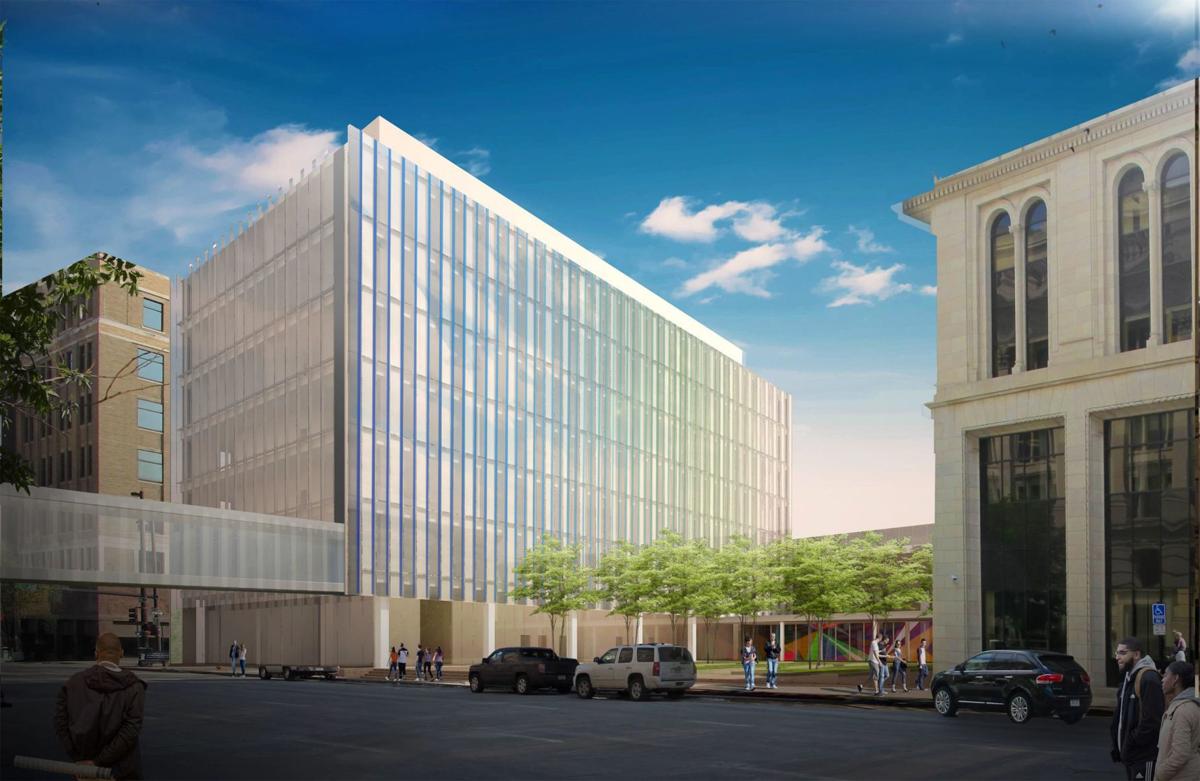 The debate over a $114 million Douglas County building project that aims to improve juvenile court services and youth detention will take center stage Tuesday at an Omaha City Council meeting.
The council will hear public testimony on a Douglas County Board proposal to build a new courthouse annex and juvenile detention center downtown. A council vote is scheduled for June 18.
The county and the Omaha-Douglas Public Building Commission have OK'd the project, but they can't build it without City Council approval of the financing and management details. It's not certain that they'll get it.
The project would be funded by public bonds, which would require a property tax increase amounting to about $30 a year on a house with a tax value of $200,000. The construction would be managed by a nonprofit development corporation.
It would be built at the Metropolitan Utilities District headquarters site at 17th and Harney Streets.
The project has three main parts:
Erect a new eight-story tower to house a new Douglas County Juvenile Court, plus offices for prosecutors and public defenders and community programs. Those current services are now crowded
in the Douglas County Courthouse and in offices outside of it. Families are now often forced to have difficult personal discussions in public, as there's no private meeting space to huddle with attorneys or social workers at the current Juvenile Court space. Abused and neglected youths share lobbies with their alleged abusers and share hallways with shackled youths who are accused of crimes.
Renovate the historic Metropolitan Utilities District headquarters building to use for juvenile probation offices and more services and programming for troubled youths and their families.
Construct a four-story detention center that would be smaller than the current one at 42nd Street and Poppleton Avenue. That's the most contentious aspect of the project.
The proposed new center would have 64 beds, a capacity that would shrink if various other reform efforts take root, reducing the number of youths in detention. The current detention center could serve about twice as many youths but has an average population of 75 to 80.
The tower and MUD building renovation would cost an estimated $92 million. The detention center would cost an estimated $27 million, reduced to $22 million because the Susie Buffett-led Sherwood Foundation has conditionally pledged $5 million toward the building. Sherwood also has pledged another $5 million for programs.
Proponents argue that the project is necessary because it would streamline what can be a cumbersome and lengthy juvenile court system, reduce the psychological trauma and recidivism that come with youth detention, better serve youths and their families, and ultimately save money.
They say the smaller size is by design because it's best to keep youths who aren't dangerous out of juvenile detention whenever possible.
Opponents cite cost, the downtown location and concerns about fewer beds. The Omaha police union has come out against it, saying it wouldn't be big enough.
Anthony Conner, union president and an Omaha police officer, said the union is for building a new facility to house juvenile courts and a redesigned detention facility together, but not if that detention center has fewer beds than it does now.
Douglas County Board member Jim Cavanaugh has rallied opposition to the detention center part of the project, saying the existing location, which has space for outdoor recreation, is better and could be refurbished, saving taxpayer money. He has, however, supported the courthouse annex part of the project.
Juvenile reform advocates aren't waiting on new buildings. Efforts are underway to increase and improve mental and behavioral health services.
Also, a new reception area for nonviolent, low-risk juvenile offenders has been established at the Child Saving Institute in midtown as a way to avoid putting those youths into detention.
Other detention alternatives include more short-term shelter space planned at Uta Halee, which serves at-risk girls in Omaha, and possibly more services and programs at the Omaha Home for Boys.
The City Council meeting will begin at 2 p.m. in the Legislative Chambers of the City-County Building, 1819 Farnam St.
Photos: Our best shots of 2019 (so far)
Take a spin through the best of our staff photos from 2019. The gallery will be updated throughout our journey through the next year.