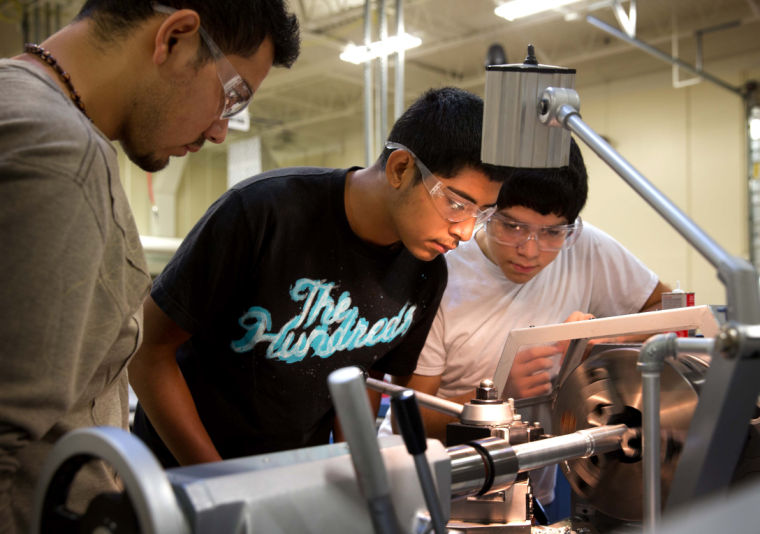 GRAND ISLAND, Neb. — Career education — preparing students for the workforce and not just college — is changing across the country, and a new model debuted this year in Nebraska.
The Grand Island Public Schools opened an $8 million building devoted entirely to giving students hands-on experience in trades. It is the first district in Nebraska to open such a center.
The Lincoln school district won't be far behind. It plans to revamp its program by opening a $25 million facility in two years at Southeast Community College. Any Lincoln high school student should be able to attend.
And Omaha Public Schools Superintendent Mark Evans thinks his district's still-nascent five-year plan will focus partly on career education.
"There's absolutely nothing wrong with young people deciding to be a skilled craftsman," said Evans, whose father was a sheet metal mechanic. "Not only is it OK, it's good."
Years into the push for all students to get a four-year college degree, educators and business leaders are thinking twice about the four-year degree movement.
Leaders are recognizing that the trades still have a place in education and that students can have viable careers with a two-year degree or a professional certificate. Even in a world with iPads and automated manufacturing, people still need plumbers and welders and electricians.
"Historically, I'm not sure that everyone has understood the value of a non-four-year degree in society," Evans said.
There's data that questions if the pursuit of a four-year degree is for every student.
Millions of future jobs likely won't require four-year degrees.
The Georgetown University Center on Education and the Workforce projects that by 2018, 14 million of the 47million job openings will require only some college or an associate degree.
"We have to do a better job in public education, I believe, in orienting kids to career," said Steve Joel, superintendent of the Lincoln Public Schools. "We want to connect kids to something that interests them."
Joel, who used to head the Grand Island school district, helped further the conversation about that district's new Career Pathways Institute. He also has led efforts to establish the similar center in Lincoln.
Increasing career training pays off in high school graduation rates: Omaha high school students who take three or more classes in a particular career education field are much more likely to graduate in four years than the average student, state data shows.
OPS, Nebraska's largest district, hasn't significantly changed its career center in recent years. For instance, classes are still taught for 75 to 90 minutes at the center, which is attached to the district's headquarters.
Districts in some other states, such as Oklahoma and Arizona, have had longer career education classes for decades, said Rich Katt, Nebraska director of career education.
Many districts offer some form of career education, but Katt said Grand Island and Lincoln are the first in Nebraska to pursue the model of longer classes at a separate, up-to-date facility.
Grand Island's new institute will host about 150 juniors and seniors who are interested in manufacturing, automotive technology, construction, information technology, drafting, transportation and logistics.
Students take three-hour classes, giving them more time to work with steel saws and car lifts. Similar classes last year lasted 50 minutes, but business leaders told school officials that more direct experience in high school will better prepare students for the workforce, said Dan Phillips, coordinator of the institute.
Students can take related classes, such as welding, at Central Community College's Grand Island campus.
In future years, the district hopes to host about 400 students per semester at its institute.
Grand Island business and education officials started examining the district's career program in 2006, when Cindy Johnson, president of the Grand Island Chamber of Commerce, was told it wouldn't be long before one of the town's biggest manufacturers might move because of a dearth of younger workers.
Johnson met with Joel, then the Grand Island superintendent, and a national facilitator was hired to lead a 40-member task force.
Grand Island needed to do more for students who weren't thinking about a four-year degree, Johnson said. "How do we make sure they're understanding education from a real-world perspective?"
About half the task force toured two of the nation's most well-known career education centers: the Francis Tuttle Technology Center in Oklahoma City and the East Valley Institute of Technology in Mesa, Ariz.
Both facilities use up-to-date equipment, offer professional certifications in dozens of programs and measure themselves on career, college or military placement.
At Francis Tuttle, 91 percent of its 2012 graduating seniors pursued employment, the military or more education, a spokesman said. In Arizona, businesses recently purchased more than $300,000 worth of tools and equipment for the technology institute's collision repair program.
"Industry is so desperate for our kids," institute Superintendent Sally Downey said.
In both cities, students from multiple school districts attend the career centers, which are paid for through separate levies.
Grand Island officials decided on the centers' model: Students would spend half of the day at their home high schools and the other half at the career center.
The Grand Island district eventually bought a vacant, 66,000-square-foot warehouse and partnered with businesses to buy $1.6 million worth of new equipment.
This fall, for 16-year-old Kevin Favela, the half day at the institute means more learning in his information technology course.
He said students used to spend 10 minutes setting up computer networks and 20 minutes packing up routers and switches. That left about 20 minutes for classwork, to see what was wrong with the router.
IT teacher Scott Fox said the nearly three-hour classes are "more like you're in a workplace and have a good chunk of time to work on a project."
Ed Kinne, who teaches home construction, said it took three weeks for students to install floor joists with 50-minute class periods. Now, with almost three hours a day, he said, they set the joists in four days.
To take classes at the institute, Favela had to get a teacher's recommendation, provide his behavior and attendance records and be interviewed.
Career center students still take core classes, such as English and math, at the high school. The district provides transportation to and from the high school.
Dan Faltin runs a Grand Island division of Global Industries that manufactures grain storage and handling equipment. He hopes the new institute and the new emphasis on career education help ease the consistent shortage of welders his company encounters.
His business has enough work for 15 more welders but can't find the qualified people to do the work.
Creating the institute will cost the district about $380,000 more a year, including two new employees for $130,000, said Robin Dexter, Grand Island associate superintendent.
Changes are afoot in the Lincoln Public Schools, too.
The district and Southeast Community College plan to split the cost of the new career education center.
The district is planning for additional ongoing costs, but those figures won't be known until finalizing the programming, said John Neal, assistant to the superintendent.
There are downsides to the half-day model: Students narrow their electives, Joel said, and might struggle going to school with students from rival high schools. But students have been coming from rival high schools to Francis Tuttle and the Arizona institute for decades.
Other school districts in the metro area offer career education programs for certain trades, but not at the size or scope of Lincoln or Grand Island. Millard Horizon High School allows juniors and seniors to attend half-day academies in job fields such as culinary skills and transportation and product distribution.
In Papillion-La Vista, those interested in the skilled trades can sign up for a daily four-hour tool-and-die apprenticeship at local business Tri-V Tool & Manufacturing Co. Other career programs function more as hour-long elective classes taken during the normal school day.
Neither district, however, has plans to build a separate center devoted solely to career education.
In Iowa, the Council Bluffs district has large career academies at both Thomas Jefferson High and Abraham Lincoln High, said Corey Vorthmann, director of secondary education for the Council Bluffs Community School District. The district also has a few more specialized programs at its career center, including automotive technologies.
The Learning Community of Douglas and Sarpy Counties has not seen or heard of any multidistrict career education proposals, said council Chairwoman Lorraine Chang.
An attempt to give extra state dollars to districts that form such a partnership also stalled last year in the Nebraska Legislature.
World-Herald staff writer Erin Duffy contributed to this report.
---
AFTER HIGH SCHOOL
Seven years after the Omaha Public Schools' Class of 2006 graduated, the graduates had completed various educational degrees.
» About 39% had earned bachelor's degrees
» About 34% had taken some college classes
» About 7% had earned associate degrees
» Just over 6% had earned certificates
» Less than 1% had earned journeymen certificates
» A little more than 1% had received some work-related training
» About 10% of the 2006 class did not earn more than high school diplomas
NATIONALLY, THE DATA WAS SIMILAR
More than four of 10 average college freshmen who started pursuing a bachelor's degree in 2004 still had not obtained one six years later.
Sources: Omaha Public Schools follow-up survey of 2006 high school graduates; National Center for Education Statistics