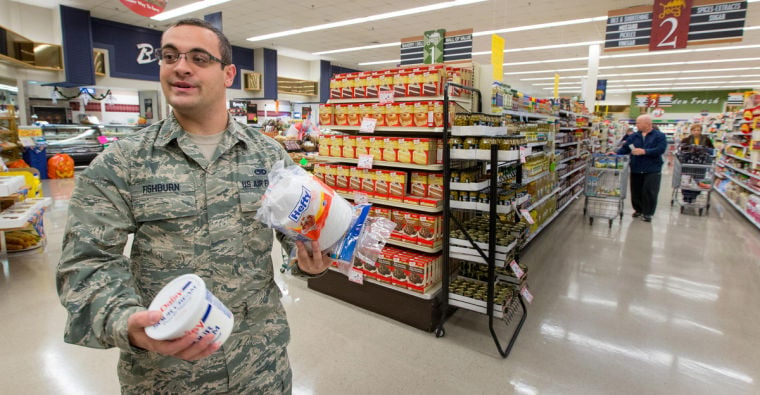 America asks its military members to risk injury and death in the line of duty and to endure stressful separation from their families.
In exchange, we provide them with pay, free housing and medical care, wholesale prices at commissaries, all or most of their college expenses and more.
After they retire, we give them health care at a fraction of what it costs civilians and pensions equal to at least half of their military salary, even if they retire at age 40.
When they die, we bury them for free in national cemeteries, with honors.
But America's support for its military comes with a hefty and growing price tag: $413 billion in 2013 pay and benefits for service members and retirees.
That's about twice as much as in 2001. Even after adjusting for inflation, military pay and benefits are up 30 percent during the past 12 years.
Some analysts fear that spending on service members' compensation will soon crowd out spending on the tools they need to fight wars.
"There's a war within the defense budget," said Mackenzie Eaglen of the conservative American Enterprise Institute, where she is a resident fellow specializing in military spending and strategy. "You have to tackle this issue. Personnel costs are now pushing out defense power."
This week a bipartisan panel created by Congress will hold public hearings on military pay and benefits. The Military Compensation and Retirement Modernization Commission — which includes Bob Kerrey, former U.S. senator and governor of Nebraska — has been meeting since July and will recommend changes in May 2014.
So far, however, Congress hasn't been inclined to place spending limits just on current and retired personnel. Under the federal budget sequester that began this year, most pay and benefits to troops or retirees were exempted from cuts. In the Defense Department, the ax has fallen instead on construction, training, weapons and civilian pay.
"We know defense is going to be cut," said Lawrence Korb, a Pentagon undersecretary for manpower during the Reagan administration who is now a senior fellow at the liberal Center for American Progress. "Do you want to buy weapons systems or do you want to pay runaway military personnel costs?"
Some analysts contend it is medical costs and pensions that are driving the spending increase. The cost of medical care for service members and their families has tripled during the past 12 years of war. Pension payments have doubled. So have VA medical costs, even as the World War II generation dies off.
Advocates for the military, though, say the fiscal threat is exaggerated.
Military pay and benefits are justified because of the significant sacrifices that service members and their families make, said retired Air Force Col. Mike Hayden, government relations director for the Military Officers Association of America.
Compensation went up in the 2000s mostly to make up for cuts during the post-Cold War drawdown of the previous decade, he said. That was essential to keep enough people serving through difficult times such as the simultaneous wars in Afghanistan and Iraq.
"There is a reason why we have these benefits," Hayden said. "Part of it is you sacrifice your life for 20 years for the defense of the nation."
Still, it's clear that a key goal of the compensation commission — the nine-member panel created by Congress — is to rein in costs.
"I hope we're able to come up with a set of recommendations to Congress and the president which, perhaps, will save us money," Kerrey said. "But hopefully it will allow us to continue to draw high-quality recruits."
That is the line military leaders must walk. How do they offer enough incentives to attract young men and women to hard and dangerous jobs without busting the treasury?
Meanwhile, after a dozen years of war, many Americans may be unwilling to reduce benefits to those who served.
"How can you talk about cutting veterans' benefits when we've got troops coming back from the wars, and they're pretty banged up?" said Todd Harrison, a senior fellow at the Center for Strategic and Budgetary Assessment who has raised concerns about the rising costs.
Eaglen thinks those sentiments are tinged with guilt as much as gratitude.
"Most people's gut reactions are 'I don't want to cut benefits, because they've served and I didn't,' " she said.
The end of the military draft in 1973 made it necessary for military leaders to think about how to attract and retain troops.
Even after the Vietnam War and the Cold War ended, the Pentagon still had plenty to do, including peacekeeping missions in Somalia, Haiti, Bosnia and Kosovo. Then came the major post-9/11 commitments in Afghanistan and Iraq.
But military salaries couldn't keep up with the pay offered in the booming private sector. News stories reported on enlisted troops who needed food stamps to feed their families.
Congress granted pay raises to the military that exceeded the cost of living for several years in the 2000s. Today, basic enlisted pay — $18,000 for a fresh-faced private to $88,000 a year for a long-tenured sergeant major — is higher than salaries for 70 to 80 percent of private-sector workers with similar levels of education, according to a 2012 Defense Department report. Officers make more than about 90 percent of their civilian peers.
The higher pay goes along with military retirement benefits that differ substantially from the private sector.
Retirement pay for those with 20 or more years of service equals between 50 and 75 percent of the average of their three highest years of salary. For most, the pension checks begin when they are in their 40s. Many start second careers while collecting their pensions.
But only about 15 percent of enlisted members and 33 percent of officers remain long enough to collect the pension, according to the RAND Corp. Military officials call it the "cliff system," because those who leave before 20 years of service get no pension at all.
Cliff retirement is popular with service members — even young ones like 2nd Lt. Calvin Fishburn, 22, of Bellevue, who has been in the Air Force only a few months.
"For me it would work out really well, because I could retire at 41," Fishburn said.
Some argue this is unfair to the majority who serve shorter careers and leave without any retirement savings.
"If you don't stay in for the full 20, you're kind of out of luck," said Cheryl Kay, 27, of Papillion, whose husband is an officer at Offutt. She wouldn't mind seeing an optional plan that includes a 401(k).
But advocates say the cliff system gives troops an incentive to stay in the military rather than take their skills to lucrative jobs in private industry. Unlike a private business, the Pentagon can't easily go out and hire the highly trained specialists it needs to run a high-tech military.
"(You can't) find a replacement for a fighter pilot with 3,000 hours of flying time," said Hayden of the military officers association. "You have to grow that experience base. You can't just go out and recruit it."
Changes to military pensions have been proposed for decades. In the mid-1980s, Congress actually reduced future retirement pay by about 20 percent for those who joined starting in 1986. But as those service members neared retirement in 2006 — at a time of particularly hellish combat in Iraq — they complained about the reduced pensions.
"They said 'It's not fair.' Congress agreed with them and retroactively changed the law," Harrison said.
The Military Compensation and Retirement Modernization Commission already has heard testimony on changes to the retirement system for future service members. The RAND Corp., for example, suggested adding a 401(k) plan in which a person would be vested after 10 years of service. The 20-year retirees would draw pensions that are 20 percent higher than now — but not until they reached age 60.
The suggested change wouldn't affect any current or former service members, only those who would join after the law is passed.
Past proposals for similar changes have fallen because of opposition of retired officers. Hayden indicated his organization would oppose a similar plan now, too.
"All these proposals are at the expense of those who did put in a career," he said.
Military medical costs are rising even faster than retirement costs. Care for active-duty families and veterans combined has jumped from $40 billion in 2001 to $90 billion this year.
As far back as 2010, then-Defense Secretary Robert Gates expressed alarm.
"Leaving aside the sacred obligation we have to America's wounded warriors," Gates said, "health care costs are eating the Defense Department alive."
Active duty service members and their families get their medical care essentially free through TRICARE, which was created in 1996 as a replacement for another program.
Military retirees also get subsidized TRICARE coverage, often for several decades, until they turn 65. When the plan started, the cost was set at $500 a year for a family — roughly half what civilians paid at the time for policies purchased through their employers.
TRICARE premiums remained unchanged until 2012 and have since inched up to $539 a year. Over the same period, premiums for private-sector employees have climbed to an average of about $4,000 a year for a family.
Retirees over 65 are required to switch to Medicare. However, they receive TRICARE for Life, a Medicare supplement plan that was created in 2002 and is free for veterans.
The Obama administration has pushed for slower pay increases for active-duty service members and larger hikes in TRICARE fees for retirees — means-tested, with a maximum premium of $1,200 for the wealthiest veterans.
Secretary of Defense Chuck Hagel said the changes would save $12.8 billion over five years. So far Congress has rejected them, which pleases the veterans groups.
"We've done a lot to get military pay and benefits where they are today," Hayden said. "You've got to be able to recruit and retain people when times are good, too."
When the commission holds its hearings this week in the Virginia suburbs of Washington, D.C., it's likely to hear opposition to any changes. The Veterans of Foreign Wars has urged its members to show up and speak out against cuts in pay and benefits.
And when the commission makes its report to Congress and the president in May, there's no guarantee that anything will happen. Lawmakers have no obligation to vote on the recommendations.
Kerrey has a hard time imagining an already gridlocked Congress taking up such a controversial issue. Aside from some think-tank budget hawks, there's not a big push for military pay cuts.
"I'm not bursting with confidence that our recommendations are going to be acted on," Kerrey said. "This is a much more difficult mission, because the public isn't really engaged with it."
Eaglen contends a disaster is looming in the military budget, although not the kind that compels Congress' attention.
"It's a slow-motion crisis," she said.
Eventually, however, budget pressures will force action, she said.
"This is going to get done. Because it has to."
---
MILITARY PENSIONS ADD UP
Unlike their civilian counterparts, military retirees begin collecting their pensions as soon as they leave the military — as long as they have completed at least 20 years of service. Using the Defense Department's online pay calculator, here is the likely lifetime pay for an O-5 officer (lieutenant colonel) and an E-7 enlisted person (master sergeant) who retire this year and collect pensions for the next 40 years. (This assumes a 2.5 percent inflation rate.)
border: 1px solid #CCC; font-family: Arial, Helvetica, sans-serif
background-color: #104E8B;
| Years out | Year | Annual pay | Cumulative |
| --- | --- | --- | --- |
| 1 | 2013 | $23901 | $23901 |
| 10 | 2022 | $29849 | $267772 |
| 20 | 2032 | $38209 | $610543 |
| 30 | 2042 | $48911 | $1049319 |
| 40 | 2052 | $62610 | $1610988 |
border: 1px solid #CCC; font-family: Arial, Helvetica, sans-serif
background-color: #104E8B;
| Years out | Year | Annual pay | Cumulative |
| --- | --- | --- | --- |
| 1 | 2013 | $45358 | $45358 |
| 10 | 2022 | $56646 | $508165 |
| 20 | 2032 | $72512 | $1158660 |
| 30 | 2042 | $92821 | $1991348 |
| 40 | 2052 | $118819 | $3057259 |