At an air base in Wonsan, Dr. Jennie Jin carefully examined each of the 55 cases, making sure each was secured and matched the paperwork she had been handed by North Korean authorities.
Each case contained the bones of soldiers who died long ago in the Korean War, during a counterattack by U.S., South Korean and allied forces after Communist North Korea invaded its pro-Western neighbor.
North Korean strongman Kim Jong Un had agreed to the release after his photo-op summit with then-President Donald Trump in Singapore in June 2018.
Six weeks later, Jin watched as the cases were draped with the powder-blue and white flag of the United Nations for the flight to South Korea, and then on to Honolulu. She would escort them.
"Today, they are known but to God," Vice President Mike Pence told a crowd when the caskets — now draped in American flags — were somberly carried from the plane in Hawaii. "But soon we will know their names. And we will tell their stories."
Jin's job was to make that happen, and it was just beginning. A forensic anthropologist who heads the U.S. Department of Defense POW/MIA Accounting Agency's Korean War Identification Project, she led a team charged with cataloging and identifying the bones and returning them to their families. The agency has two labs, one in Hawaii, the other in Nebraska at Offutt Air Force Base.
So far, Jin's team has identified 70 U.S. soldiers from the bones returned by North Korea in 2018 — a group the accounting agency calls "K55" in reference to the number of cases they were sent in. It also distinguishes them from "K208," a large set of remains shipped from North Korea in the early 1990s. The K208 set includes remains from at least 400 people. It produced new identifications as recently as 2018.
Jin expected the K55 remains to be highly mixed up — or "commingled," to use the forensic anthropologists' term — and they were.
DNA sampling shows K55 contained remains from at least 250 people. About 170 of those are American. The rest are from other countries and believed to be primarily South Korean.
The majority of the remains are from the Chosin Reservoir campaign, a brutal two-week battle in late November and early December 1950, about five months into the Korean War.
In that battle, some 30,000 United Nations troops were surrounded by three to four times as many Chinese soldiers near a frozen mountain lake, in deep snow and subzero cold. The U.N. commander, Gen. Douglas MacArthur, had sent them north toward the Chinese border despite clear signals that North Korea's neighbor had infiltrated and planned to attack.
Most of the troops fighting west of Chosin were from the 1st Marine Division, while most of those battling on the east side were Army soldiers from the 7th Infantry Division.
With help from U.S. air power, they fought their way out, inflicting nearly 50,000 casualties on the Chinese while losing 8,500 dead, wounded or missing — plus another 7,500 to frostbite.
Rex Gruber, 89, of Omaha served in Fox Company of the 2nd Battalion, 7th Marine Regiment. His unit of fewer than 250 Marines was trapped on a hilltop, fighting off the waves of attack, night after night.
Gruber was wounded early in the battle when a bullet shattered his ankle and injured his foot. He lay shivering in a medical tent for 10 days, battling frostbite in the minus 30 degree cold. Finally another Marine unit — which earned the nickname "Ridgerunners" — slogged through heavy snow to help.
When the Marines finally abandoned their camp, the casualties were loaded into trucks as the survivors prepared to fight their way out of the trap.
"They threw the wounded Marines in on top of the dead ones," Gruber recalled, for the bumpy, treacherous ride, as they fought their way back to the sea. He spent more than a year in military hospitals, until his discharge from the Marines in February 1952.
More than 70 years later, the foot still pains him. But Gruber knows he was one of the lucky ones. Many dead Marines and soldiers were hastily buried in shallow graves chipped from the frozen ground. In East Chosin, one Army unit was destroyed when its evacuation convoy was attacked. They were forced to leave their dead and wounded. Most of the wounded were killed.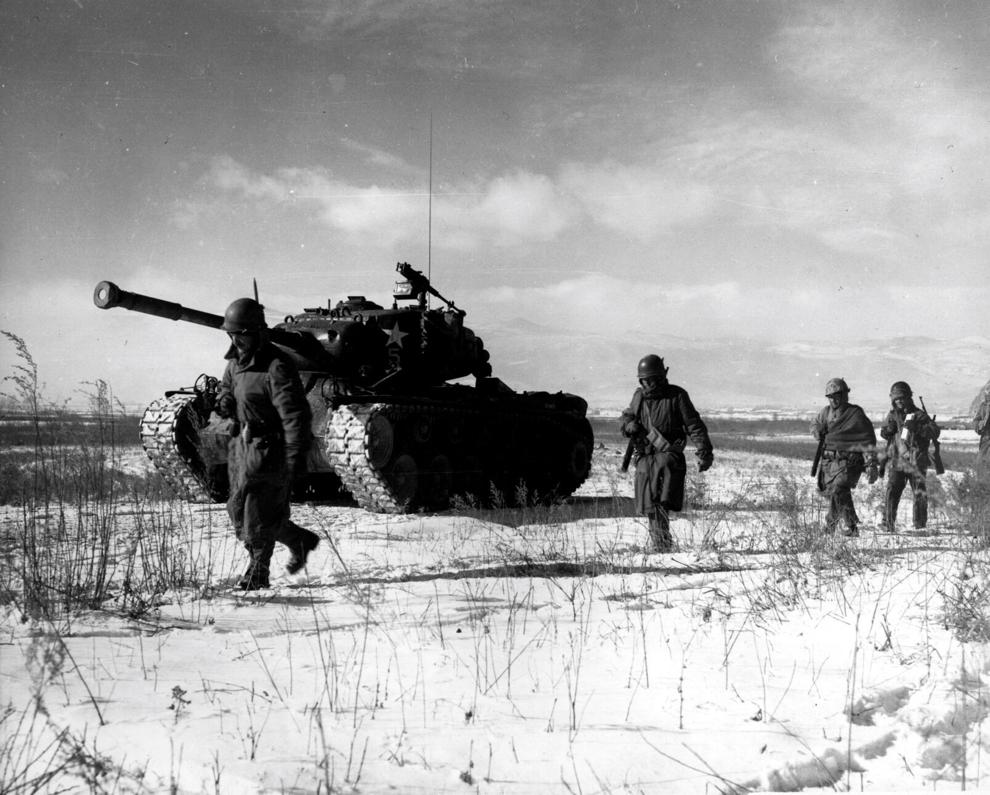 The battle known as "frozen Chosin" was a pivotal moment in the war. It ended MacArthur's plan to wipe out North Korea and prevent China from entering the war. The bloody slog continued for 2½ more years. It ended with an unsatisfying truce that bred a tense peace, with frequent conflicts along the border between the two Koreas.
Soon after the war, North Korea turned over more than 4,000 sets of U.N. remains in exchange for more than 12,000 bodies of North Korean and Chinese soldiers.
"We identified many of them, but we couldn't recover all of them," Jin said.
Still, Jin said, more than 8,300 Americans were unaccounted for at the end of the war, a number that's been whittled down to 7,500 since then through the efforts of the accounting agency and several predecessor organizations. About 1,000 of them perished at frozen Chosin.
The turnover of the K208 set of remains between 1990 and 1994 was a milestone in U.S.-North Korea relations. But DNA technology was still in its infancy, and it has taken years to identify those remains, which were highly commingled. Jin's team has identified 182 people from the K208 remains, most recently in 2018.
A slight thaw in relations during the 1990s led North Korea to permit joint North Korean and U.S. teams to recover remains from burial and plane crash sites within its territory.
Between 1996 and 2005, the teams conducted 33 recovery missions, which led to the recovery of 220 sets of remains and at least 75 identifications.
Jin said the excavations were mostly of burial sites from the battle of Unsan, which took place north of Pyongyang over 10 days in October and November of 1950, and in the East Chosin area.
She said the many of the Unsan burial sites were obviously staged by the North Koreans, who buried bones for the teams to find.
The East Chosin sites, though, appeared to have been untouched since the U.S. and South Korean troops buried their comrades in 1950.
"You can see how the bodies were buried," Jin said. "They're really shallow. They're only knee-deep."
The U.S. suspended the recovery missions because of growing tension. Between 2007 and the 2018 Trump-Kim summit in Singapore, the accounting agency did not receive any new remains from North Korea. U.S. officials believe that at least 5,300 sets of remains are still there.
But the accounting agency had hundreds of Korean War remains right in its own backyard. At least 800 unidentified bodies had been buried in the National Memorial Cemetery of the Pacific in Honolulu in graves marked "unknown, Korean War."
For years, unknowns had been disinterred only if there was strong evidence that the remains in the grave could be linked to a single person. That policy changed following a 2015 reorganization that created the DPAA from three prior government agencies heavily criticized for bureaucratic infighting and slowness in carrying out the identification mission.
In 2018, the agency released a plan to disinter 652 remaining Korean War unknowns in seven phases. The first two, involving 180 graves, have been completed.
Oddly, Jin said, the anthropologists have had a harder time extracting DNA from the well-preserved remains disinterred from Hawaii than the ones turned over by North Koreans.
That's apparently because the Hawaii burials were treated with formaldehyde. Her team has learned that formaldehyde kills the organic material that preserves DNA. In some cases, they have had to use other tests, or more sensitive ones, to identify them.
"The ones from North Korea were poorly preserved,"Jin said. "They look really terrible, but they yield DNA beautifully."
Even bones that can't be identified now are preserved. The armed forces lab in Delaware that tests for DNA has improved its methods over the years. Samples that yielded nothing 10 years ago can now produce an identification.
There is still a long ways to go. Only three of 62 Korean War missing from Nebraska have been identified, and only five of 134 from Iowa.
Even seven decades later, it means a lot to the friends and families when the dead are returned.
"Now it's the grandkids," Gruber said. "It's always good to have a burial back in the hometown."
Rodney Chinn of Columbus couldn't agree more. His father, Master Sgt. Leonard Chinn, was captured Dec. 1, 1950, when his Army unit was overrun in East Chosin. He died of malnutrition a few months later in a North Korean prison camp, leaving behind a wife, Irene Thurstonson Chinn of Silver Creek, Nebraska, and two young sons.
She died in 2002 without ever receiving a body to bury.
"It's a closure, finally, after 68 years," Rodney Chinn said at the time. "He's home."
---
Offutt Air Force Base through the years