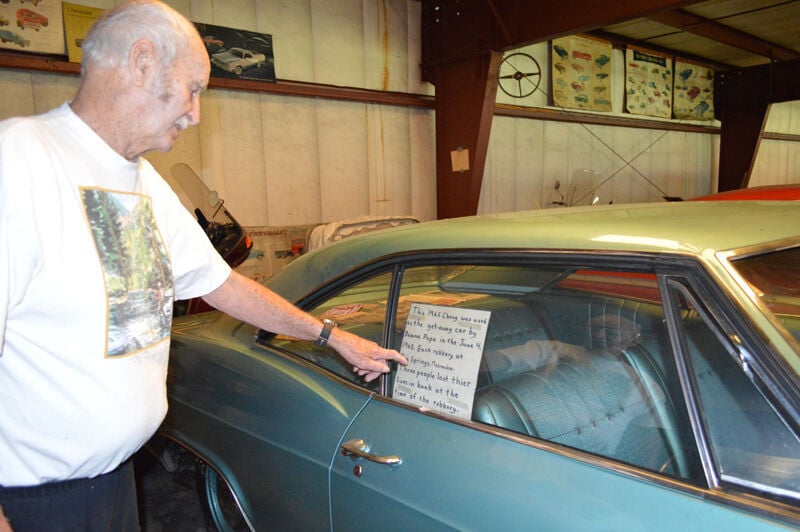 ELM CREEK, Neb. — The collection of four- and two-wheeled vehicles at Chevyland USA will be auctioned online, beginning in mid-April and ending May 6.
The late Monte Hollertz opened the Chevyland attraction a couple of miles east of Elm Creek in 1973, but he had assembled many of the vehicles before then. Some were displayed at Hollertz's first car museum in Minden, but he wanted better visibility so he opened Chevyland just a couple of hundred feet from Interstate 80.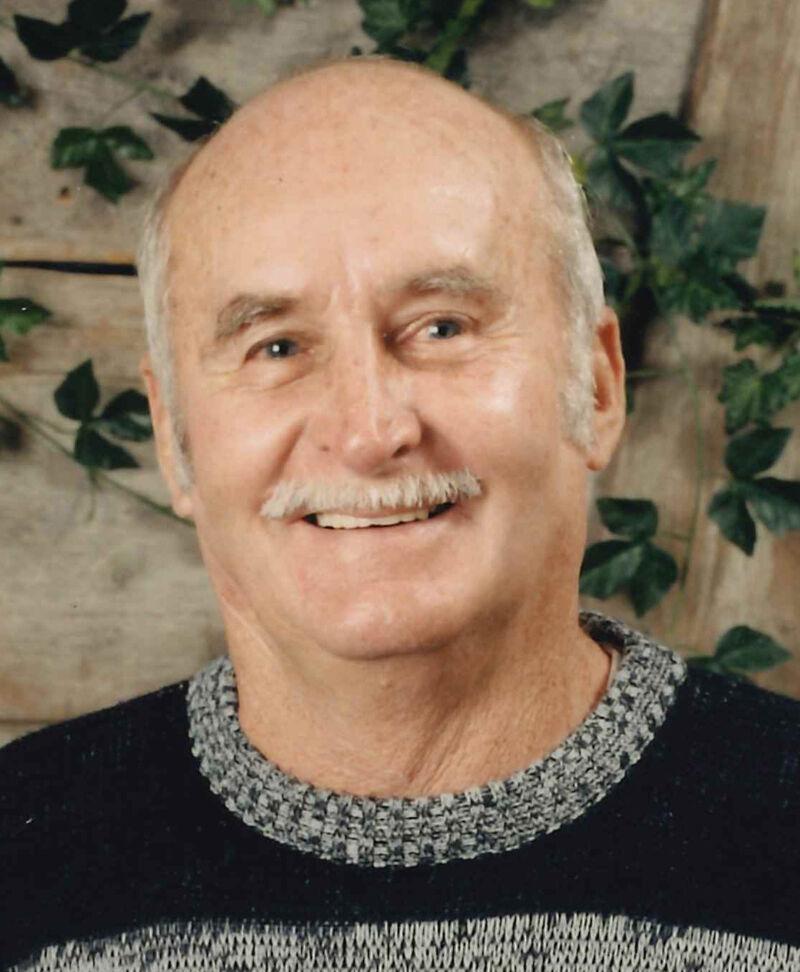 At one time, Hollertz claimed, 100 people per day visited Chevyland to view the impressive collection of Corvettes and other sporty Chevrolets, but the lineup of vehicles that will be auctioned has just one Corvette, a 1967 model with only 6,700 original miles on the odometer.
Mat Cope of Big Iron Auctions anticipates the silver Corvette will generate a lot of bidding, along with a scarlet 1958 Impala with just 14,800 miles on the ticker. Sitting next to the '58 Impala is a third showstopper, a low-mileage 1963 Impala two-door sport coupe.
"We think those three cars could bring up to $300,000," Cope said.
He said Hollertz had an eye for sporty, trendsetting Chevrolets. He crossed the United States to build his collection of 80 rare and vintage cars.
Cope said Hollertz's skill as a collector is evident as prospective buyers from around the U.S. call Big Iron for more information about vehicles on the sale bill.
Most of the cars average only 20,000 miles on their odometers.
It's been interesting fielding questions from prospective buyers, Cope said.
People from California envision a surfboard rack atop a 1960 Corvair station wagon, he said. Collectors with a little gangster blood might fancy the lineup of 1930s and 1940s Chevys. Also up for sale is the blue 1963 Chevrolet driven in the 1965 Big Springs bank robbery. Three people were killed that day. The Chevy was a rental from the Hertz lot in Salina, Kansas.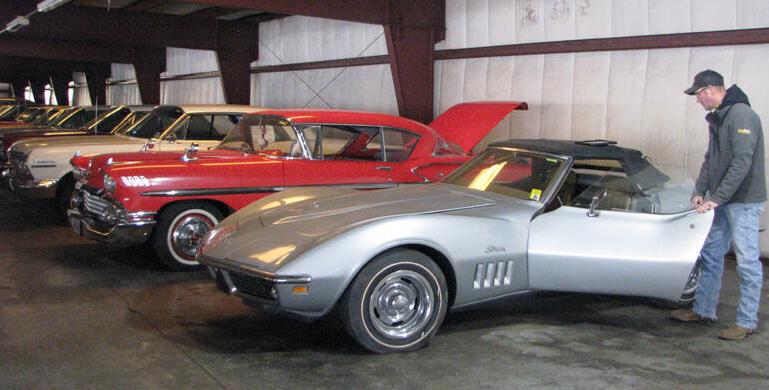 The Hollertz collection also includes Chevys from the teens and 1920s, including sporty two-door models and four-door touring cars.
An assortment of motorcycles from the late 1960s and early 1970s includes mostly Japanese motorcycles. The two-wheel lineup has a couple of Suzukis with rotary engines, a BMW with an unusual custom fairing, and what may have been one of Hollertz's favorites, a big touring bike with the frame and wheels from a Harley-Davidson and the engine from a Honda Goldwing.
Monte's son, Al Hollertz of Holdrege, said he worked 15 years with his father on the Chevyland collection. During that time, Al restored many of the vehicles displayed at Chevyland, including a 1932 Chevrolet Roadster. He restored the two-door convertible bolt by bolt, and it consistently has won trophies at car shows.
Al now owns the Roadster and it occasionally turns up at shows.
Al said Chevyland was a big attraction in its early years because cars in the collection appealed to that generation of enthusiasts. Passing of time has meant a shift of interest, he said. "When we first opened up there was a generation that enjoyed these cars. A lot of people stopped in, but that was 47 years ago."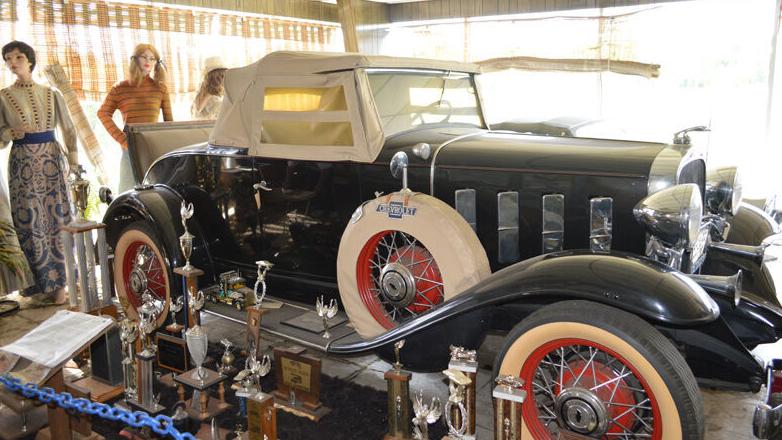 Monte Hollertz was a full-time farmer who spent much of his life restoring and collecting classic cars. He began collecting Chevys in the 1960s and often traveled in them.
Hollertz died in January 2020. According to his Kearney Hub obituary, he enjoyed restoring the vehicles with his sons, and eventually found an old skating rink in Minden to display the vehicles.
He kept the collection in Minden for a few years, but wanted more visibility so he bought the tract of land at 7245 Buffalo Creek Road about one mile east of the I-80 exit at Elm Creek and built Chevyland. Later he and his wife occupied living quarters in the museum and enjoyed welcoming visitors.
"At the height of Chevyland's popularity, the couple clocked about 100 visitors a day to the museum," according to the obituary. "At one time Chevyland was one of the largest private Chevy collections in the world."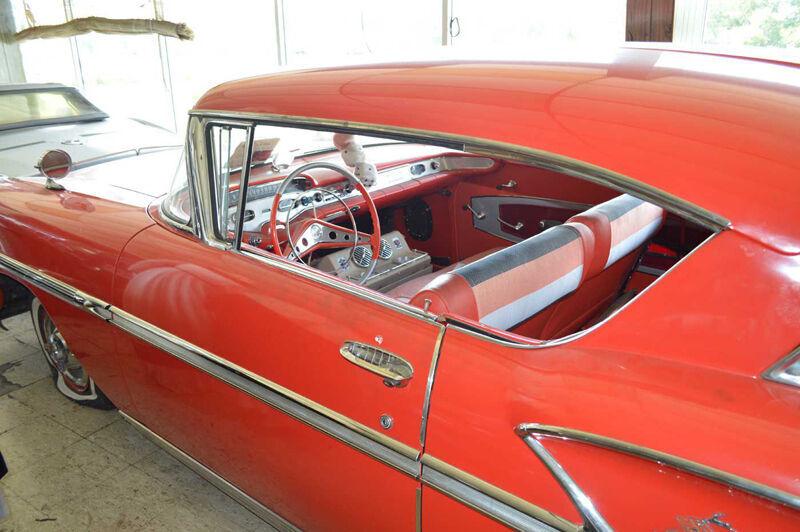 The entire Hollertz collection will be auctioned on BigIron.com. Bidding will open on April 15 and close on May 6. Buyers can view the items for the auction in person inside the museum during an open house 10 a.m.-4 p.m. April 29-May 6, Cope said.
Al Hollertz anticipates bidders from across the United States and from some international locations. He said it's bittersweet to think about the interest the Chevyland sales is generating and the end of his father's collection.
"It's a sad time but these things eventually end," he said.
---
Our best Omaha staff photos of March 2021