The ship rolled over at its berth along Pearl Harbor's Battleship Row in the first minutes of the Japanese attack on the morning of Dec. 7, 1941, trapping both men and hundreds of their shipmates below decks. Of 429 sailors and Marines who died on the ship, only 35 were identified during the war; the rest were buried in Hawaii in graves marked "Unknown." The only ship that lost more men was the USS Arizona, on which 1,177 men perished.
Twenty-three of the sailors who died had spent some or all of their youth in Nebraska or western Iowa.
Just before Christmas that year, Tushla's family in Atkinson and Jones' family in Harvard got word by telegram that their sailors were missing. In February, a second cable arrived, informing them he "has officially been declared to have lost his life in the service of his country."
Neither man ever made it home. Not until now.
Nearly 80 years after the Oklahoma capsized in the mud of Pearl Harbor, the remains of these young men will soon return home beneath folded flags to somber crowds, through the efforts of a team of experts working in a lab at Offutt Air Force Base.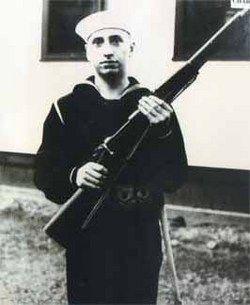 "I think it's a great honor," said Robert Alan Stett, 64, of Harvard, who is Jones' nephew. "This guy went to high school here, he served his country, he died. He's a hometown hero."
Stett was born 15 years after the Pearl Harbor attack, but he carries the names of two of the men who died there. His middle name matches that of his uncle, who was called "Alan" by his family.
And his first name is from Alan's close friend, Seaman 1st Class Robert Young, who had visited Jones' Nebraska hometown with his buddy before the war. Young, 23, was identified and buried near his home in Illinois in 2018.
The identifications of Jones and Tushla come near the end of a five-year project by the Defense POW/MIA Accounting Agency to identify the USS Oklahoma missing using DNA technology and other methods not available in the 1940s.
In 2015, the accounting agency disinterred 61 caskets of the USS Oklahoma dead from graves marked "unknown" at the National Military Cemetery of the Pacific in Honolulu.
Those caskets were brought to the Offutt laboratory, which had plenty of space to spread out the more than 13,000 bones the caskets contained.
They were sorted and cataloged, many of them sampled for a DNA match with samples gathered from living family members of the missing men.
The agency's historians and forensic anthropologists had hoped to identify 315, or 80%, of the missing men by the end of 2020.
With just weeks to go, the number of USS Oklahoma identifications has reached 281, equal to 71%.
"We're getting towards the end," said Carrie LeGarde, a forensic anthropologist leading the USS Oklahoma identification project. "That's part of why this year it's been 'all hands on deck' to try and meet that goal."
The effort has been complicated by the COVID-19 pandemic, which since March has limited the number of workers who can be in the lab at one time. They work from home most days.
Total identifications fell to 122 during the 2020 fiscal year, which ended Sept. 30, down from 217 the year before.
The 2020 figure included 33 IDs from the Oklahoma. Thirteen more have been announced since.
LeGarde said the Oklahoma team is now down to some of the tougher cases.
The easier matches, she said, use mitochondrial DNA, which is passed down through female relatives.
But about 50 of the DNA sequences are common to more than one of the missing sailors. That required the lab to obtain a second DNA sample for some of the sailors, through a male relative.
LeGarde said the Navy has made a strong push to get DNA samples from families who could not be found. A year ago, the agency lacked family-reference samples for about 54 of the USS Oklahoma sailors.
"We're down to 25," LeGarde said. "You'll see a real big spike in (identified) cases now."
She said DNA testing of the bones has been completed. Reports will be prepared on some of the cases for the next several months, but she expects identifications to continue into 2021. Last week, the accounting agency announced the identification of Chief Petty Officer Tedd Furr, a 39-year-old ship's carpenter from Alabama; and two brothers, Petty Officers Harold Trapp, 24, and William Trapp, 23, of LaPorte, Indiana.
LeGarde is confident the agency will hit its 80% goal soon.
"We will reach that, and we will exceed it," LeGarde said. "I'm hoping we get more like 85%."
It's the job of Chief Petty Officer DeShannon Beaty of the Navy's Casualty Assistance Office in Tennessee to meet with the living relatives of the missing men, and to help arrange military funerals.
Until the COVID-19 pandemic, Beaty, 44, met with families in person. (Now they have video chats.) She turns over a thick book with details about their service and the identification, and tells the families what is known about how their relative died.
In 2019, Beaty met with 21 members of the family of Leo and Rudolph Blitz, identical twins from Lincoln who were both killed when the Oklahoma was attacked. She had sat at a table with some of the Blitz relatives a few weeks earlier at a meeting for POW/MIA families in Omaha, but she hadn't yet been authorized to tell them yet that the twins had been identified.
"I am always amazed when I meet with these families and they open with, 'I didn't know my loved one,' " Beaty, a 26-year Navy veteran, said in an email. "But then they tell these captivating stories, stories that have been passed down through the family to make sure the loved one is not forgotten."
Counting Jones and Tushla, 14 of 23 of the USS Oklahoma missing who came from Nebraska or western Iowa have now been identified. Both will be buried next year.
Louis Tushla's family has set his burial for July 17, 2021, at St. Joseph's Cemetery in Atkinson. He'll be laid to rest underneath a handsome white headstone that is already there, atop an empty grave.
Next to it is a similar military marker for his brother, 1st Lt. Harold Tushla, a B-24D navigator with the 93rd Bombardment Group who went missing Feb. 16, 1943, with his entire crew of 10 when his aircraft disappeared on a bombing run at Naples, Italy. One family, two Gold Stars.
"(E)veryone in this community for the last two weeks had shared the anxiety that has been borne by Louis' parents and other relatives," said an article in the local newspaper, the Atkinson Graphic, dated Dec. 26, 1941.
The following March, his family held a memorial Mass. In 1946, Tushla's name was added to the local American Legion Post #86.
Tushla's parents, Peter and Susanna, died decades ago. So have all seven of his siblings. His living relatives declined an interview.
"I think every veteran, local or not, feels the closure for Louis Tushla, his family and the community," said Ken Stenka, the Holt County Veteran Services officer and a member of Post #86. "This is very exciting to get Navy 1st Class Tushla back to his final resting place and home."
Jones' family hasn't set a date for his burial. Stett and his cousin, Janice Domeier of Hastings, say it will take place next year, at the Harvard Cemetery. Jones' mother, Pearl, who died of cancer less than a month before he perished at Pearl Harbor, is buried there. So are his sisters, Faye Yost and Frannie Stett, who both died in 2009.
"It means a lot to us to have him home," Domeier said. "It's a blessing."