Like a lot of lottery players, Stephanie Schwaderer of Alliance didn't quite believe it when she saw that she had struck gold — $262,000.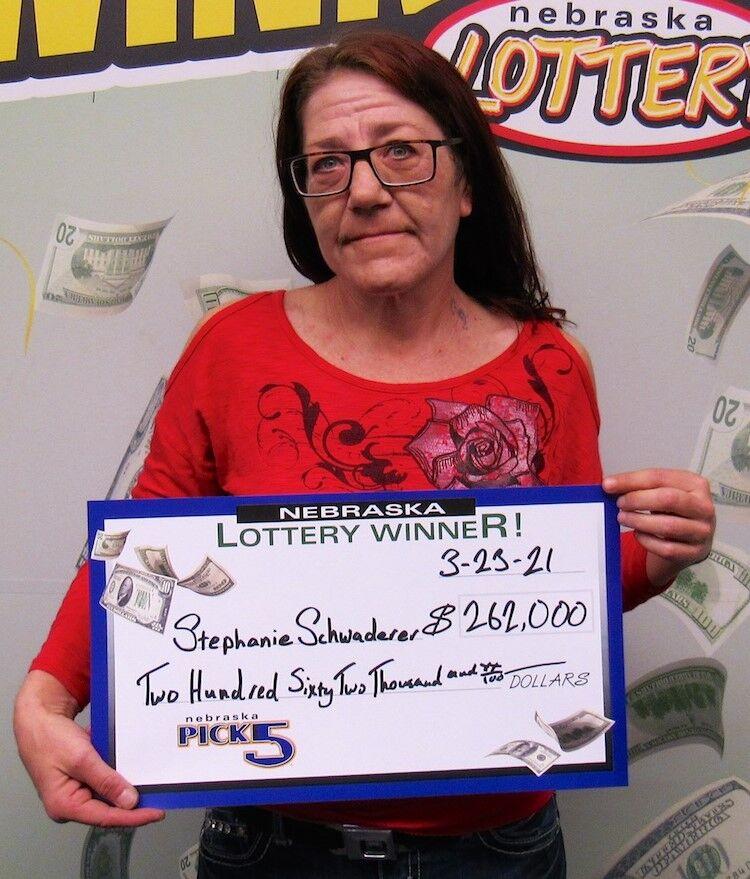 Schwaderer had stopped by the J&J's Pit Stop convenience store and bought a single-play Nebraska Pick 5 lottery ticket for the March 4 drawing. Her numbers were 12, 21, 22, 24 and 27.
After the drawing that night, Schwaderer, 46, was dumbfounded to learn those numbers matched the winners.
"I initially thought it was some sick cosmic joke," Schwaderer told Nebraska Lottery officials Monday when she traveled to Lincoln to claim her prize. "I scanned it with the app on my phone and started yelling, 'We just won the lottery!'"
To keep the ticket safe, Schwaderer signed the ticket, wrapped it in a $2 bill and put it in her wallet.
"I kind of freaked out," she said. "Then I just vibrated for about 48 hours."
Schwaderer beat odds of 1 in 501,942 to win the $262,000 prize. It is the largest Pick 5 jackpot since May 26, 2020, when a 58-year-old Lincoln man claimed a $300,000 prize that equaled the largest one in the game's history. Both prizes were inflated because of a lottery promotion that boosted the jackpot by $10,000 each day that the jackpot was unclaimed instead of the usual $4,000.
Schwaderer said she plans to use her winnings to pay off the farm she owns with her husband, John. She also hopes to build a bakery for her small internet business, Baked 'n' Stuff, where she sells homemade breads, jams and brownies.
Also this month, a winning lottery ticket was enough to get Darick Seyler of Lincoln out of his Chevrolet truck.
Seyler recently quit playing the long-odds Powerball and Mega Millions games in favor of the Nebraska Lottery's annual $2 Truck$ & Buck$ scratch game.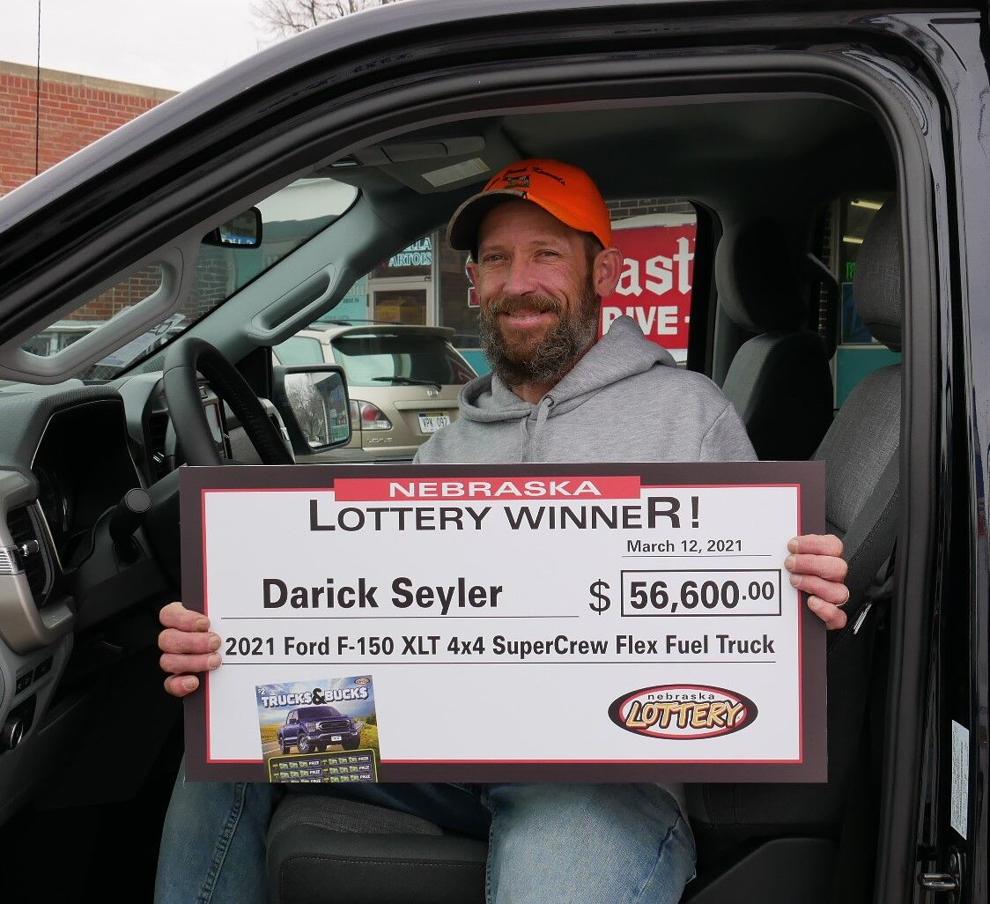 After work about 10 days later, he stopped by Castle Drive In Beer & Liquor on Havelock Avenue to buy some beer and scratch-off lottery tickets.
Seyler scratched off the tickets while he was pulling his Chevy through the car wash. On the last ticket, he found he had beaten odds of 1 in 300,000 to win the second of seven grand prizes in the game: a 2021 Ford F-150 XLT 4x4 SuperCrew Flex Fuel truck. The truck is valued at $56,600.
"I'm a Chevy guy," he told lottery officials March 12 when he was handed the keys to the new pickup. "I guess I'm going to be a Ford guy now."
Other recent area lottery winners include:
Hank Layman of Beatrice, who won $58,000 playing Nebraska Pick 5 in the March 12 drawing.
Claudette Moriarity of Council Bluffs, who claimed a $50,000 prize March 18 in the Iowa Lottery's "Cash Bonus" scratch game. She purchased her ticket at the Hy-Vee store on West Broadway.
---
Nebraska Powerball winners