MALMO, Neb. — When word began circulating last week that Bill Gates is now the largest private owner of U.S. farmland, including more than 20,000 acres in Nebraska, Saunders County Assessor Rhonda Andresen was naturally curious.
Where in the Cornhusker State does the multibillionaire Microsoft founder own his cropland? And what is he doing with it?
Turns out, one of the richest people in the world has the farm next door. Gates' holdings include about 400 acres next to Andresen's family farm just outside the village of Malmo.
"Oh my goodness," Andresen said when a reporter told her about the rich and famous neighbor, whose net worth was estimated at $121 billion last week. "That's amazing."
Of course, Bill and Melinda Gates aren't out there working the land themselves. They're doing the same thing with their Saunders County land as Andresen is with hers: renting it to a local farmer, who grows corn and soybeans on it.
Gates' Nebraska holdings are spread among 19 counties, according to purchases tracked by The Land Report magazine. More than one-third of his land in the state, about 8,500 acres, is concentrated in Holt County in north-central Nebraska.
Buffett and Gates were shown at Larry Richling's Fairmont Antiques & Mercantile in an episode of Gates' video blog.
Across the U.S., the Gateses own 242,000 acres of farmland as part of their personal investment portfolio, according to The Land Report.
Nebraska ranks third among states in their farm holdings, with 20,588 acres. The Gateses own about 69,000 acres in Louisiana and about 48,000 in Arkansas.
That's cropland, not ranchland or grassland, which some private owners hold in larger quantities. Ted Turner famously owns about 2 million acres, much of it ranchland in Nebraska, South Dakota and New Mexico.
The Gateses own their farmland through limited liability companies affiliated with Cascade Investment LLC, based in Kirkland, Washington, according to The Land Report. In Nebraska, much of the land appears to be held under Mt Edna Farms LLC and/or Oak River Farms LLC. Those firms list addresses in the small Louisiana town of Monterey, like other companies that hold Gates' investment land.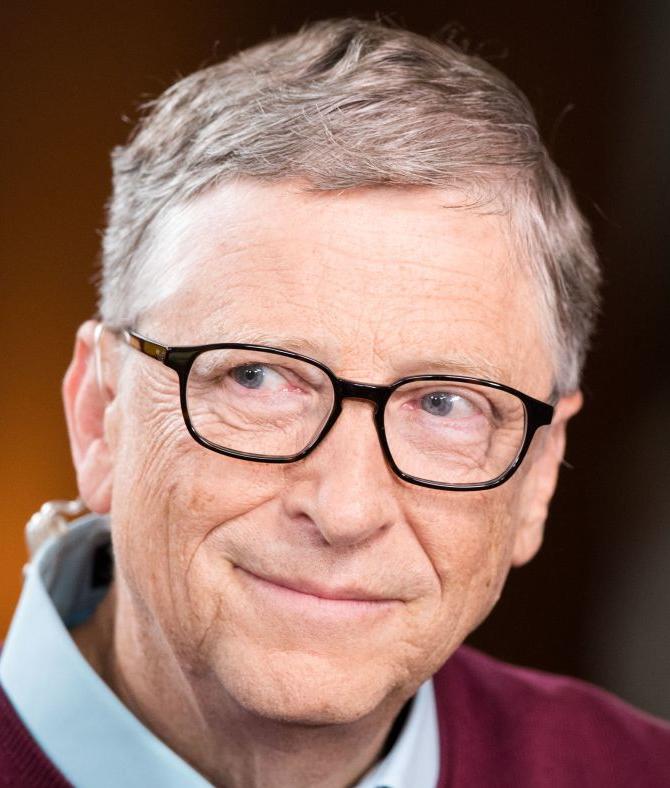 It's unclear why Gates is buying the land or what his plans are for it. Calls to Cascade Investment were not returned last week. A spokesman for the firm told The Land Report that Cascade is very supportive of sustainable farming.
Gates does have an interest in agriculture. Through the Bill & Melinda Gates Foundation, the Gateses are involved in efforts to increase agricultural production in low- and middle-income nations and helping small farming operations become more productive and better able to withstand climate change.
At least some of Gates' Nebraska purchases seem to follow a pattern in the state, said Jim Jansen, an agricultural economist at the Eastern Nebraska Research and Extension Center.
"I'm not surprised to see the big chunks of irrigated property in Holt County," he said. "That's reflective of investments by holding companies for pension funds or retirement plans of various types."
Investors are often attracted to irrigated cropland along Nebraska's Interstate 80 corridor for the steady, consistent income it generally produces, Jansen said.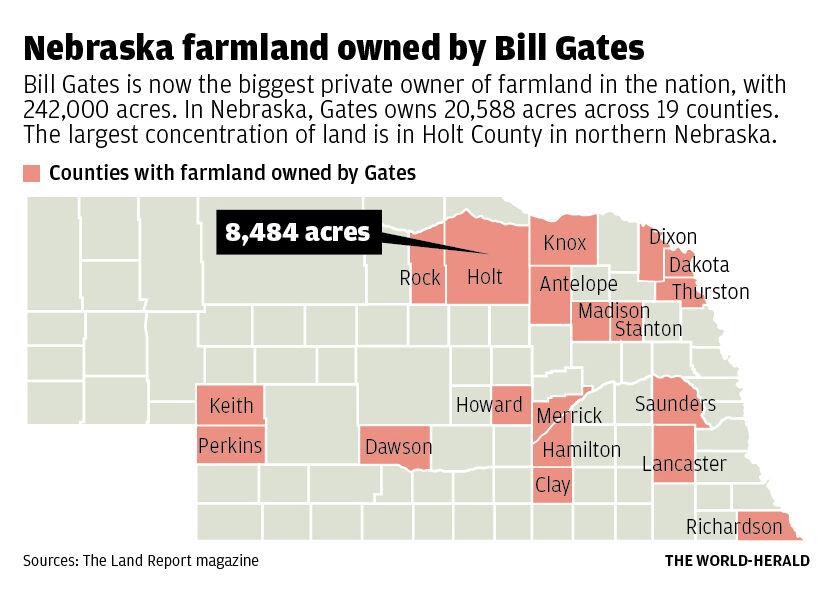 In 2017, Mt Edna Farms spent $40 million to purchase 36 parcels of land in Holt County. It appears that much of the land had been assembled previously by an investor from Texas who died in a helicopter crash. Such an assemblage of land doesn't come up for sale very often, Jansen said.
Holt County Assessor Timothy Wallinger couldn't remember a bigger sale in recent years.
"In the last 10 years, we have had three or four big guys in the county that have bought up a lot of land, but they bought those in individual tracts, maybe two or three tracts at a time, not 36 at once," he said. "We haven't had anybody buy that much at one time, but we've had guys put that much together in small segments over two or three or four years."
John Hansen, president of the Nebraska Farmers Union, said large farmland purchases like some of Gates' acquisitions in Nebraska can make it difficult for local farmers, especially those trying to get into the business or expand enough to survive.
"When you have somebody like Bill Gates come in, even the local big guys with deep pockets can't compete," he said. "And once you put this land into very big parcels, it rarely breaks up."
Having one entity own so much land can also be bad for local communities and economies because the owner isn't a stakeholder in the community and might buy its supplies directly in bulk instead of supporting local businesses, Hansen said.
But neighbors of Gates-owned land and officials in three Nebraska counties said the land appears to be rented out to local farmers who are growing crops on it in the same way that has been done for decades.
"The neighbors you have are the local farmers," said L.A. Breiner, whose ranch outside O'Neill mostly surrounds more than 1,000 acres of cropland purchased for Gates through Mt. Edna Farms in 2017. The rancher was surprised to hear that Gates was the owner — but not overly so.
It's not unusual for corporate investors to buy Nebraska farmland, Breiner said, and it's rare to see them or their representatives.
"They lease it to local farmers, and nobody even knows anything about it," he said. "You really don't know who the corporate people are."
After Holt County, Gates' largest Nebraska holdings were almost 2,000 acres in Dawson County, about 1,900 acres in Dixon County and about 1,400 acres in Knox County, according to The Land Report. Gates owns 153 acres in Lancaster County. The land outside Malmo appears to be the closest Gates farmland to Omaha.
Mt Edna Farms purchased the approximately 400 acres of unirrigated dryland in 2017 for $2.1 million, according to Saunders County records. That price was in keeping with area farmland values, which have been holding strong, said Dan Sanderson of Nebraska Realty. He knew that the buyer was affiliated with Bill Gates.
Most people in Malmo did not know — not owners Rose and Ryan Pokorny at RK's Bar and Grill, or even the village clerk, Gary Swartz, who is insurance manager and a vice president at Cornerstone Bank.
"I haven't heard anyone say anything about it," Brian Pokorny said.
Swartz said, "That's news to me."
Is Gates a good neighbor?
"I'm going to say yes because it really is the same guy that farms it," Swartz said. "His family has farmed it for many years, as long as I can remember."
Correction: An earlier version of this story gave an incorrect title for Saunders County Assessor Rhonda Andresen and an incorrect first name for Ryan Pokorny. 
---
Our best Omaha staff photos of January 2021