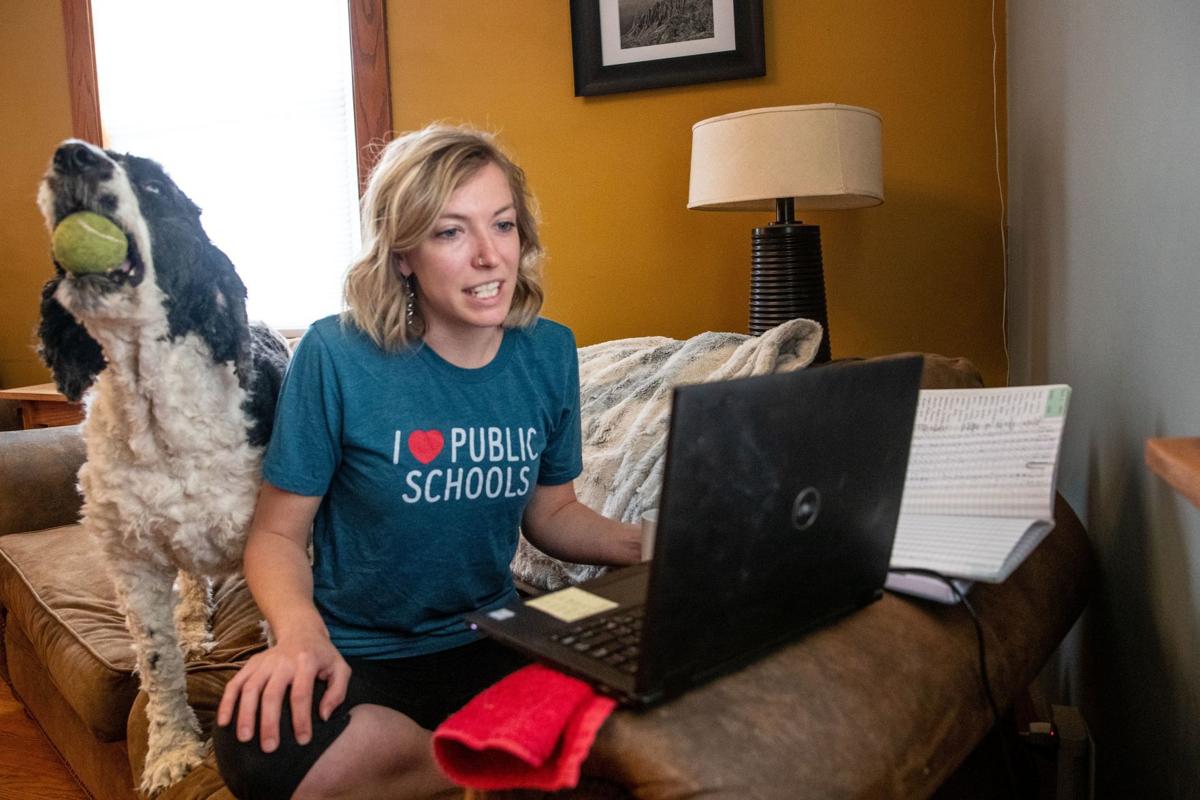 The coronavirus pandemic upended any notion that change in education comes gradually and conveniently.
The pandemic rocked Nebraska education, forcing abrupt adaptation to remote instruction and greater use of technology and hastening trends that were developing before the disease spread across the globe last year.
Meanwhile, other changes are barreling through society without prodding from the coronavirus. The United States, for instance, is becoming more multicultural, which places new demands on education. The need for stronger "media literacy" and critical thinking skills may be greater now than ever, as displayed by many folks' distrust of science, government, information and education.
And pressure continues for higher education to churn out graduates who are ready for the work world and set to contribute to business, industry, organizations and society in general.
Nebraska schools and universities are negotiating those issues in ways that, of course, are unique to the modern world. But the challenges of today have their echoes in education issues a century ago.
For example, the 1920s, which followed the Spanish flu pandemic, were marked by debates over citizenship and the large immigrant population. Anti-German sentiment had produced a 1919 Nebraska law that outlawed teaching in a foreign language.
The decade also saw elementary schools dealing with rising enrollment from a post-World War I baby boom, while colleges expanded and reorganized to meet society's changing needs. Among other things, vocational programs increased.
These days, schools at all levels are still dealing with the disruptions caused by the coronavirus.
Teachers and students last March found themselves working from home computers. Now, some classes are being taught in person again, some are still being taught remotely and others are a combination of in-person and online.
Education from first grade through college last year leaned heavily on computer technology when it became obvious that bunching together in classrooms and hallways was a dubious practice with a contagious disease lurking.
"There's good days and good weeks, and not so good days and weeks," University of Nebraska-Lincoln senior Roni Miller, head of UNL student government, said of the new demands on college students and teachers. "Many of them (teachers) are going through the same challenges we are."
Technology crept up as a force in education, then swiftly took over with the pandemic. Elliott Ostler, a University of Nebraska at Omaha professor of education, said being forced to give and take classes by computer required flexibility.
"I think the educational world has realized that they can do it and that they need to do it in some cases," Ostler said. "I think some faculty are happy and some aren't. ... I hear some colleagues say that it's a lot of work." Ostler is president of the UNO Faculty Senate.
Even the trend toward inquiry-based learning — that is, classes that rely on small groups, question-and-answer, use of data and not just lectures — can be handled through remote methods, Ostler said. But not easily.
"It's not that it's impossible," he said. "But it's certainly difficult when you try to incorporate it into remote learning."
Concern about the mental health of children and young adults has only increased in the time of coronavirus. A survey of more than 1,000 Duke University undergraduates last year found loneliness and a sense of isolation to be significant problems among students during the pandemic.
And mental health was already a major concern before the pandemic. A national study in 2019 found that 57.5% of college students had felt hopeless within the previous 12 months, up from 49.6% in 2015.
Brittany Garling, interim dean of education at Buena Vista University in Iowa, said the pandemic has increased children's anxiety.
"There's a lot of people that just need to reconnect," said Lucas DeWitt, director of graduate programs for teacher leadership, curriculum, instruction and special education at Buena Vista.
The coronavirus pandemic has intensified the need for support and training of children in how to interact, ask for help, disagree and show gratitude, DeWitt said.
"This is a nationwide trend," he said. "It came to a head because of the pandemic."
Don King, professor of education at Chadron State College, said a shortage of substitute teachers in Nebraska schools in part has prompted a program at his college in which students do a full-year teaching "internship" with partner schools.
This gives the students more teaching experience and helps the schools with staff and substitute-teaching shortages, King said. The college students in the program are mentored for careers as teachers, King said, and they learn everything from co-teaching skills to managing playground duty.
Providing students with practical work experience is a growing expectation of higher education. Wayne State College offers a new program emphasizing student experiences with organizations and businesses in Norfolk, Nebraska.
Wayne State President Marysz Rames said society demands more "return on investment" from a four-year degree. Rames said her goal is to see that that every Wayne State student has an "impactful experiential learning" opportunity that better connects them to the professional world.
In Wayne State's new "cooperative education" program, seniors will move to Norfolk for jobs that provide compensation and credit hours. Rames said the program also helps Norfolk's business sector with its workforce.
National and regional demographics also are changing, which will place more emphasis on multicultural education, English as a second language and the need for language skills such as Spanish.
Nebraska census information, for instance, indicates Hispanics in the state have more than doubled since 2000 to an estimated 219,645 in 2019, or about 11.4% of the population. Blacks have risen 40% to an estimated 94,830 last year, or 4.9% of the population. The census data was compiled by the UNO Center for Public Affairs Research.
Tricia Gray, a University of Nebraska-Lincoln assistant professor of practice in teacher education, said there's a shortage of teachers who have skill in multiple languages. And preparing English speakers for a multilingual society becomes more and more important, Gray said.
Gray said another form of literacy — media literacy — has taken on growing importance as social media perpetuates "confirmation bias." Confirmation bias involves seeking out information that confirms one's beliefs and biases.
In this era of information overload, Gray said, students need to learn critical thinking skills that enable them to ask questions about what they're reading and to recognize bias. How do we teach kids how to evaluate information, Gray asked. How do kids apprehend the concept of truth? How do they learn who to believe?
And how, Gray said, do they learn to live with each other?
---
Our best Omaha staff photos of February 2021