Last month, South Dakota Gov. Kristi Noem praised her state as "an example to the nation" for its approach to handling the coronavirus — "respecting our people's freedom and personal responsibility" by rejecting stay-at-home orders and mask mandates.
A month later, South Dakota certainly stands out, but not in the way Noem bragged: It now has the highest COVID-19 death and hospitalization rates in the nation. And the state stands as a grim warning to Nebraska, as the same virus wave that's pounding our neighbor to the north is now on the verge of cresting here.
According to a World-Herald analysis of national data, South Dakota and North Dakota ranked No. 1 and No. 2 in the nation last week in COVID-19 hospitalizations and deaths. Those states lead a COVID-19 surge that has ensnared the entire Upper Midwest — including Nebraska and Iowa — creating the prospect for a bitter, deadly winter on the Plains and across the nation.
Nebraska and Iowa ranked No. 4 and No. 7 nationally last week in COVID-19 hospitalization rates. For weeks now, they've ranked in the top 10 nationally for new cases. And deaths in both states have sharply spiked to levels far above any seen during the eight-month pandemic.
Worse for Nebraska and Iowa, what's happening in the Dakotas right now could well portend what's to come.
New cases are straining those states' hospitals and staffs, threatening to overwhelm them. North Dakota's hospitals are reportedly full.
Looking at the numbers, Nebraska and Iowa are essentially on the same steep trajectory for new cases as the Dakotas, running roughly three weeks behind those states.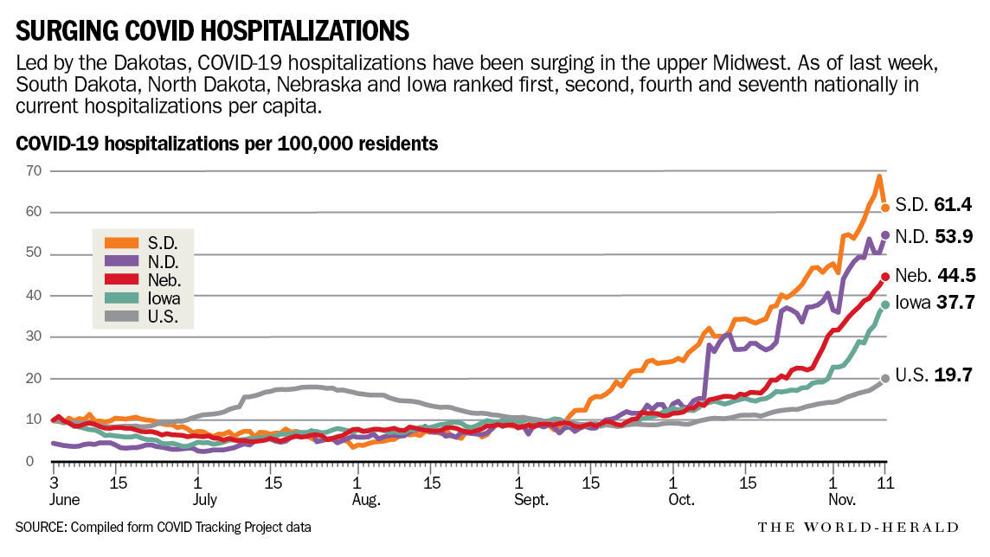 Since Sept. 1, Nebraska has already seen its daily deaths quadruple, from an average of two per day to eight. Should Nebraska ever match the death rate that South Dakota had last week, 30 Nebraskans per day would die.
"We can look to the north to see what we are in store for," said Dr. Bob Rauner, president of Partnership for a Healthy Lincoln.
Nebraska Gov. Pete Ricketts said he, too, sees the trends, which in the past week prompted him to twice roll out new measures intended to slow Nebraska's explosive COVID-19 spread.
Tuesday's steps included a limited mask mandate for businesses when patrons and staff are within 6 feet for at least 15 minutes. A Republican, Ricketts continues to resist a broader mask mandate — like the one North Dakota's GOP governor urgently enacted Friday night.
Then on Friday, Ricketts laid out a plan that would bring back many of last spring's limits on gathering size, bars and youth sports if COVID-19 patients come to occupy 25% of Nebraska's hospital beds. At its current growth rate, that's a benchmark Nebraska would hit about a week from now.
Ricketts said in an interview Friday that regardless of restrictions, it's now vital that Nebraskans reengage to confront the virus as they did last spring: wearing masks, practicing social distancing, washing hands, limiting gatherings and avoiding unneeded trips outside home.
"I know some people's tempers have grown short with this — in the words of one local health director, people are 'over COVID,' " Ricketts said. "But that's why we've got to reengage people and again get them doing the right things. All Nebraskans need to participate."
Health care and public health officials in Nebraska and across the Plains are also becoming increasingly vocal in warning of the dangerous place the region is headed. And many are calling for stronger public interventions, including mandatory masks in all public settings.
Dr. James Lawler, a pandemic expert at the University of Nebraska Medical Center's Global Center for Health Security, recently warned that with COVID-19 spreading exponentially in Nebraska, it will be very difficult to stop.
"I have no idea how we're going to handle the surge of patients that is likely going to come to us in the next several weeks," he said in an interview with The World-Herald. "If you have a 100-foot wall of flame being blown by gale-force winds, spraying fire hoses on your house is not going to make a damn bit of difference. That's what we've created."
Infectious disease experts say there are a number of factors that have contributed to the enormous spread of the virus throughout the Upper Midwest.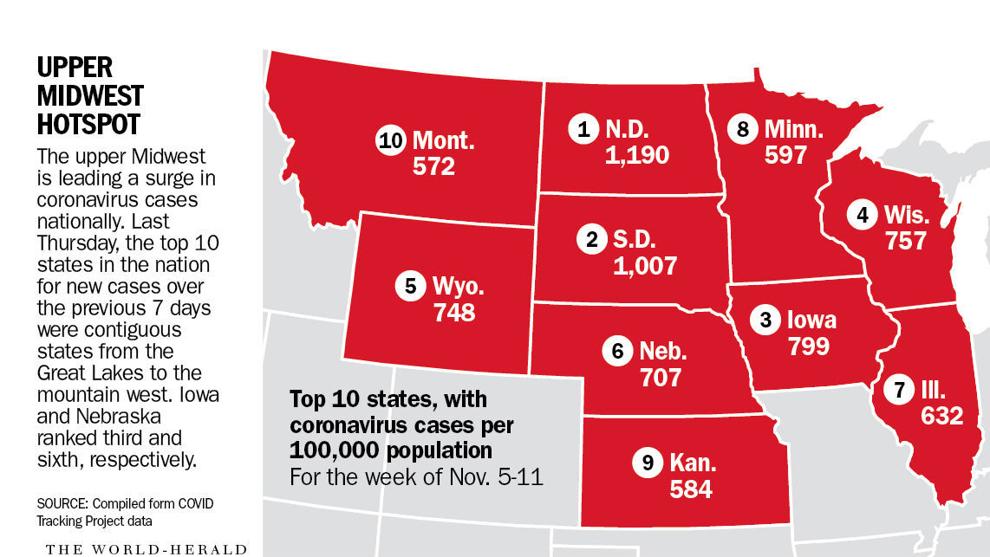 But there's no doubt that a massive motorcycle rally held in South Dakota this summer will stand as a seminal event in this ominous new pandemic wave.
From Aug. 7 to 16, hundreds of thousands of motorcyclists from all over the nation rumbled into Sturgis, South Dakota, for its big annual motorcycle rally. They crowded into bars. They partied in the streets. Few wore masks, or cared to.
"Screw COVID, I went to Sturgis," read one popular T-shirt reflecting the week's embrace of personal freedom and rebelliousness in the face of a pandemic.
Given the ease with which the virus has proven to spread from person to person, the results of the Harley-fest were all too predictable.
Within days of the rally's close, virus cases in South Dakota were surging. World-Herald figures show that the state was running an average of fewer than 10 cases a day before the rally. Within two weeks of its close, daily cases in South Dakota had more than tripled. And they've just kept on rising.
By last month, North Dakota ranked No. 1 and South Dakota No. 2 in per capita cases, a distinction they've held every week since.
Weeks later, many states in the Upper Midwest were likewise surging. World-Herald figures show that last week's top 10 states for new case rate are in a contiguous string stretching from the Great Lakes through the Midwest and into the Mountain West.
As Minnesota Gov. Tim Walz announced new restrictions for his state last week amid a crush of new cases, he criticized Noem for allowing the Sturgis rally to go forward.
"It might be a superspreader event for the history books," Rauner said. "It would be hard to create a better way to spread coronavirus through the Upper Midwest than holding a big motorcycle rally in Sturgis."
Rauner said he anecdotally heard a story of two people in his native Nebraska Panhandle who rode north into Sturgis, then attended a wedding back home and sparked a local outbreak.
Similar stories were likely repeated all around the region and country. In fact, a study from San Diego State University that used cellphone location data recently estimated that within a month, the event had seeded 260,000 cases throughout the nation.
Noem has rejected any criticism of the event and called the study "fiction."
Dr. Andrew Pavia, an infectious disease expert from the University of Utah, likewise fingered the motorcycle rally as a contributor to the explosive spread seen across the middle of America. But he and others say there were a number of other major contributing factors.
This fall also brought the return of students to college and the related socializing and partying, as well as the reopening of K-12 schools and high school sports.
Many of the states now being pummeled also include large rural swaths that were barely touched by the virus last spring. In those places, there has simply been less fear of COVID-19. As a result, few have worn masks or taken other voluntary steps to avoid exposure.
"It's unfortunate, but completely understandable, that someone a couple hours outside of Sioux Falls or Lincoln or Omaha might not translate the spread of COVID-19 as being relevant to them," said Dr. David Brett-Major, an infectious disease expert at UNMC.
But the second wave of the pandemic has quickly blown away any notion that the virus is a threat only to the nation's cities. The fact that the Dakotas, two of the nation's most sparse and rural states, lead the nation stands as proof of that.
Brett-Major said the rhythm of small-town life is actually ripe for COVID-19 spread. While such towns may be isolated, within them there's a closeness and sense of community. People know their neighbors, seeing them at church and the store.
"They might customarily interact more personally than in other places," he said. "So if you get a case, it moves fast."
Pavia also doesn't dismiss the fact that many of the states in the hard-hit Upper Midwest and Mountain states feature conservative political climates where there's more public distrust of government and a reluctance to enact strict measures to control the virus.
Pavia noted that he virus surge slamming his home state of Utah did cause the Republican governor to reverse course last week and issue a mask mandate. And when North Dakota's governor acted Friday night, that state became the 35th to enact a broad mask mandate, according to an AARP tally.
But even with South Dakota now leading the nation in death rate, Noem last week wasn't backing off the hands-off approach to the virus that has made her a darling in some national Republican circles.
Not only does Noem not like mandates, but a video message from her on the state's coronavirus webpage doesn't even encourage South Dakotans to practice social distancing. She only mentions using proper hygiene and staying home when you feel sick.
"Since the start of the pandemic, Gov. Noem has provided her people with all of the science, facts, and data, and then trusted them to make the best decisions for themselves and their loved ones," Noem spokesman Ian Fury told The World-Herald. "She will be continuing that approach."
Sioux Falls, South Dakota's largest city, last week rejected a local mask mandate akin to the ones in place in Omaha and Lincoln. After the City Council split 4-4 on the measure, the city's mayor broke the tie, voting no.
Perhaps it's no coincidence that of the 16 states before Friday that had no mask mandate, five ranked in the top six nationally in recent virus spread, including both Dakotas, Nebraska and Iowa.
But it's also true that some of the states seeing an onslaught of new cases have long had mask mandates, including Wisconsin and Minnesota. Given the virus's massive spread, it's certainly going to take a lot more than masks to get through the months ahead.
How fast are cases in the region rising now?
Over a seven-day period ending Thursday, more than 1% of the entire population of South Dakota tested positive for the coronavirus. You only had to go back 10 days to reach a similar 1% figure in Iowa, and 12 days in Nebraska.
And when new cases arise, hospitalizations and deaths ultimately follow. On those measures, the Dakotas are now serving as the canary in the coal mine for the rest of the nation.
For several weeks in October, North Dakota had the nation's highest weekly COVID-19 death rate before South Dakota claimed the distinction last week. And both states have surged to the top in hospitalizations, too.
Months after those early days of the pandemic when New York City's hospitals were overwhelmed by COVID-19 patients, across the Upper Midwest, that prospect once again seems real.
"The situation has to be described as dire," Pavia said during a virtual forum with reporters last week.
The hospital stress appears to be most acute in North Dakota, where Gov. Doug Burgum said Monday that hospitals were under enormous pressure. Then four days later, on Friday night, he took bold action.
He enacted a number of new measures, including a requirement that face coverings be worn in all indoor businesses and indoor public settings as well as outdoor public settings where physical distancing isn't possible. He said the mask mandate could help the state avoid a broader economic shutdown.
"Our doctors and nurses heroically working on the front lines need our help, and they need it now," Burgum said.
The condition of South Dakota's hospitals seems less severe, but the full picture is unclear.
The spokesman for South Dakota's governor indicated last week that hospitals in all parts of the state had at least 30% of capacity available. Representatives of the state's association of hospitals did not return a call from The World-Herald.
Pavia said bed space is not the biggest concern for hospitals. They can always add more. It's staffing. And right now across the entire region, he said, health care workers are "extraordinarily stressed."
"ICU beds don't take care of people," Pavia said. "You need staff. These folks have been working flat out for eight months now. They're exhausted."
Stress levels are now rising within Nebraska's hospitals, too. The state has seen its COVID-19 hospitalizations triple in the last month, from about 300 to more than 900. And with the nation's fourth-highest hospitalization rate last week, Nebraska is following in the Dakotas' wake.
"Our hospitals are in serious condition right now," Ricketts said Friday in rolling out his latest plans to slow virus spread. "We do need all Nebraskans to step up."
Since the pandemic's start, Ricketts has based the state's health restrictions on preventing hospitals from being overwhelmed. Case numbers — or even deaths — have not been part of his calculus. That continued with the measures he announced Friday.
Under the plan, if the number of COVID-19 patients reaches 25% of total hospital capacity, indoor gatherings would be limited to 10 people; bars would close except for takeout and delivery; restaurant dine-in hours would be limited, with masks required for staff; youth sports below the high school level would be suspended; weddings and funerals would be subject to the 10-person limit; and many elective surgeries would be delayed.
The marker Ricketts laid down was notable because COVID-19 fatigue has made governors across the country reluctant to reimpose the kinds of restrictions seen last spring.
With the number of Nebraskans hospitalized with COVID-19 recently growing by 25 a day, at that pace, it would take roughly 10 days from Ricketts' announcement to hit the 25% threshold.
It typically takes two to three weeks before an infected person requires hospitalization. Thus it seems likely that the infections that could take Nebraska over the hospitalization threshold are already incubating. So why wait?
Ricketts said he's hopeful that earlier measures he announced will slow the current spread rate. And regardless, he said, Nebraskans need the lead time to prepare for the return of new restrictions on their daily lives.
"We want to take this a step at a time," he said.
Questions persist about the governor's refusal to require broader mask use; they are raised at virtually every one of his weekly COVID-19 press conferences. Now that he's been willing to require masks in the limited cases of businesses where workers or customers are within 6 feet of each other for 15 minutes or more, why not just extend it to all business interactions?
Ricketts, who was in quarantine last week after being exposed to someone at his home who later tested positive for COVID-19, still maintains that a broad mask mandate will create resistance. He says he'd prefer to get voluntary compliance by educating Nebraskans on how masks can protect both the wearer and others.
As he's traveled the state in recent weeks, he said he sees more people who are getting the message, though he said it's not consistent everywhere.
"Masks work, and they are one of the tools," he said. "But mask mandates by themselves are not going to solve this problem."
UNMC's Brett-Major said Nebraska needs every weapon at its disposal — including a broad mask mandate.
He said it's unfortunate that requiring masks in public places has become such a politically divisive issue. Mandates change the dynamic on masks because a business no longer needs to be concerned about angering customers or workers when it requires masks. Instead, it's the law.
"None of this has to be political," he said. "While it's fine to hope that individuals will model appropriate behavior for our common good, there is something to be said for leadership actions that promote that as well."
But both Ricketts and health officials agree that people need to get serious about the surge raging across the Midwest and nation.
"The assumption that if you get sick that we're going to have a hospital bed for you is a false assumption," said Dr. Daniel Johnson, a critical care anesthesiologist with Nebraska Medicine. "Lincoln can fill. Omaha can fill. Grand Island can fill. All our hospitals can fill up."
Utah's Pavia noted while there was hopeful news on a COVID-19 vaccine in the past week, that should not lull the public into complacency. Wide public distribution of any vaccine is still months and months away.
"It helps to know that end is in sight," he said. "But that end is next summer or next fall. That's a hard message to give, but it's really critical."
---
Our best staff images from November 2020