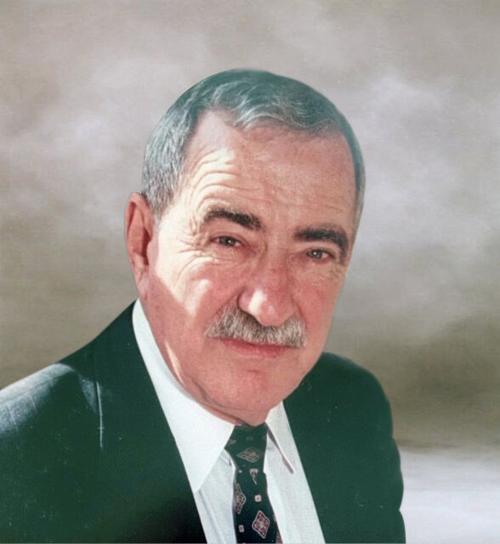 C. Thomas White was a survivor.
As a child, he lost his mother at age 9 — a death that caused him to do so much cooking and caretaking that his little sister sent him Mother's Day cards every year for the rest of her life.
As an adult, the judge who rose to chief justice of the Nebraska Supreme Court became a widower twice — and just recently became the sole survivor among eight siblings. In November, White delivered brother Ed's eulogy — tracing his family's history and their father's insistence on service in both the military and the community.
Those losses and that tough upbringing caused White to never lose sight of those who were most in need of justice, said his son and namesake, Tom White Jr.
The elder White worked nearly until the day he died last week. A couple weeks ago, he was putting air into the tires of his car. When he rose, he felt lightheaded, lost his balance and fell, breaking his leg. The fall proved fatal after complications arose, his son said. White was 92 when he died Dec. 11.
Tom White Jr. thinks that his dad — a feisty, witty man — had endured enough.
"It was just too much pain — he was the last one standing," he said. "He was still giving me crap every day he was in the office. He went out with his boots on."
It was a strap-up-your boots upbringing for the future chief justice.
White Jr. recalled how his father — a middle child, with three older brothers and three younger siblings (an eighth sibling died as an infant) — worked and watched his own father work long, hard hours running the lumber and coal yard in Humphrey, Nebraska.
White Sr.'s father, John, had wanted to go to law school. But he had to drop out of Creighton University in the early 1900s after his father died of black lung disease. So John cared for his younger siblings and shelved his dreams of becoming a lawyer.
He eventually married Margaret Costello, and the two started a big family in Humphrey, near Columbus. While John ran the coal and lumber plant, Margaret tended a house teeming with children. Then Margaret died.
Tom became the cook and caretaker, especially of his younger siblings.
John White ran the county's draft board and firmly believed that all of his sons should serve their country. So they did. Having turned 18 just after World War II ended, Tom served in the Army in Japan for a few years. He returned to Nebraska and attended Creighton University School of Law, graduating first in his class in 1952.
By age 26, he returned to the Columbus area and was elected Platte County Attorney. He and wife Shirley Ann Malloy started a family in Columbus, raising three children.
A Platte County judgeship followed in 1965. Shirley died in 1970, and White married Joan Jiranek in 1971. Then Gov. J.J. Exon appointed him to the Nebraska Supreme Court in 1976.
He served on the high court for 21 years, retiring from the bench in 1998. Then he joined son Tom's small civil litigation practice in Omaha. Even in retirement, for another 22 years, he worked on briefs, helped at trials and fought for seemingly lost causes.
"He had guts," Tom White Jr. said. "He had this ability to look at the world and get outraged at injustice."
White Jr. recalled a recent case in which a woman had helped her boyfriend build a business, then the boyfriend broke off the relationship and took the business with him. White Jr. thought the case was flimsy; he didn't think the woman would be able to succeed because the couple weren't married.
White Sr. would have none of it. He convinced his son to take the case and, months later, they won, securing a judgment for the woman.
White Jr. said his dad's passion for the plight of the afflicted was rooted in the post-World War II housing crises in which many of their neighbors lost their homes or life savings while lenders got rich.
"It made him mad, and I don't think he ever got over it," White said. "He always said a law license is not only a license — it is a duty to raise hell."
As a Supreme Court judge and eventually as chief justice, White and fellow Supreme Court Judge D. Nick Caporale helped decide many of the cases that resonate today. White was a Democrat; Caporale a Republican. But they forged a bond, sharing lunch twice a month after retirement.
"I don't know that our backgrounds were a whole lot different — I came from a very modest background, as did Tom," Caporale said. "I enjoyed working with Tom and being his friend because he was a good human being. Just a caring, compassionate, kind man who saw the best in everybody and tried to do the right thing."
The elder White's children have followed their own legal pursuits. Daughter Michaela is a Creighton law professor; Tom Jr. specializes in civil litigation and is a former state senator; and Patrick is a longtime assistant public defender in Cook County, Illinois.
White Jr. said his dad knew that he had an obligation to follow the law, whether he liked it or not. One part of the law he didn't like: the death penalty. White signed the death warrant for Harold Lamont Otey, who in 1994 became the first Nebraska prisoner executed since Charles Starkweather in 1959.
The night of the execution, the two drank coffee and watched footage of the melee outside the prison as Otey was executed just after midnight. They then switched from coffee to bourbon.
"It bothered him," White Jr. said. "Not that he didn't think Otey was a bad man; he just didn't think killing was right. But he was old-school; he had a duty to fulfill."
In addition to his siblings, White was preceded in death by his first and second wives. He is survived by his children; grandchildren; and former wife, Lyn Ferer White, a former Douglas County judge.
"I'm no psychologist, but I believe the losses he suffered made him the human being he was," Caporale said. "He suffered a lot. He knew that others did, too."
Visitation, observing COVID-19 protocols, is scheduled from 5 to 7 p.m. Friday at the Heafey Hoffmann Dworak Cutler chapel at 7805 West Center Road. The funeral service is at 10 a.m. Saturday at St. John Catholic Church on the Creighton campus. People can also watch online by clicking "view live service" at heafeyheafey.com.
Notable Nebraska, Iowa deaths of 2020
A roll call of notable people who have died in 2020: