Lincoln police and the Nebraska State Patrol have linked fentanyl-laced cocaine that has led to multiple overdose deaths to the patrol's own evidence locker.
A former patrol evidence technician and the owner of a Lincoln restaurant were arrested in the theft of more than $1.2 million worth of narcotics from the patrol's evidence facility, including $329,800 worth of cocaine, the patrol said Friday.
The law enforcement agencies announced the arrest of Anna Idigima and George Weaver Jr. on suspicion of conspiracy to distribute 140 grams or more of cocaine or fentanyl, a felony charge.
Idigima, 35, had been a Nebraska State Patrol employee for more than a decade, patrol Col. John Bolduc said. Weaver, 36, owned and operated GrannyWeavs Soul Food and Catering in Lincoln, a business he started after a stint in prison.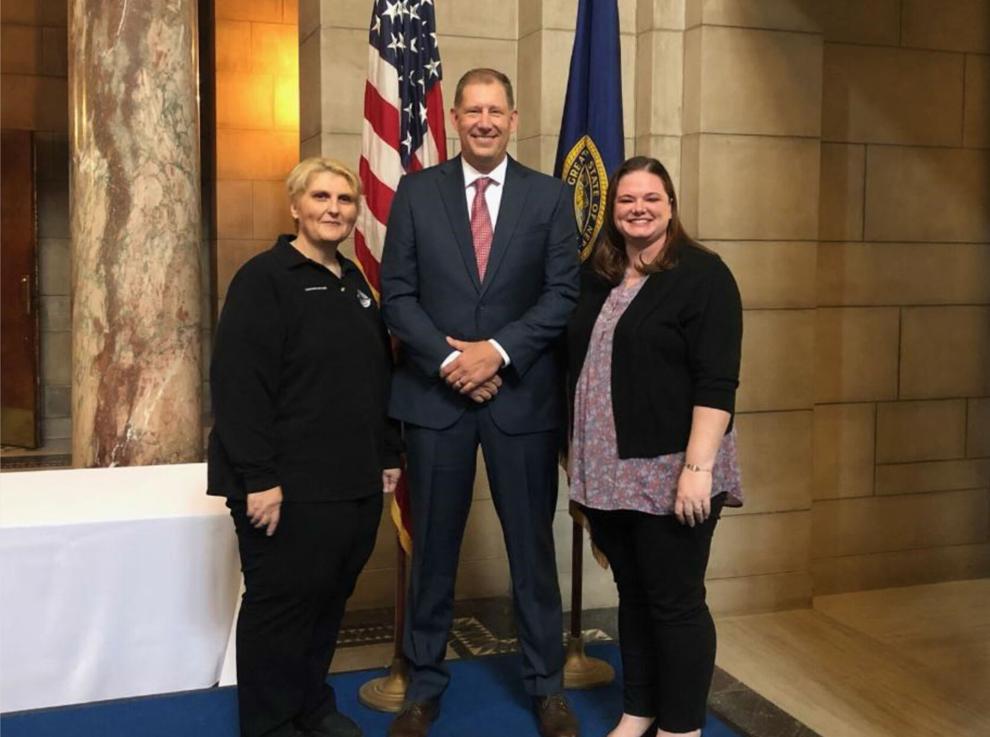 Both Weaver Jr. and Idigima are being held at the Lancaster County Jail on $3 million bail, meaning they would have to pay $300,000 to be released. The two were dating before their arrest, according to police.
The evidence storage facility where Idigima is alleged to have acquired the cocaine is audited frequently, Bolduc said, both via scheduled and surprise checks.
He said the laced cocaine that went missing appears to have been taken immediately following a recent audit, though he declined to say when that audit was performed, or exactly how often they occur. Court filings indicate the cocaine was stolen sometime after June 1.
Still, Bolduc defended the patrol's "top-notch evidence storage system and facility," which he said is "constantly being audited and reviewed."
"There is no system that is 100% foolproof when it comes to the human element," Bolduc said. "We have an employee — a former employee — who, by all indications, was a competent, trusted employee for 14 years. Until she wasn't."
Idigima was one of four State Patrol employees to receive a State of Nebraska "excellence in leadership" award in 2019. They were honored during a ceremony at the State Capitol.
Fentanyl-laced cocaine led to 35 overdoses in the Lincoln area between July 25 and Aug. 19, according to Lincoln police. Nine victims and one unborn child died as a result of those overdoses, Lincoln Police Chief Teresa Ewins said Friday during a joint press conference with the patrol.
It's unclear how many of those overdoses or deaths are linked directly to the cocaine alleged to have been taken from the patrol's evidence facility, but court filings link the supply to at least one death.
Lincoln Police Capt. Ryan Dale, who leads the Lincoln-Lancaster County Narcotics Task Force, said the State Patrol has been fully cooperative with the unit's investigation into Idigima.
The Lancaster County Attorney's Office said it is reviewing 105 cases that involve the now-former evidence technician dating back to 2010, and notifying defense attorneys.
Bolduc said Idigima had worked for the last several years as an evidence technician, a role that gave her access to the drugs. He said the Lincoln Police Department notified the patrol of its investigation into the employee on Aug. 20, and the patrol immediately cut off her access to secure facilities and suspended her. On Aug. 27, she was terminated, Bolduc said.
He said the State Patrol's facilities meet all accreditation standards, though the agency has started a review of its processes, he said.
Citing information from the probable cause affidavit in Idigima's case, Judge Laurie Yardley on Friday said the narcotics alleged to have been stolen from the patrol's evidence facility were worth about $1.2 million and resulted in "several" overdose deaths.
Defense attorneys for both defendants on Friday told Yardley that the state's evidence was "circumstantial" and described their clients as pillars in each of their communities. Jamel Walker, representing Idigima, described the state's evidence as "frankly inadmissible" and asked that her client's bail be set at $25,000.
"The seriousness of the offense — this carries a minimum 20 to life penalty — I don't believe a $25,000 bond is appropriate," Yardley said, setting bail at $3 million.
Missing from the evidence locker was a laundry list of drugs, including more than 150 pounds of marijuana, nearly 20 pounds of cocaine, about 10 pounds of fentanyl, 9 pounds of heroin and 3 pounds of meth, according to the State Patrol.
A search warrant filed in Lancaster County District Court linked cocaine allegedly supplied by Weaver to an overdose death on Aug. 5. Investigators interviewed Weaver on Aug. 17, and he gave police permission to search his phone, according to the warrant. The overdose victim, a 35-year-old woman, was a mother of two.
Dale said it was "heartbreaking" to learn that illegal drugs that had been taken off the streets by law enforcement found their way back, resulting in the death of at least one person, according to the warrant.
"It's frustrating," said Dale, who leads a unit that dedicated 5,000 working hours to this investigation. "We are proud to serve in this profession and serve the citizens of our communities, and anytime that something like this comes up, it's obviously heartbreaking."
Dale said local fentanyl-related overdoses have largely halted since Weaver was first interviewed by investigators in August, though he stressed the importance and availability of local resources for those struggling with drug addiction.
Narcan, a drug that can reverse the effects of an opioid overdose, can be purchased and deployed by anyone. It is available for free at the Hy-Vee at 5010 O St. and the Kohll's Pharmacy at 27th and Vine Streets in Lincoln, as well as at the U-Save Pharmacy in Waverly. After an initial treatment, the overdose victim should be taken to the hospital; Narcan's reversal effects are temporary — and an increased dose of it is often required for fentanyl overdoses.