The judge in the federal case against U.S. Rep. Jeff Fortenberry blistered Fortenberry's attorneys Tuesday for attacking an FBI agent's reputation and scrutinized prosecutors' one-time characterization that Fortenberry was trending toward becoming a "witness" rather than the subject of the investigation.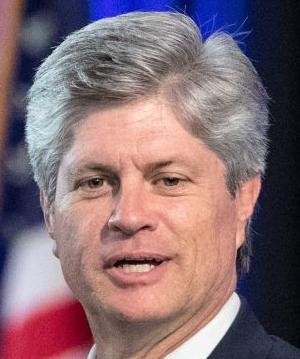 U.S. District Judge Stanley Blumenfeld Jr. also raised doubts about whether Fortenberry's trial will go on, as scheduled, in mid-February. Federal courts in Los Angeles — where Blumenfeld is based — have suspended jury trials through the end of January because of a surge in COVID-19 cases. Any extension of that suspension would delay Fortenberry's trial.
Fortenberry, a Republican who has represented eastern Nebraska's 1st District since 2005, is charged with three felonies — two counts of making false statements to federal agents and one count of seeking to conceal the source of $30,000 in "conduit" political contributions from a 2016 California fundraiser.
The money originated with Gilbert Chagoury, a Paris-based Nigerian, who purportedly directed the donations to Fortenberry because of a shared interest in protecting Christians from persecution in the Middle East. It is illegal for foreigners to donate to U.S. political campaigns.
Monday, the embattled lawmaker announced plans to seek a 10th term. Tuesday, he did not appear in court during the motions hearing; the judge had excused him from appearing.
Tuesday's hearing was relatively routine in that it involved battles over discovery and a motion to suppress the defendant's statement to law enforcement — both of which are commonplace in criminal cases. Then again, little in Fortenberry's case is routine.
One of the charges against Fortenberry grew out of a July 2019 interview in Washington, D.C., in which lead prosecutor Mack Jenkins, an assistant U.S. attorney based in Los Angeles, asked some of the questions posed to Fortenberry. Prosecutors allege that Fortenberry lied during that interview and an earlier interview at his Lincoln home about the origin of the $30,000.
They claim that Fortenberry had been informed that the money "probably" came from Chagoury during a 2018 phone call from the organizer of the California fundraiser, who, by then, was cooperating with the FBI. But authorities allege Fortenberry denied knowing that fact during interviews with law enforcement.
Having criticized Jenkins for taking part in the interview, Fortenberry's attorneys, John Littrell and Ryan Fraser, argued Tuesday that Fortenberry's granting of an interview in D.C. resulted from assurances that Jenkins had given to Fortenberry's former attorney. That attorney, Trey Gowdy, said Jenkins told him that Fortenberry was not a "target" of the government's investigation, but a "subject" who was trending toward becoming a "witness."
Fraser argued Tuesday that Fortenberry might not have spoken to FBI agents but for that assurance.
Judge Blumenfeld questioned prosecutors on the characterization that Fortenberry was "trending toward" being simply a witness in the investigation.
"I mean a reasonable (defense) lawyer would take some comfort and perhaps calculate that into his or her decision about whether to proceed with an interview, don't you think?" Blumenfeld said.
Assistant U.S. Attorney Jamari Buxton told the judge that Fortenberry is the one who sought out the second interview after having spoken months before to FBI agents who had shown up at his Lincoln home to talk about the California fundraiser.
Buxton said no prosecutor promised Fortenberry that he wouldn't be prosecuted. Buxton said the defense is essentially arguing that prosecutors have to be forever held to whatever representation they make of someone being questioned in a federal investigation.
"What the defendant is saying is that ... it creates a contractual obligation for the government to honor that designation, regardless of what the investigation uncovers," Buxton said. "That's not how investigations work."
Littrell also argued that the defense should have a right to see any texts or emails between the federal prosecutors on the team to see if they show any bias or animus toward Fortenberry. Littrell argued that prosecutors thought that Fortenberry would "come clean" during the D.C. interview. When he "told the truth" — instead of telling prosecutors what they wanted to hear, according to Littrell — prosecutors were frustrated. So the only reason for continuing the second interview was to "punish" Fortenberry, Littrell said.
"The prosecutors' motives do matter," Littrell said. "The lead prosecutor's motives certainly matter."
Federal prosecutors have resisted the request for their communications, saying it invades private work discussions between attorneys and, therefore, is off limits.
A third prosecutor on the case, assistant U.S. Attorney Susan Har, said the desired information also would not reveal anything other than attorneys talking about next steps in the investigation.
"Could the defendant put a wash over all of that and suggest that it was done because (prosecutors were) upset?" Har said. "That could be said about any investigation that continues to logically flow from the false statements that the defendant made."
The judge said he would rule on the defense motions at a later date.
---