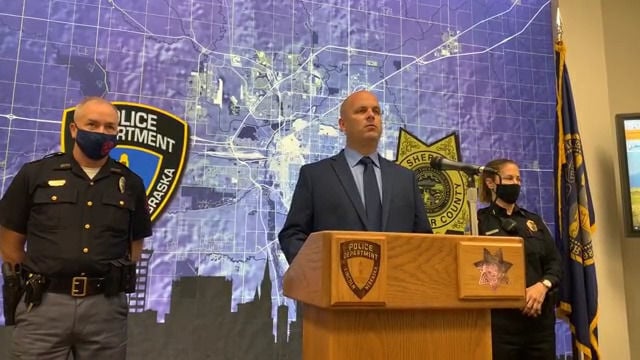 LINCOLN — Prosecutors in Lincoln have dropped 33 more felony cases in the mounting fallout from the theft of seized drugs from the Nebraska State Patrol's evidence room this summer.
That's in addition to an initial wave of 66 dismissals before the end of October — for a total so far of 99.
Similar reviews are happening in the 13 other counties in the State Patrol's Troop H area, too, following news of a rare security breach, unprecedented in Nebraska.
On Sept. 24, Lincoln police and the head of the Nebraska State Patrol, Col. John Bolduc, announced the arrest of a former State Patrol evidence technician, Anna Idigima, who they alleged conspired with her boyfriend, George Weaver Jr., to sell drugs stolen from the evidence room.
Police said $1.2 million worth of drugs had gone missing, throwing a wrench in prosecutions of dozens of cases in Lincoln alone. And not only in cases where the evidence no longer existed, but in any where the accused employee had been part of the chain of custody.
This week, Chief Deputy Lancaster County Attorney Bruce Prenda said attorneys in the office on Nov. 19 concluded a review of 37 State Patrol drug-related cases that were on warrant, "and that may have had drug evidence maintained during the time Ms. Idigima would have had oversight responsibility for it and access to it."
They dismissed all but four.
Prenda said most of the dismissals were in felony drug possession cases, plus eight delivery cases and five for possession of more than a pound of marijuana, charges typical for stops along Interstate 80 that turn up illegal drugs.
"Most of the State Patrol drug cases we prosecute are as a result of the important law enforcement drug-interdiction efforts along I-80. For example, one of the cases we dismissed was a seizure in 2004 of over 200 pounds of marijuana," he said.
The defendant had posted bond, then never came back to court.
Prenda said they left warrants out in four unaffected cases.
In one case, a defendant failed to appear for sentencing well before 2016. Others related to fraud in acquiring a controlled substance and a DUI with a refusal to be tested.
Next, they're turning to a review of 117 closed cases, Prenda said.
"These cases are Nebraska State Patrol drug-related investigations between Feb. 8, 2016, to present that are closed but resulted in a conviction and sentence," he said.
Prenda said they are sending letters out to defense counsel in each case and informing them "that it is possible that during the time any drug-related evidence in the case was in the custody of NSP, it may have been directly or indirectly maintained by or otherwise subject to some degree of oversight of the former evidence technician."
He said they will work with individual attorneys on each case to determine whether the case was affected by the alleged actions of Idigima, and the proper course of action to take.
Lancaster County Public Defender Joe Nigro said the cases could include people still serving sentences.
"But we won't know until they tell us the cases involved," he said in an email Tuesday.
If so, attorneys in his office may soon be filing postconviction motions to vacate their sentences. And it could be in any case where Idigima handled the evidence, not necessarily just drug cases where evidence was missing, Nigro said.
But it's too early to say if that will happen.
For now, the number of cases dismissed stands at 99, with the potential for more to come, in connection with more than 150 pounds of marijuana, 20 pounds of cocaine, 10 pounds of fentanyl, 9 pounds of heroin and 3 pounds of meth and 269 pills that went missing from the State Patrol's Troop H evidence facility in Lincoln over the summer.
A spate of overdoses, including the deaths of nine people and an unborn child, followed between July 25 and Aug. 19, prompting a health advisory.
It's unclear if investigators have been able to tie them to cocaine and fentanyl taken from the patrol's evidence facility.