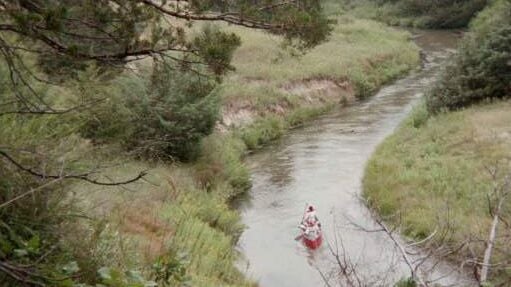 LINCOLN — An access point will remain on a popular Sand Hills stream for canoeing and kayaking, but highway construction there will rule out float trips this summer, a state official said.
But Jeni Campana, a spokeswoman for the Nebraska Department of Transportation, said accommodations have been made to maintain the turnout, once construction work is completed this fall.
Paulsen Inc. of Cozad recently began a $10 million project to repair pavement, slightly widen the roadway and improve drainage and erosion control in the area of the turnout and bridge.
The highway is scheduled to be closed between May 17 and June 6 but otherwise will be restricted to one lane until the work is completed in November.
Campana said the construction work will mean that vehicles cannot use the drop-off point to launch canoes and kayaks this summer and fall.
Duke Engel, a Lincoln canoe enthusiast who has been lobbying to keep the turnout spot, said he was glad that a resolution was reached.
"I didn't want to go through the rest of my life and not be able to go down that stretch again," Engel said.
The closing of access this summer means that float trips on the Dismal will probably be limited to day trips that start at a bridge south of Seneca and end at a pull-out south of Thedford, he said.
The Dismal River is known as "divorce river" because of its many tight turns and snags of cedar trees that can cause spills — risking divorce for a husband and wife sharing a canoe.
Engel said if he had one recommendation, it would be to erect a warning sign alerting users that it's not a stream for beginners. He also recommended starting trips early enough in the morning to arrive at the only camping site on the Dismal, south of Seneca. If you begin a float trip too late, he said you can get stranded in the dark on the river, which is far from any ranches or communities.
In October, a helicopter rescue was needed when a group of kayakers from Kansas got stuck on the river.
---