The email landed in Gina Uhing's inbox at 5 p.m. on a Friday.
A potential coronavirus outbreak was brewing at the Tyson Foods pork plant on the outskirts of the small town of Madison, where nearly 1,500 employees worked side by side deboning hog carcasses and packaging hams.
Several workers had tested positive for the virus already, and Uhing, the director of the Elkhorn Logan Valley Public Health Department, and her staff had arranged to get more Tyson workers tested by Nebraska National Guard soldiers in nearby Norfolk.
Then Tyson dropped the eleventh-hour surprise in its email on April 17, the day before the testing event.
A vice president and attorney at the company's headquarters in Arkansas wrote that the company had changed its mind. Tyson was not going to turn over any names of workers who might want or need testing. Besides, the company said, meatpacking workers weren't the highest priority for the limited number of testing spots.
"That's when the strong-arming … started," Uhing said.

Uhing and other local officials, including Norfolk Mayor Josh Moenning, weren't willing to accept Tyson's rebuff. They feared that any delay in testing plant workers would only allow the invisible virus to spread, endangering workers, their families and the surrounding communities.
So they dug in. They called out Tyson publicly for what they perceived as a lack of cooperation. They recruited influential political partners to help sway the big corporation. And they helped line up reliable testing for the plant's entire workforce.
Months later, they say those quick, collaborative and assertive actions not only resulted in a better partnership with Tyson — one of the largest local employers — but also succeeded in keeping the outbreak from spiraling.
The number of cases in the Madison County area has increased recently, so local leaders aren't ready to declare victory against the virus. And some warn that meatpacking plants — whose workers account for about 20% of Nebraska's coronavirus cases — are always vulnerable to outbreaks.
So far, however, the Tyson plant in Madison and the surrounding area have had fewer COVID-19 cases than other Nebraska meatpacking hot spots.
For example, in Dakota County — which has 20,000 people and is home to another Tyson plant — 1,900 people have tested positive since the start of the pandemic and 42 people have died.
But in the Elkhorn Logan Valley health district, where roughly 56,000 people live in Madison, Burt, Cuming and Stanton Counties, just over 650 people have tested positive and six died.
"Frankly, I saw in some places local leadership said, 'They're a big employer, they're essential, what can we do?' I think there were things that could be done," Moenning said. "I think what happened here is borne out in the numbers today — effective strategies built on collaboration and local leadership working together and demanding corporate responsibility."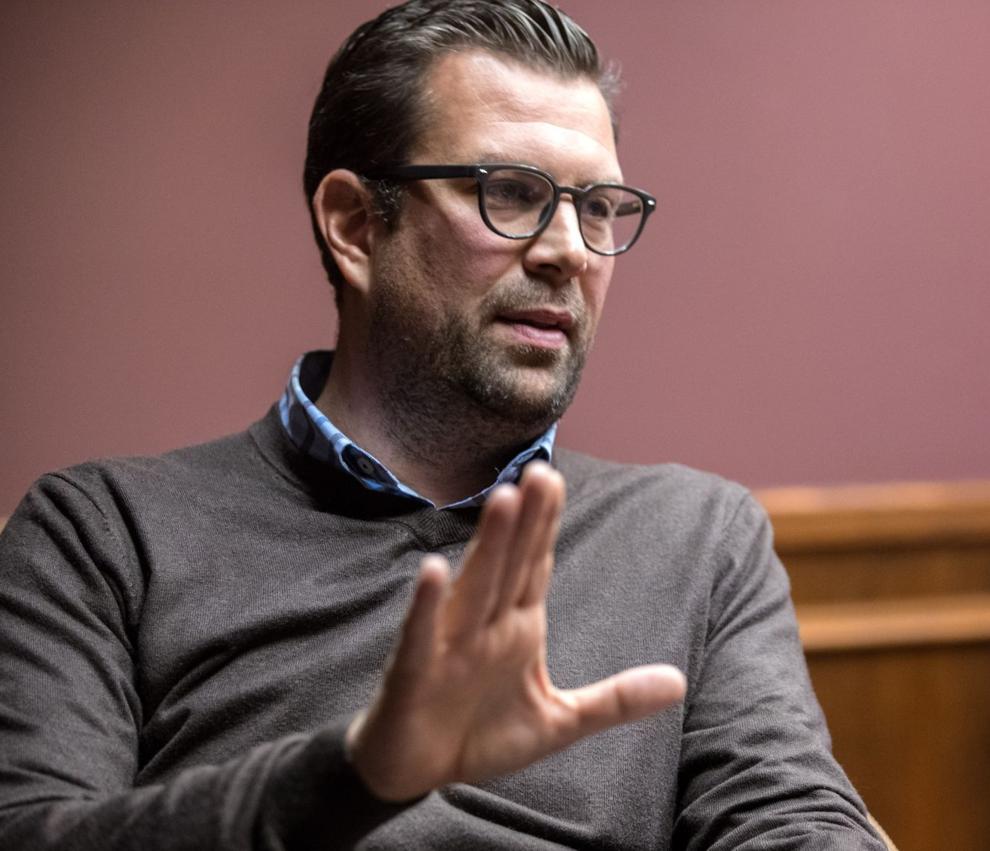 In a statement, Tyson said it coordinates with local health officials and has a third-party health provider that maintains an on-site mobile clinic at the plant.
Tyson recently announced that it was launching a new COVID-19 monitoring system that would allow the company to conduct on-site weekly testing of workers at all of its plants, including those with symptoms and those without.
"Testing along with educating our team members on the virus and providing the best tools for limiting exposure both at work and outside of work have been key elements of how we are supporting our workforce," the company said.
* * *
In mid-April, Uhing started reaching out to other health directors already dealing with meatpacking plant outbreaks. Did they have any advice?
There had been a handful of coronavirus cases in the Elkhorn Logan Valley health district — including a nursing home resident and a health care provider in Norfolk — and she feared that the Madison plant could flare up next.
Her instincts were right: By April 16, two Tyson workers had tested positive for COVID-19, the plant's first known cases. Within a week, the case numbers at the plant would be in the double digits.
"I hope (and pray) that we don't end up with another GI or Sioux Falls here," Norfolk Public Schools Superintendent Jami Jo Thompson emailed Uhing early in the outbreak. Norfolk is 15 miles north of Madison, and many of the plant's workers live and shop there.
The specter of those two other cities — Grand Island, Nebraska, and Sioux Falls, South Dakota — loomed large. At the time, hundreds of meatpacking workers were being sickened by the coronavirus in both places.
Workers and their families were scared. They paced in the parking lot at Jose Nuño's Norfolk health clinic, waiting to be tested for the virus that was sweeping the world and was now starting to spread in their small corner of northeast Nebraska.
The son of a Fremont meatpacker, Nuño is a physician assistant who speaks Spanish and runs the Nebraska Health and Wellness Clinic in Norfolk. Workers came to him not just from the nearby Tyson plant, but also the Cargill plant in Schuyler and the WholeStone Farms plant in Fremont, exhibiting the now telltale signs of COVID-19: dry, scratchy coughs, chills, fatigue.
Workers — many of whom are Latino immigrants or refugees from Myanmar and eastern Africa — often carpooled to work and ate lunch together, and their families hung out on the weekends.
"Once there was a known positive within one group, they were all fearful: They wanted to be seen, tested, examined," he said.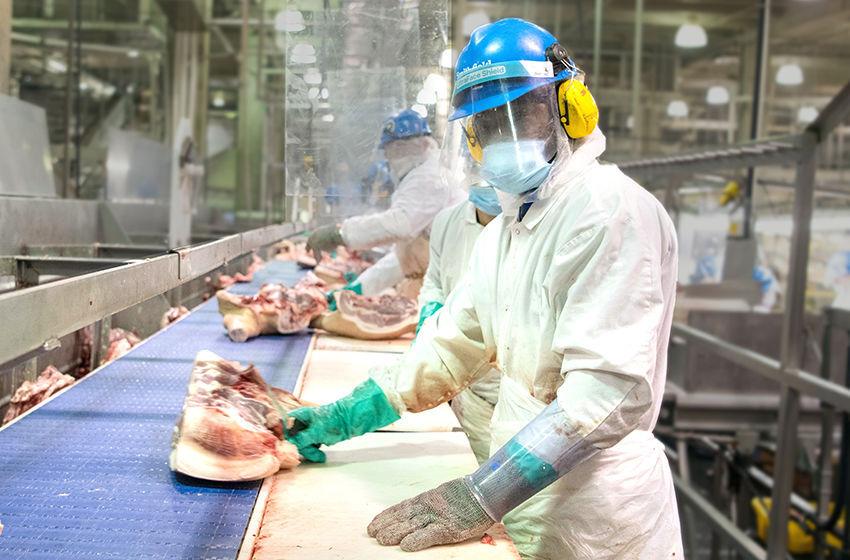 Parts of the state and country were dealing with testing supply shortages, but Nuño had worked early on with a local pharmacist, Brett Louderback, to find a source. The clinic got hooked up with a private Maryland-based laboratory and diagnostics company, CirrusDX, that had created its own COVID-19 test, with quick turnaround times of about 24 hours.
Uhing, meanwhile, was quickly trying to get up to speed on the Madison plant's complex operations, where different workers in separate areas slaughter hogs and carve different cuts of meat. She had been inside only once or twice, and had just seen the lunch room and a meeting room.
"Interviewing the first cohort of Tyson cases, we didn't even know to ask what areas of the plant do you work in, because we didn't know there were different areas," she said. " 'Are you in the ham plant, or are you in the pens? Are you on the production line, or in maintenance?' You don't know to ask those questions."
The physical plant was in Uhing's health department jurisdiction, but its workers live in 14 different counties. If a worker didn't live in her four-county district, the health department wouldn't be notified that they had tested positive.
"It's very hard to know the breadth of an outbreak when you're only getting results from the ones who reside with you," she said.
So early on, Uhing tried to seize upon a testing opportunity through the state's TestNebraska initiative.
Nebraska National Guard members were coming to Norfolk on April 18 and could swab the noses of about 100 people for testing. Uhing decided to set aside about a quarter of the testing slots for Tyson workers, and her staff sent Tyson the registration information so they could decide which workers to prioritize.
Then Tyson got cold feet.
It's still somewhat unclear what the initial hesitation was. Uhing thought it was difficult to get layers of lawyers and corporate executives to quickly sign off on getting workers tested, and that Tyson may have felt unfairly singled out when other employers or facilities had positive cases, too.
Others have said that meatpacking plants in general were slow to institute widespread testing and be fully transparent about the true scope of their outbreaks.
In a recent statement, Tyson said "we continue to learn, adjust and adapt as we address these unprecedented and ever-changing times. Facility-wide testing is a very complex process that requires extensive coordination with health officials and involves multiple days to conduct."
Uhing reached out to Gov. Pete Ricketts' office at one point, according to emails obtained by The World-Herald. While the plant's local managers and head nurse, Annie Farrar, seemed to realize the gravity of the situation, she said, the company was not fully cooperative.
"We are being met with corporate gridlock, and it makes containing these outbreaks incredibly difficult at the most inopportune time when time is of critical essence," she emailed Ricketts' office. "Today, we are getting a better feeling of support from Tyson locally, but I do fear that corporate policies and decisions will prevent the local plant management from working with us to the maximized extent."
Uhing also sent Tyson a strict list of recommendations the company should be complying with: universal masking, two-week quarantines for any workers in close contact with positive cases and immediately sending home any employees who sniffled or coughed.
Then she sent out a press release detailing her dealings with Tyson and its decision to back out of the testing event.
The surrounding community took notice.
"The whole idea of COVID locally had not been largely accepted," Uhing said. "But then when first introduction into the community involves one of the larger employers, it doesn't take long for the community panic to take hold and wanting to know and wanting to be reassured that something was being done. We were getting a lot of pressure from concerned community members, community leaders saying, 'Do they have this under control?' "
Moenning posted to Facebook the same weekend. He was hearing from small-business owners who had dutifully closed their bars or shops to prevent the virus from spreading, and they felt Tyson wasn't playing by the same rules.
Even as the number of coronavirus cases tied to meatpacking plants mounted, Tyson and other processing plants had been declared essential by President Donald Trump. Ricketts said plants had to stay open to keep grocery stores stocked with meat.
"I'm hopeful that Tyson, in fact, takes this seriously," Moenning wrote. "For a corporation that's profited millions off the work of area laborers & suppliers for decades, we should expect the utmost in transparency & action rooted in abundance of caution for workers' safety and that of their families and neighbors."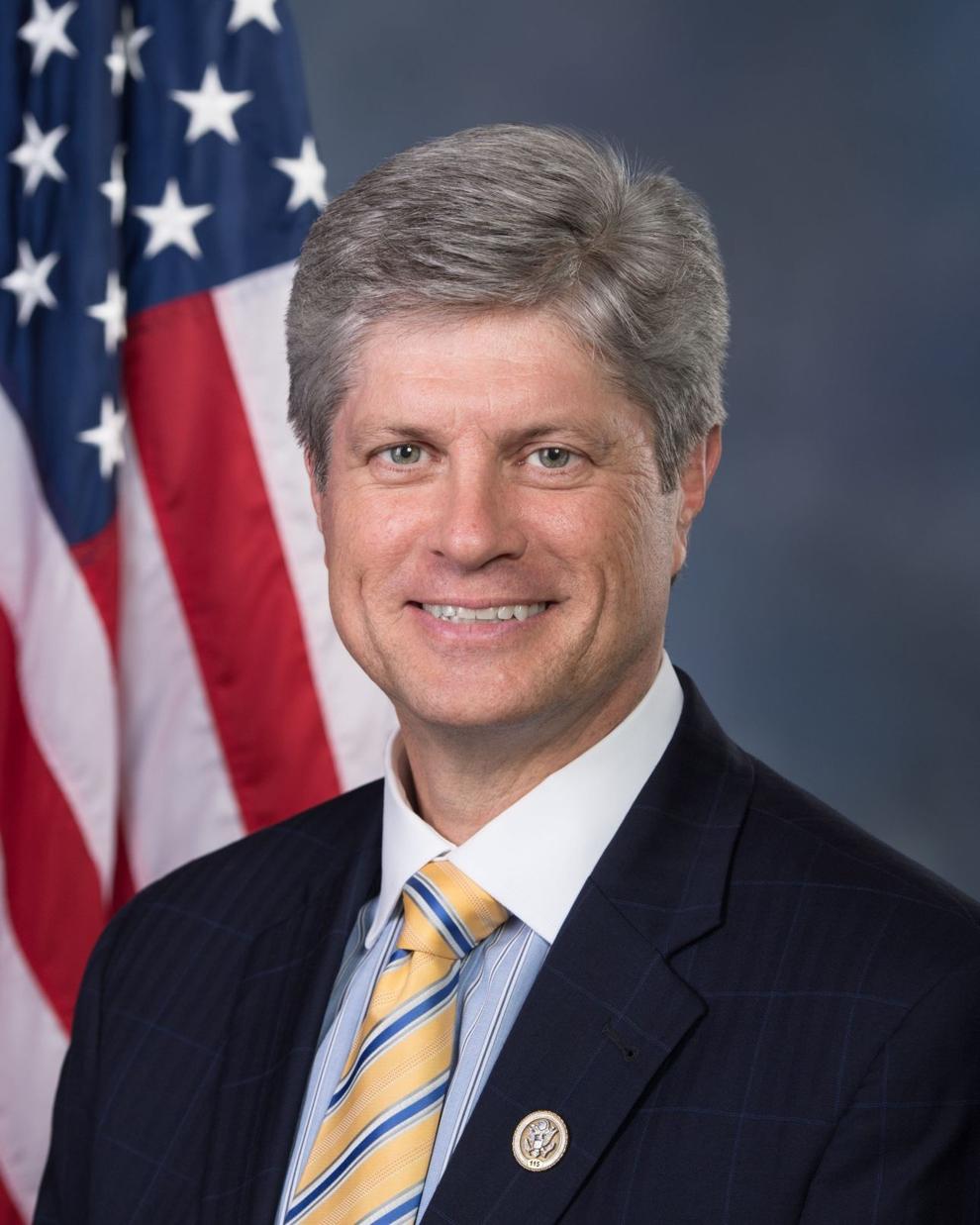 Moenning appealed to Ricketts, too, asking if his office could persuade Tyson to play ball, and to U.S. Rep. Jeff Fortenberry, R-Neb. Moenning used to work for the congressman, and Fortenberry's chief of staff is a doctor with a background in public health.
Fortenberry said he and his staff were happy to support the local officials by talking with Tyson.
"A local health director dealing with a corporate board room and lawyers 500 miles away? That's a difficult situation," he said.
A spokesman for Ricketts confirmed the governor also phoned a Tyson executive.
The public and political pressure seemed to work.
"The local plant leaders, they must have contacted corporate pretty fast," Uhing said. "It didn't take long then for a whole different group of Tyson corporate leaders to be in contact with me, and the tone changed. We were getting offers from them to comply and do whatever they could to help us. … They just came back to the table in a very cooperative tone and honestly were very helpful to me from that point forward."
With all the players on board, including state officials, Fortenberry's office, local medical providers like Louderback, Tyson and Elkhorn Logan Valley staff organized mass testing through the Maryland lab.
They educated workers on how to isolate and reduce the risk of getting their whole family or household sick. The Nebraska Department of Health and Human Services sent a team of epidemiologists to crunch data and an infection-control specialist from Nebraska Medicine toured the plant.
More than 1,400 workers, contractors and vendors at the plant were tested by either Tyson or local health care providers at the beginning of May, and the plant was briefly closed to clean and await the test results. Steve Stouffer, group president of Tyson Fresh Meats, appeared via video at a press conference with Moenning, Uhing and other officials to discuss the plant closure and testing.
"They came around to what is our natural impulse in Nebraska, which is to be cooperative," Fortenberry said.
"Our company had been involved in facility-wide testing at several Tyson locations in other states before testing was launched at Madison in May," Tyson said in its statement. "While the approach taken by state and local health officials has not always been the same from one location to the next — resulting in new circumstances and questions — we've always been grateful for their willingness to collaborate and do our best for our team members."
At one point, Uhing was thrown another curveball. While she had been routinely publicizing the number of cases at the Tyson plant, Ricketts told local health departments not to release numbers for specific meat and food facilities unless they had permission from the plants — a move that some perceived as an attempt to gag local health officials and hide outbreaks.
Madison Mayor Al Brandl pushed for the numbers to be released.
"We all have a good reason to know the numbers of infected people who live in this community," he emailed Uhing on May 8. "It is essential to be informed with facts."
Fortenberry's office helped persuade Tyson to publicly release the results of its mass-testing effort, at a time when few companies, including Tyson, were voluntarily disclosing coronavirus numbers at their plants. The Elkhorn Logan Valley health department and Tyson released the results in a joint press release on May 12.
A total of 212 workers tested positive, about 14.5% of the total workforce. That included 74 people who had no COVID-19 symptoms.
"I had already started releasing information prior to the governor's request," Uhing said. "I wasn't asking for new permission to do something, I was basically asking a corporate office for permission to finish what I had already started."
* * *
Madison County's total coronavirus cases per 100,000 residents still ranks 10th highest in Nebraska, according to the New York Times coronavirus tracker. That's a lower rate than in counties like Douglas, Colfax, Saline and Dodge, which are also home to meatpacking plants where outbreaks have occurred.
A Tyson spokeswoman said earlier this month that there are currently "very few active cases at our Madison facility" — fewer than 10.
Nuño said at the end of July that he's seeing fewer COVID-19 patients these days at his clinic.
Tyson says it has spent millions of dollars at its facilities on masks, gloves and face shields for workers, installed plastic dividers in common areas and on some parts of the production line and paid out bonuses to those who kept working.
But one line worker at the Madison plant isn't applauding yet. The worker, who asked to remain unnamed for fear of retaliation, says the danger of a new outbreak hasn't passed.
True, he said, temperatures are scanned at the start of shifts and masks are handed out — but not every worker wears them properly, over both their mouth and nose. And he'd like to see more independent observers from the local health department or the state routinely checking plant conditions.
Some workers' groups and other advocates continue to push for more protections: regular testing, hazard pay and slower line speeds so workers can spread out more.
"They deserve zero credit," the worker said of Tyson. "The fact that Tyson is looking good compared to other pork plants is dumb (expletive) luck."
But local leaders say it's more than luck that the Madison-Norfolk area hasn't seen a major surge in cases. Moenning said the local response, including the growing trust between Tyson officials and area leaders, could be a valuable model for other meatpacking companies and the often smaller, rural communities in which they operate.
"I don't think it's a coincidence that we didn't become the next Grand Island," he said. "I think that's one of the lessons learned in this. Essential does not mean untouchable."
Fortenberry, Moenning and others said Uhing's gutsiness and perseverance — with a dash of diplomacy — led to better outcomes, protecting workers and the surrounding communities and setting an example for corporate transparency.
"From the beginning our goal was twofold," Uhing said. "One, to stop an outbreak and prevent further exposure and spread, and goal No. 2 was to keep the packing plant open, because of their contribution to feeding the world. Even if they had to operate at a lesser capacity, that's better than no capacity at all."
"I have to give Tyson some credit," she continued. "There were some hiccups, but there were a lot of positives."
---
The faces of the mask effort