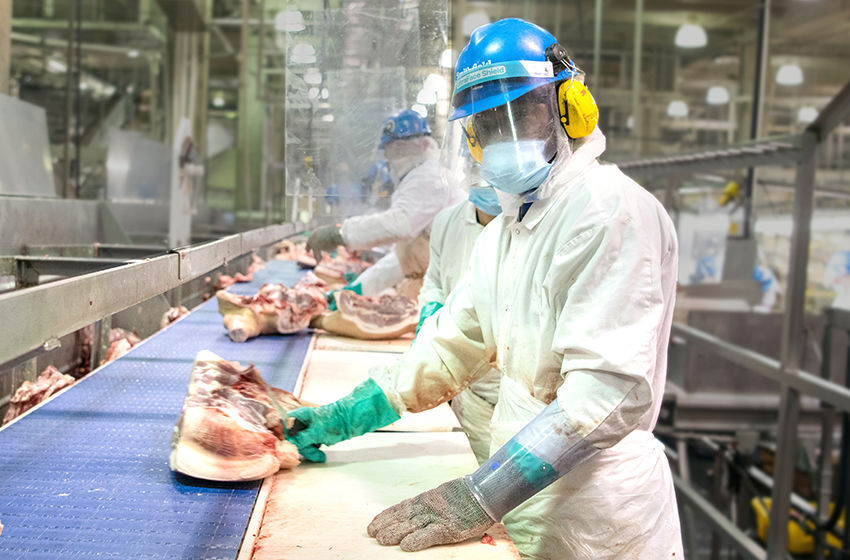 As the coronavirus pandemic persists, workers at the Smithfield Foods pork plant in Crete have face masks and shields.
But it's not enough to fully protect them from the virus that's sickened thousands of meatpacking and food production workers, longtime Smithfield worker Geraldine Waller said Tuesday at a rally on the steps of Nebraska's State Capitol.
Disposable masks are easily soiled by animal blood and breathing during long shifts. Face shields fog up — a safety hazard when workers are wielding sharp knives and meat hooks to butcher hogs. Locker rooms remain crowded and the production line hasn't slowed, even though workers are still calling in sick or staying home because they worry about contracting the virus.
"We are human beings, essential workers, not robots and not disposable," Waller said.
The rally was the latest attempt to draw attention to the struggles of meatpacking workers and press the Nebraska Legislature and other state leaders to help enforce stronger safety measures in plants, including paid sick leave, mass testing and more transparency around reporting coronavirus cases. Organizing groups included Children of Smithfield, Nebraska Farmers Union, Refugee Empowerment Center and the Nebraska State AFL-CIO.
The companies that own many of the plants in Nebraska, including JBS USA, Tyson Foods, Smithfield and Cargill, say they have tried to slow the spread of the virus by providing masks and other protective gear, enforcing temperature checks and installing dividers to separate workers on the line.
"Plexiglas dividers help, but it's not enough," said Eric Reeder, president of United Food & Commercial Workers Local 293 union that represents meat and food production workers in Nebraska. "Many facilities have ventilation systems that haven't been updated for 20 or 30 years. … Essential should not mean expendable."
In a statement, Smithfield Foods said its precautions meet or exceed federal health and safety guidelines.
In a recent letter to federal lawmakers, Kenneth M. Sullivan, the company's president and CEO, said production workers are receiving extra hourly pay during the pandemic. The company has granted some form of paid leave to nearly 3,000 workers who are staying home because they are older or have serious health conditions, and spent tens of millions of dollars procuring masks, face shields and gallons of hand sanitizer.
"Since the onset of the pandemic, we have worked around the clock to respond to an unprecedented pandemic and implement aggressive measures to protect our employees' health and safety while also safeguarding America's food supply," the statement said.
State Sen. Tony Vargas of Omaha plans to make a motion Wednesday to suspend the Legislature's rules in order to introduce a new bill addressing safety in meatpacking plants. It is a last-ditch effort — the Legislature is wrapping up its session that was shortened due to the pandemic and the deadline for introducing new bills is long past.
"We can't wait any longer," Vargas said at Tuesday's rally. "Every single month we wait is another group of individuals exposed to the virus, potentially spreading it in our communities."
As of Tuesday, coronavirus cases related to food or meatpacking plants made up about 19% of Nebraska's total confirmed cases. More than 4,800 meatpacking workers have tested positive for the virus since March, with 223 hospitalizations and 21 deaths.
---
Our best staff images from July 2020