Tens of thousands of acres have burned in the Dakotas.
Mount Rushmore National Memorial closed temporarily, and fire has threatened more than one community, including Rapid City, South Dakota. In North Dakota and South Dakota, the governors have declared states of emergency due to wildfires.
Nebraska doesn't have to look far to see how lucky it has been with its healthy snows and rains this year.
The last three months, January through March, have been Nebraska's second wettest on record. But in North Dakota, it was the state's driest January-March on record, and Montana had its 13th driest, according to the National Centers for Environmental Information.
"We've truly had a contrast in conditions," said Natalie Umphlett, regional climatologist for the High Plains Regional Climate Center.
Weather records for the states date back 127 years.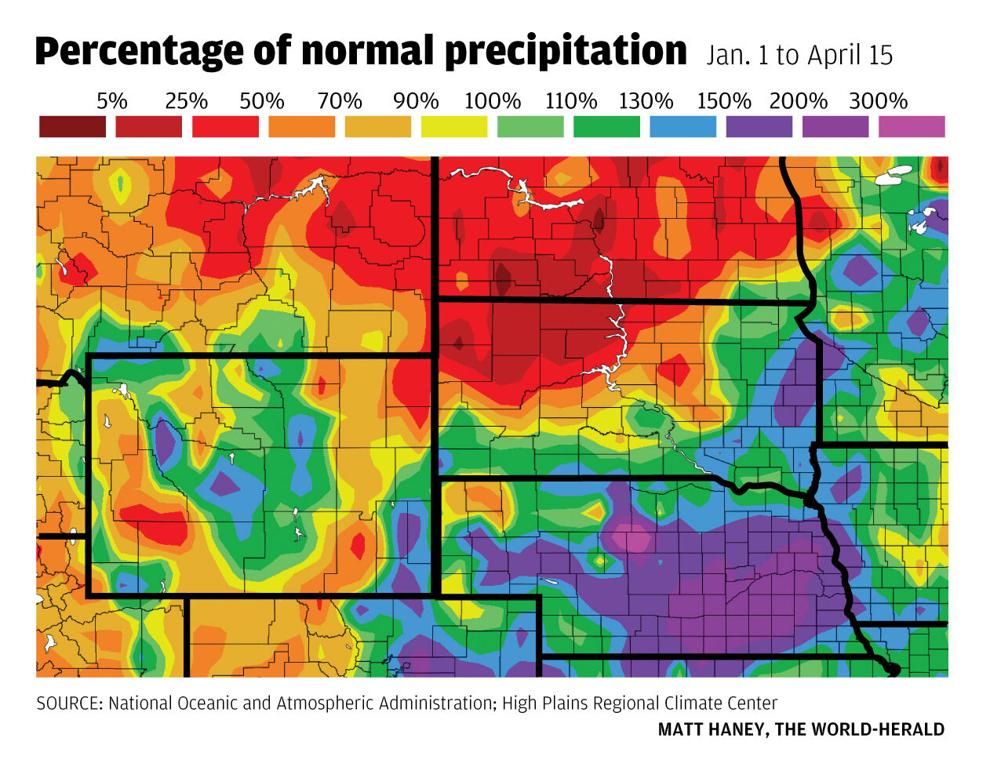 Will Nebraska's luck run out and the state return to widespread drought? Forecasters say they don't know.
"How extensively drought will spread is one of the most difficult predictions to make," said Dan Collins, a meteorologist with the Climate Prediction Center.
All of Nebraska was in drought in early January, but most of the state was delivered from drought by wet weather from late January on, according to the National Drought Mitigation Center.
Among the storms that brought much-needed moisture was the incredible rain and snowstorm that struck Nebraska in mid-March. Grand Island set an all-time record for its March precipitation on March 13 and then broke that record the next day with more rain. Each of those days (2.56 inches on March 13 and 2.75 inches on March 14) alone brought Grand Island more precipitation than it normally receives for the entire month (1.80 inches).
Given that severe to extreme drought encircles the state to the north, west and southwest, there are fears it could worsen conditions in the already dry areas of western Nebraska. The outlook for May-June-July favors a warmer and drier than normal summer in Nebraska, and the odds for warm and dry are higher in western than eastern Nebraska, according to the Climate Prediction Center. That said, seasonal forecasts are hard to make for the central U.S., so this growing season could turn out well in Nebraska.
If there's any silver lining, it's that the Northern Plains dry spell occurred during winter when precipitation is normally low and plants aren't pulling up moisture, said Dennis Todey, director of the USDA's Midwest Climate Hub.
The key now is that the region is moving into its wettest time of the year, he said. Continued dry weather will cause conditions to deteriorate. Timely rains, even in a dry year, will make all the difference.