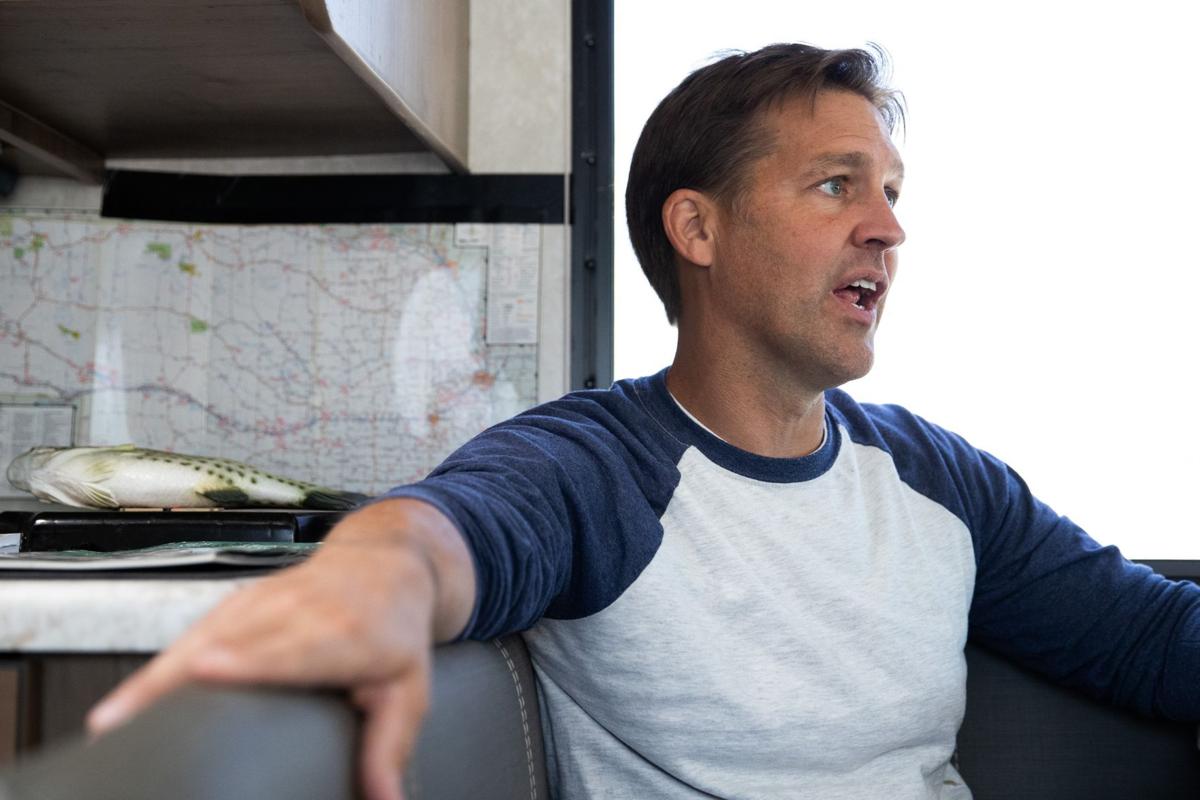 Some Nebraska Republicans are angry enough at Sen. Ben Sasse that they want to formally censure, or rebuke, him.
Sasse has been one of the few Republicans in a national elected position to harshly criticize former President Donald Trump.
At least two proposals have come from party officials in western Nebraska to censure Sasse on Feb. 13 at the Republican State Central Committee meeting in Columbus. Other proposals have come from individuals.
In a video statement issued Thursday evening, Sasse said the "anger" in the Nebraska Republican Party has never been about him "violating principle or abandoning conservative policy."
"I'm one of the most conservative voters in the Senate — the anger's always been simply about me not bending the knee to ... one guy," said Sasse, who won reelection in November.
"Jan. 6 is gonna leave a scar. For 220 years, one of the most beautiful things about America has been our peaceful transfer of power," Sasse said. "But what Americans saw three weeks ago was ugly — shameful mob violence to disrupt a constitutionally mandated meeting of Congress to affirm that peaceful transfer of power."
Sasse, in a high-turnout election last fall, set a record for the number of votes received by a federal office-seeker in Nebraska, lapping his closest competitor, Omaha baker Chris Janicek, a Democrat. Sasse did this despite being heard on an audio clip sharply criticizing Trump.
Hitchcock County Republican leader Bruce Desautels wrote in a 13-point resolution that the remarks and actions of Sasse over at least several months deserve censure by the Central Committee.
The Scotts Bluff County Republican Party has also submitted such a proposal to the central committee, said Ryan Hamilton, executive director of the Nebraska GOP. Eight of 156 committee members have also submitted their own proposals, Hamilton said.
Sasse said that "something has definitely changed over the last four years," but that it isn't him.
"Personality cults aren't conservative, conspiracy theories aren't conservative, lying that an election has been stolen isn't conservative, acting like politics is a religion isn't conservative," he said.
Hamilton said the state party office has been deluged by hundreds and even "thousands" of phone calls, texts, emails and Facebook messages expressing frustration with Sasse.
Dan Welch of Omaha, chairman of the Nebraska GOP, said that if there are numerous proposals to censure Sasse, they will probably be consolidated into one and then debated at the meeting.
"I don't know how I'm going to vote," he said.
Welch said negative comments and votes made by Sasse, and the fact that some came right before the election, disappointed him.
Hamilton said Sasse has been invited to the meeting in Columbus. A Sasse spokesman said Trump's impeachment trial is expected to run through that date, which would make appearing at the meeting "very difficult."
Among other things, the Hitchcock County resolution says Sasse rejected the notion that impeaching a private citizen is unconstitutional; accused Trump of inciting a riot at the U.S. Capitol; said Trump has lied to the American people and that lies have consequences; said Trump mistreats women, dallies with white supremacy, secretly mocks evangelicals and "kisses dictators' butts;" and is "indifferent" to voter fraud claims made by Trump and followers.
Sasse said the state party can censure him again, as he said it did in May 2016, "for not being supportive enough of Donald Trump," but the party needs to be clear about why.
"It's because I still believe (as you used to) that politics is not about the weird worship of one dude," Sasse said. "The party could purge Trump-skeptics, but I'd like to convince you that not only is this 'civic cancer' for the nation, but it's also terrible for our party."
---
Our best Omaha staff photos of February 2021