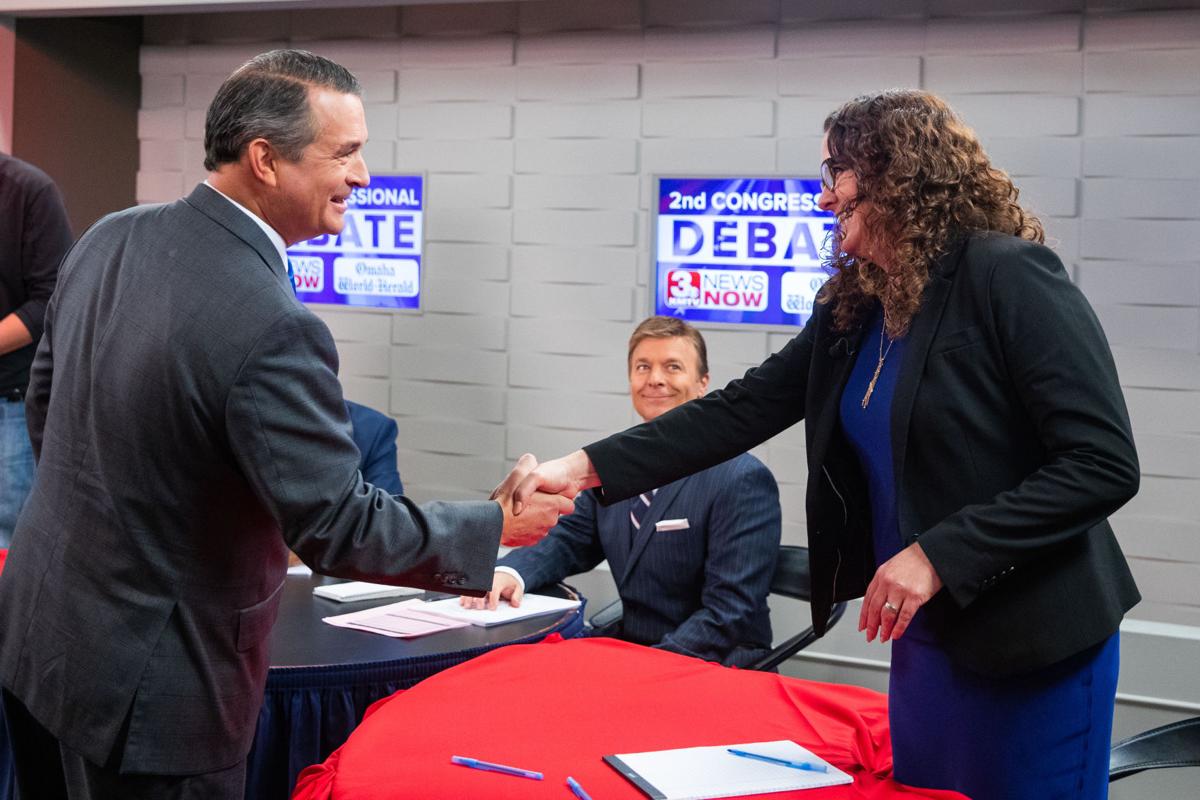 WASHINGTON — President Donald Trump's low approval ratings are threatening to drag Republican House candidates down with him — and Omaha's incumbent congressman, Rep. Don Bacon, is no exception.
That's the assessment of election forecaster David Wasserman with the Cook Political Report.
"President Trump's abysmal polling since the pandemic began is seriously jeopardizing down-ballot GOP fortunes," Wasserman wrote Friday. "We may be approaching the point at which dozens of House Republicans will need to decide whether to cut the president loose and run on a 'check and balance' message, offering voters insurance against congressional Democrats moving too far left under a potential Biden administration."
Wasserman offered his analysis while announcing changes in the report's ratings of 20 House races — all in favor of Democrats. That included a shift of Nebraska's 2nd District from "Lean Republican" to "Toss Up."
In that contest, Bacon faces a rematch against Democratic challenger Kara Eastman. Bacon prevailed over Eastman in 2018, winning reelection by about 2 percentage points.
Randall Adkins, political science professor at the University of Nebraska at Omaha, said Democrats should be competitive in the 2nd District when the national environment favors them — and that certainly seems to be the case now.
"I think this is shaping up to be a good year for Democrats," Adkins said.
He cited some reasons Democrats can feel optimistic: Trump's low ratings, the struggling economy and a pandemic that is spreading rapidly even as the administration sends mixed messages.
"Those winds are probably going to affect this race," Adkins said. "Are they going to be enough to carry Kara Eastman's sail? They might be. We've seen it happen before in other places. It might be enough to do it here."
Eastman's campaign welcomed Cook's rating shift and pointed to the most recent fundraising quarter in which Eastman outraised Bacon by about $200,000.
The Eastman campaign said its internal polling also shows her with a 1 percentage point lead in the race, within the margin of error.
"This campaign has real momentum," Eastman said in a statement. "We've built an organization powered by small dollar donations that is directly taking on Bacon's corporate donors-first agenda."
Bacon previously took to Twitter to tout the "Lean Republican" rating by Cook and several other analysts. Those other analysts had not shifted their own ratings by midday Friday.
In an interview, Bacon conceded the Trump effect on his own electoral fortunes but said that if voting were held tomorrow he would expect to win with a similar margin as he did in 2018.
"We've got four more months to go, and I think the president has time to recover and that will make the race easier for me if he does," Bacon said. "I have to acknowledge — if he's down, it makes it a tougher race."
Bacon said he has always maintained that he must attract independents and moderate Democrats to win and that he will keep working for their support.
He noted that he has the backing of various local labor unions and emphasized his work on behalf of Offutt Air Force Base.
Bacon also suggested Democrats are split over health care policy, with many of them wary of the kind of Medicare For All system Eastman has supported.
Sign up for World-Herald news alerts
Be the first to know when news happens. Get the latest breaking headlines sent straight to your inbox.
The Eastman campaign, on the other hand, says the ongoing pandemic bolsters her health care policy arguments as millions of people are losing their jobs and their health insurance as a result.
Bacon's situation has some parallels to 2008 when then-Rep. Lee Terry, R-Neb., was seeking reelection. Democratic presidential nominee Barack Obama carried the 2nd District in what was dubbed the "blue dot" even as Terry was able to hold on to the seat thanks in part to "Obama-Terry" voters splitting their ballots.
Does that mean Republicans will be looking for "Biden-Bacon" voters come November?
"Ticket splitting has gone down, but that doesn't mean that it's completely disappeared," said Adkins, who wrote a book chapter about that 2008 race and Obama-Terry voters.
But Adkins said today's polarized environment and the loyalty of Trump's die-hard supporters will make it difficult for Bacon to navigate the same tightrope that Terry did back then.
"That's a little harder for Bacon to walk," Adkins said.
The bottom line — Bacon said he can't deny the effect President Trump's standing has on races such as his.
"He has an impact up and down ballot," Bacon said. "There is no doubt. So we need him to have a good four months."
Get Government & Politics updates in your inbox!
Stay up-to-date on the latest in local and national government and political topics with our newsletter.