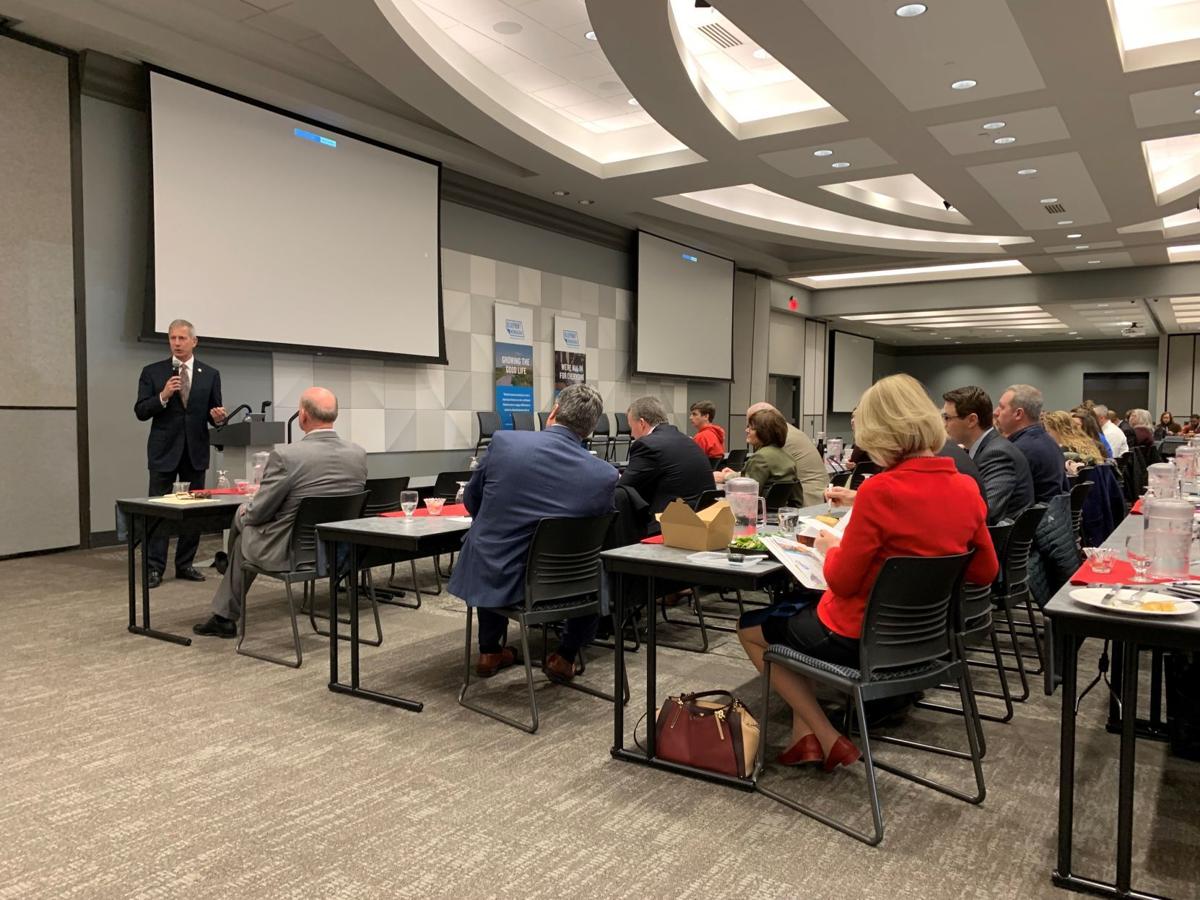 Cutting individual and corporate income tax rates, reducing property tax burdens and broadening the state sales tax to create offsetting revenue would make Nebraska more competitive for jobs and business.
Those are the conclusions of a report on changing the state's tax system requested by Blueprint Nebraska, a panel of state business leaders whose goal is economic growth for the state. The leaders of Blueprint Nebraska hope the report from the Tax Foundation can serve as a possible starting point and framework for a "tax modernization" plan in the 2021 Nebraska Legislature.
"A simple, stable, modern pro-growth tax code is a valuable competitive advantage for any state, but it can be of particular benefit in the Great Plains region that, however unfairly, might struggle to attract business and residents due to certain geographic biases," wrote Katherine Loughead, author of the report for the Washington-based Tax Foundation.
The premise that such tax shifting would lead to growth for the state was immediately questioned by Open Sky Policy Institute, a budget and policy center based in Lincoln. Open Sky executive director Renee Fry also argued that most of the financial benefits of any income tax cuts would flow to high earners, leaving most Nebraskans with a net tax increase.
"This is a tax cut for wealthy families that low- and middle- income families would pay for," she said.
The Tax Foundation report is short on any specifics on how much income, property and sales taxes should change. And its broad recommendations fly in the face of some of the political realities of attempting to pull off such a massive overhaul.
The Legislature's efforts the past two years to reduce property taxes stalled in part because they were largely funded by increases in sales taxes, including extending the sales tax to an ever-shifting list of items and services that are not now taxed.
Efforts by lawmakers to shift the tax burden from one tax to another have also been strongly opposed by Gov. Pete Ricketts — who is one of the co-founders of Blueprint and serves as an adviser to the effort.
Jim Smith, the executive director of Blueprint Nebraska, said the business leaders behind the initiative recognize that political reality will eventually come into play as lawmakers consider any changes in the state's system for funding state and local services.
But he said Blueprint is unapologetic in its efforts to help the state grow. The organization is trying to determine what an ideal, growth-oriented Nebraska tax structure would look like.
While Blueprint requested the report from the Tax Foundation, Smith said, it did not pay the nonprofit group to prepare it and had no say in its final conclusions. Nonetheless, he said, the business group generally supports it.
Blueprint Nebraska came out with a report a year ago setting a number of broad, strategic goals for moving the state forward, including creating a tax structure that could attract jobs and workers to the state. The Tax Foundation report is part of that effort.
When businesses and individuals look to locate, there are many different factors that guide those decisions, among them workforce, transportation and education infrastructure, available land and quality of life.
The Tax Foundation report acknowledges those factors but says taxes are "an important part of the equation," particularly for "high net worth individuals." And it calls on Nebraska to change "certain uncompetitive features of the state's tax code."
In general, the report says income taxes are less desirable than consumption taxes like sales taxes because they discourage wealth creation. It also says income taxes are more volatile — more prone to fluctuate widely in good times and in bad.
On personal income taxes, the report notes that for those making $75,000 or above, Nebraska generally has the highest state income taxes among surrounding states. Its income taxes on those who make $30,000 are the lowest other than in South Dakota and Wyoming, which have no income taxes.
The report says Nebraska's high personal income tax rates also apply to many sole proprietorships and limited liability companies, a situation that it says affects the state's ability to attract business.
"To improve the state's economic competitiveness, both regionally and nationally, Nebraska should prioritize reducing its top marginal income tax rate," the report said.
The report likewise recommends reducing Nebraska's top corporate income tax rate, which is also among the region's highest. While many of the state's largest employers don't pay that top rate because of business tax incentives, the report says it would be better to reduce the rate for all businesses.
Meanwhile, Nebraskans have long been frustrated with having among the nation's highest property taxes. The report says the property tax system is in need of change and notes that the Legislature this year passed a measure providing some relief, intended as a step toward dealing with the issue.
The report does not mention the primary reason local property taxes in Nebraska are so high: Nebraska ranks 49th among the states in state dollars supporting K-12 education. Excluding federal funds, the average state in 2018 picked up 51% of the costs of local schools. Iowa covered 57% of such costs. In Nebraska, the figure was 35%.
While Nebraska has seen recent proposals to increase state aid, the report says such "tax swaps" rarely last and can put upward pressure on sales and income taxes. Loughead said the Tax Foundation also thinks it makes sense to pay for local services with locally levied taxes.
On sales taxes, the Tax Foundation noted that Nebraska has a narrower tax base than most states, applying it to few consumer services. Broadening the sales tax base can be key to "reducing other, more harmful and burdensome taxes."
The report makes no mention of the regressive nature of sales taxes. Because sales taxes apply the same rate to purchases of people at all income levels, those who make less pay a higher percentage of their earnings in such taxes.
Recent history has shown that such tax shifts certainly aren't easy. Expanding the sales tax, even to offset unpopular property taxes, proved impossible in the last two sessions of the Legislature — in part because of Ricketts' strong opposition.
"That was a nonstarter," said John Bartle, dean of the University of Nebraska at Omaha's College of Public Affairs and Community Service. "I think there is some room to expand the sales tax base, but politically it's a heavy lift."
Open Sky's Fry noted that the proposal is strikingly similar to what Kansas attempted in the past decade. The state's Republican governor and lawmakers sought to shift the tax burden from income to sales taxes. And when they couldn't pass the sales tax increases, they passed the income tax reductions anyway.
The result was massive state revenue shortfalls that left schools and other services woefully underfunded, creating a political backlash that helped usher in the election of a new Democratic governor.
Fry said the report by the business-centric Tax Foundation is also largely just a rehash of previous reports it offered on Nebraska's tax system in 2013 and 2016.
To get additional input on the Tax Foundation recommendations, Blueprint contracted with David Brunori, who is a tax consultant with the RSM US accounting firm and a George Washington University professor, to offer his own critique.
Brunori went beyond the Tax Foundation in his recommendations, suggesting that Nebraska completely repeal its corporate income tax. While bold, he said, it would greatly boost investment in the state.
Brunori also dismissed tax regressivity or progressivity as a concern in any state tax changes. Because of the ability of people and businesses to move between states, he said, only the federal government can effectively use its tax system to redistribute income.
"States that impose highly progressive taxes on the wealthy to support the poor inevitably end up with less of the former and more of the latter," he wrote.
Smith, the director of Blueprint, said a committee is now working on putting all of the recommendations into a detailed proposal that might be introduced in the Nebraska Legislature. Smith said Blueprint is looking to make public a final proposal by December.
The Blueprint committee is headed by Jim Greisch, an accountant with RSM's Omaha office. Greisch formerly served as the public policy chair for the Greater Omaha Chamber of Commerce and sits on the board of the Platte Institute, a think tank based in Omaha.
"We want to lay out the case for modernizing the tax structure," said Smith, a former state senator from Papillion. "I really think that Nebraska is in a good position to be a leader in what this looks like."
---
Goodbye to these Nebraska businesses