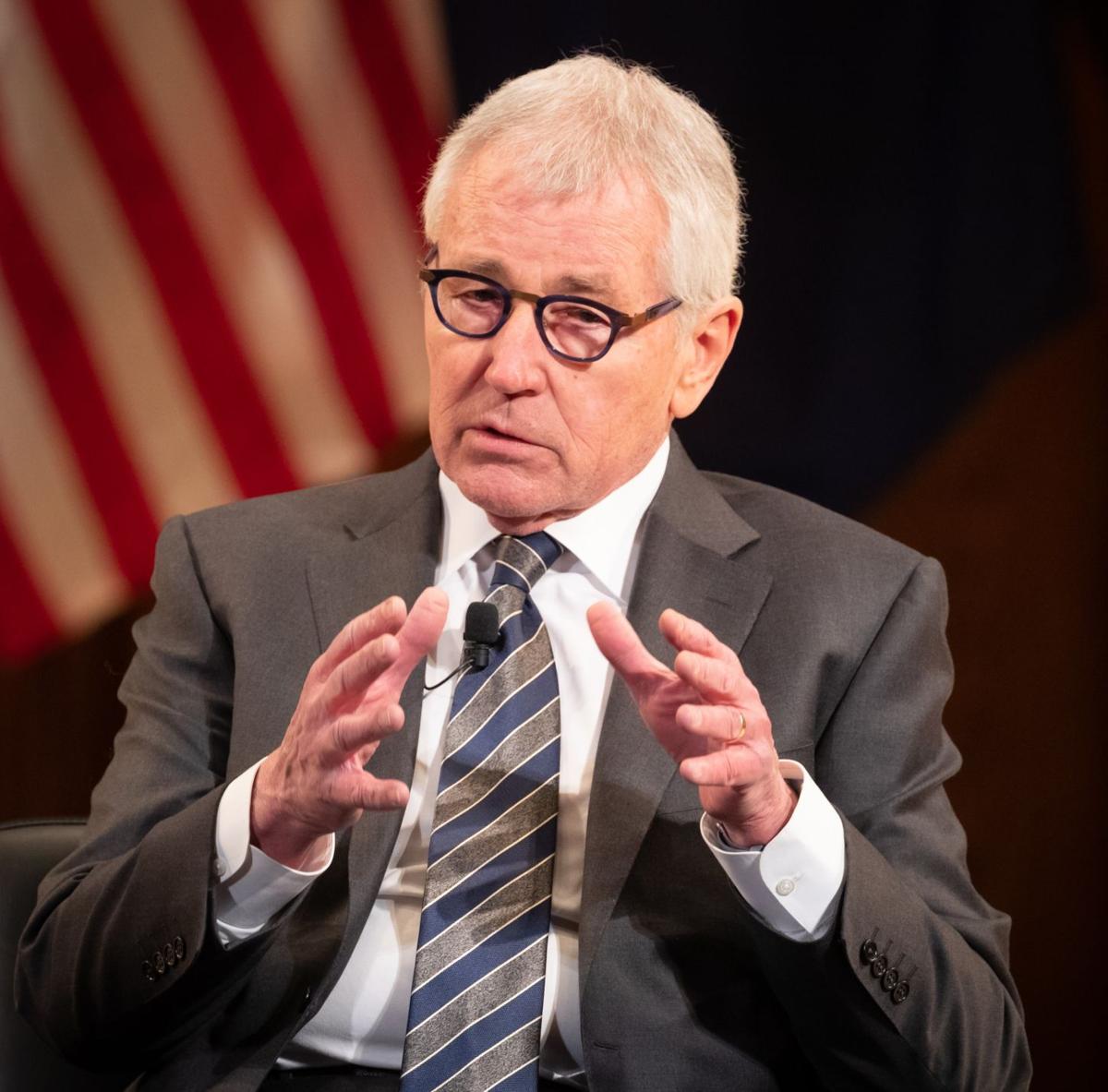 WASHINGTON — Next week's Democratic National Convention will feature Republican critics of President Donald Trump, and one of them should be familiar to Nebraskans.
Former Sen. Chuck Hagel, R-Neb., says Trump's performance in office is a big part of why he's officially endorsed presumptive Democratic nominee Joe Biden.
"I think Donald Trump has done great disservice and damage to this country, the institutions of governance," he told The World-Herald. "I think he has been corrupt in how he has used his office for his own personal gains."
Hagel cited personal behavior such as refusing to release his tax returns and a penchant for insulting tweets as evidence that Trump has "degraded the office of the presidency." But he also criticized Trump's policies on agriculture, trade, the federal budget deficit and the coronavirus pandemic. He slammed Trump's approach to foreign affairs, such as pulling out of international agreements and pushing to withdraw U.S. troops from Germany.
"How does that enhance our security and our alliances?" Hagel said.
Hagel recently recorded a video in support of Biden to be played during next week's largely virtual nominating convention.
He and Biden traveled around the world together during their time in the Senate. And when Biden served as President Barack Obama's vice president, Hagel was the secretary of defense.
"I've worked with him and known him closely for over 20 years," Hagel said. "I know what he's about. I know the kind of human being he is. I know the honesty he brings, the competency he brings."
This isn't the first time Hagel has crossed the aisle to support a Democrat for office. He backed another one-time Senate colleague, Nebraska Democrat Bob Kerrey, in his 2012 Senate campaign against Republican Deb Fischer.
Top GOP officials at the time downplayed the impact of Hagel's endorsement by noting that he had alienated many Republicans with his sharp criticism of President George W. Bush's handling of the Iraq War and pointed questioning of Sarah Palin's fitness to be the 2008 GOP vice presidential nominee. Fischer went on to win that Senate race by a double-digit margin.
Trump campaign officials did not immediately respond to a request for comment on Hagel's backing of Biden, but Nebraska Republican Party Executive Director Ryan Hamilton questioned its effect.
"I am not sure a single individual will be persuaded one way or another by this endorsement," he said. "Secretary Hagel is an ex-Obama administration official who has been out step with the party for the better part of a decade, and Republicans do not look to him for cues."
While Nebraska is not expected to be competitive overall in the presidential race, the state splits three of its Electoral College votes by congressional district.
Democrats hope they can re-create the 2008 "Blue Dot," in which Obama won the Omaha-based 2nd District's Electoral College vote.
At the time, Democrats took to calling the city "Obamaha," and they have recently floated a new Biden-focused moniker: "Jomaha."
Nebraska Democrats are also touting poll numbers that suggest Biden could compete in the state's 1st District as well.
Hagel's support for Biden seems to track the thinking of John Kasich. Ohio's former Republican governor is scheduled to speak during the convention as the Biden campaign seeks to demonstrate broad appeal.
Hagel said he disagrees with Biden's policies in plenty of areas and noted that their Senate voting records were worlds apart. And although Biden ran as one of the more moderate candidates in the Democratic primaries, Hagel acknowledged that a President Biden would be under pressure from the more liberal elements of his party to skew hard to the left.
But Hagel said that's the challenge of governing and that Biden is capable of building a governing coalition that includes Republicans.
"I don't know anybody in the political world today who understands that better than Joe Biden, who has more practice at it, who has had more experience at it than Joe Biden," he said.
While he served in a Democratic administration and has backed Democrats for office, Hagel said he remains a registered Republican.
"And I'm hoping that the Republican Party will someday get back to where it was when I joined the Republican Party and voted for a Republican president and a Republican congressman in 1968 sitting on top of an armored personnel carrier in Vietnam," he said. "I've seen an erosion of Republican principles over the years."
Hagel said the party has lost touch with its roots in fiscal discipline, free trade and international engagement.
"There is no Republican Party," he said. "There's a Trump party. And the Republicans have essentially enabled Trump to do what he's done to really damage this country the last 3½ years. That's, again, what led me particularly to support Biden. Because I don't think this country can take another four years of this guy. Our international standing can't, our defenses can't, our relationships can't, our trade can't."