LINCOLN — Gov. Pete Ricketts is resisting ordering Nebraskans to wear masks, but he has stepped up his public pleas for people to take precautions as COVID-19 cases continue to rise in the state.
On Tuesday, the Republican governor held his fourth media briefing on the state's virus response in the past six days, imploring Nebraskans to voluntarily take precautions to avoid spreading infections. To punctuate the point, a COVID-19 survivor told his story of battling the virus.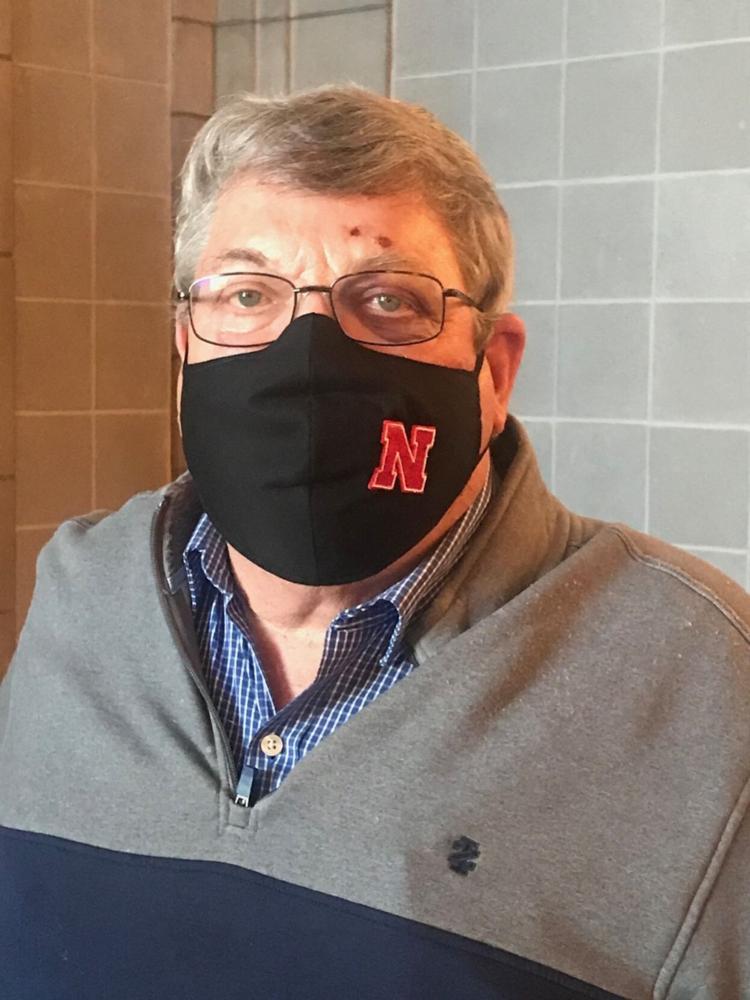 "COVID-19 is real," said Craig Buescher, a 69-year-old South Bend man who spent nine days in the hospital on supplemental oxygen. "Put your pride aside. We need to do the things necessary to get through this pandemic."
Buescher, who had an 87-year-old friend in Kearney die last week from the coronavirus, said he would prefer that people voluntarily wear masks and take other precautions, but could see that mandates might be necessary if that doesn't work.
Ricketts on Tuesday continued to brush off suggestions that mask-wearing must be ordered.
Ricketts — who remains in quarantine because he came into contact with someone who tested positive a week ago — is emphasizing education and communication, and has scheduled another coronavirus briefing on Thursday to announce a statewide, COVID-19 public awareness campaign.
"Masks are just one of the tools we have," he told reporters again on Tuesday. He urged Nebraskans to follow a "Swiss cheese" of multiple precautions, such as avoiding crowded bars and restaurants, close contact with other people and confined areas where social distancing of at least 6 feet cannot be accomplished. Ricketts also asked people to reduce trips to stores and to work from home, if possible.
"I don't think that mask mandates are appropriate. They breed resistance," he said.
Also on Tuesday, he urged Nebraskans to "leave a little space for grace" when dealing with local health department workers and contact tracers.
Ricketts said he was aware that someone is being prosecuted for making a death threat recently against a worker from the Elkhorn-Logan Valley Public Health Department, based in Wisner.
"Everyone is just trying to do their job and keep people healthy," he said. "Respect what they're doing. As Nebraskans, we're about being 'Nebraska nice.' "
The threat was made about two weeks ago, according to Emergency Response Coordinator Melanie Thompson.
Thompson, who declined to comment on details of the threat, said Tuesday evening that a suspect is being prosecuted.
The governor also defended his decision to pose maskless with a group of supporters of State Sen.-elect Rita Sanders on election night. A group photograph made the rounds on social media on Tuesday showing Ricketts with 21 people. None wore masks.
The governor said that it's his practice to briefly remove his mask for a photo, and that his advice is to don masks if you're within 6 feet of others for more than 15 minutes.
In 1993, a state law that required Nebraskans to wear seat belts increased the usage of the safety belts from 30% of all motorists to 53% in the first few months of the mandate. It also dropped fatalities by about 16%. But Ricketts, on Tuesday, said he didn't think there was an "apples-to-apples" comparison between seat belt and mask mandates. Today, about 80% of state motorists wear seat belts.
Buescher, who works for the University of Nebraska Foundation, said he hadn't taken COVID-19 seriously enough until he tested positive two months ago. He wore a mask often in public places, but not always, he said.
"I felt that I was healthy enough that I could lick it like it was a cold," Buescher said. Instead, he became so short of breath that he couldn't walk across a room without stopping, and became so unsteady on his feet that he had to hold onto something.
"After getting COVID, I'll tell you emphatically, it made me a believer," Buescher said. "We all need to do things to help prevent the spread."
He said his family has canceled its traditional Thanksgiving gathering to avoid spreading the virus. Ricketts also said his family would be meeting in smaller groups as a precautionary measure, urging Nebraskans to follow that example.
Also on Tuesday, Dr. Gary Anthone, the state's chief medical officer, outlined several advances in the treatment of COVID-19 patients. He said the state would receive a limited supply within a week of the newest treatment, monoclonal antibodies, that have shown promise in reducing hospitalizations. The initial treatments would prioritize high-risk patients and the elderly, Anthone said.
World-Herald staff writer Jessica Wade contributed to this report.
---
Our best staff images from November 2020
Concerned about COVID-19?
Sign up now to get the most recent coronavirus headlines and other important local and national news sent to your email inbox daily.