Democrat Alisha Shelton has officially filed to run in Nebraska's 2nd Congressional District.
Shelton tweeted a photo of herself standing in front of the office of the Nebraska secretary of state on Thursday. Photos of Vice President Kamala Harris and Shirley Chisholm were on the tongues' of Shelton's tennis shoes. Chisholm was the first Black woman elected to Congress and to run for the presidency.
Today,on the founding date of my sorority. I filed to officially be a candidate on the ballot for Congress in honor of the service component of the sorority. I stand on the shoulders of my sorority sister Shirley Chisholm,who made history as the first Black woman to ever serve(1) pic.twitter.com/9WdYSZpQcq

— Alisha Shelton (@AlishaKShelton) January 13, 2022
Shelton said she filed to run on the anniversary of the founding date of her sorority, Delta Sigma Theta.
"In 1972, my sweet sorority sister Shirley Chisholm ran for president and committed to being unbought & unbossed," Shelton said in a statement. "I will make that same commitment to my neighbors in Nebraska and will serve the people of this district day in and day out."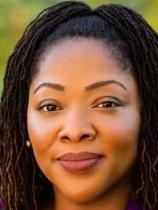 Shelton's campaign noted that if elected, she would be the first Black woman to represent the 2nd District.
The 2nd District covers all of Douglas County, including Omaha, western Sarpy County and Saunders County. The district is currently represented by Rep. Don Bacon, who is seeking reelection and his fourth term in Congress.
State Sen. Tony Vargas of Omaha also is running in the May 10 Democratic primary but has not officially filed yet.
The 2nd District leans Republican but has elected Democrats in the past and supported Democratic presidential candidates in 2008 and 2020.
Shelton is a mental health therapist. She previously sought the Democratic nomination to run against Republican Sen. Ben Sasse in 2020. Shelton received the state Democratic Party's backing after the winner of the primary lost the party's support.
Omaha baker Chris Janicek won the nomination, but the state's Democratic Party pulled its support over explicit comments he made about a staffer. The party's state central committee then voted to replace him with Shelton, but Janicek never backed out and his name remained on the ballot. Sasse won reelection handily.
Shelton said in a statement Thursday she has dedicated her career to helping people and understanding challenges that Nebraskans face and would do the same in Congress.
"In this moment of inequity, racial divide, and women's fundamental rights under attack, we need a leader who will fight for change," Shelton said. "I am an everyday Nebraskan who understands what it is like to try and succeed in an economy that does not work for all of us and navigate a health care system that is ridden with red tape."