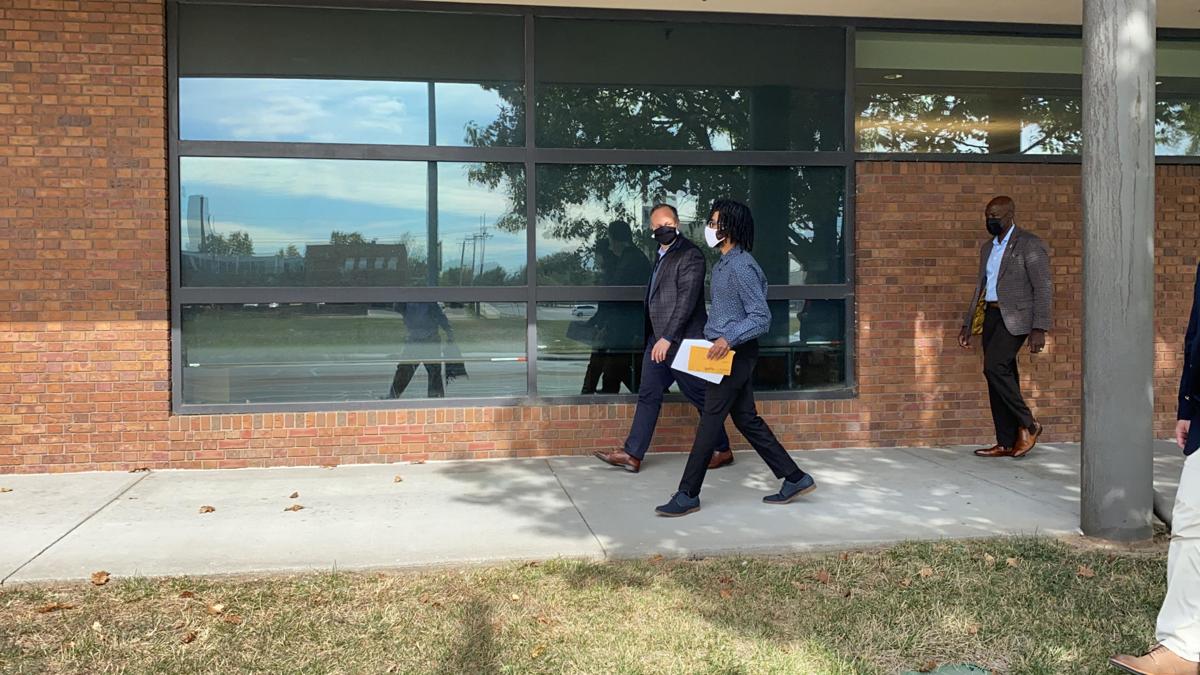 Doug Emhoff, the husband of the first Black woman to be a major party's vice presidential nominee, visited the heart of North Omaha on Friday for a drive-in rally.
He came with a message: The difference between a second term for President Donald Trump and a first term for Joe Biden and Sen. Kamala Harris will be whose supporters follow through and vote.
Emhoff was joined on stage by Democratic candidate Kara Eastman, who's running against Republican Rep. Don Bacon in the Omaha area's 2nd District House race. Also in attendance were North Omaha leaders, including Democratic write-in candidate for Senate Preston Love Jr.
Emhoff stressed the value of voting early during the parking lot rally near 24th and Lake Streets.
"We are going to win this election, and we are going to win here in North Omaha," Emhoff said, to a flurry of honking horns from the vehicles parked facing the stage. Biden, he said, wants to win by a large enough margin that the results cannot be contested or refuted by Trump.
Among those attending the drive-in rally were Omaha voters Sandra Franklin, 60, and Linda Saltzman, 51, who were sitting in separate cars.
Franklin said that her sister is sick with COVID-19 and that she lost a brother to the virus. She said she appreciated the attention being paid to reducing the spread of the coronavirus.
"This is so great," she said, adding that her daughter works on the Biden campaign.
Saltzman said she is a big fan of Harris. She saw Harris speak in Council Bluffs in July 2019 and on other two occasions. Harris is "so smart and reasonable and just what the country needs."
Being Jewish, she said, she was excited to see Emhoff, who is also Jewish, speak. And she was happy to see candidates visit North Omaha.
Preya Samsundar of the Republican National Committee said the "bare-bones" Biden campaign in Nebraska and Iowa won't be able to match the Trump campaign's more than 3 million direct contacts with voters and its door-to-door ground game, saying the Biden-Harris team's "last-ditch efforts" will be "worthless."
Emhoff made two stops in North Omaha, and on each occasion, he highlighted young voters.
He appeared with first-time presidential voter Che'Marquis Pinkney, 20, a graduate of Omaha Bryan High School, outside the Charles Washington library, and with first-time presidential voter Nadia Spurlock, 20, a University of Nebraska-Lincoln sophomore, at the 24th and Lake stop.
He said young voters care about issues like college affordability, access to health care, stopping gun violence and fighting hate and discrimination in all of its forms, and the Democratic ticket of Biden and Harris will address those issues.
Pinkney credited his AP government teacher at Bryan for sharing the value of his vote and said he was excited to cast it for Biden and Harris because of their willingness to address health care and police reform. Emhoff walked with him as he submitted his early ballot in the election drop box at the library.
Spurlock told the crowd in their cars that she was excited to go to the polls with her mother Nov. 3 and cast her first presidential ballot for the person who she hopes will be the first Black woman vice president. She said she hopes to follow Harris' path and someday become a lawyer. She said Biden and Harris have the best chance to unify the country.
"I want to work in the criminal justice system and create change," Spurlock said. "That's exactly what Kamala did in California. That's what she and Joe Biden will be doing in the White House."
Emhoff, in brief remarks, addressed the news that two traveling campaign staffers for Harris' team tested positive for the coronavirus, saying both are healthy and doing well. The seriousness of the pandemic, he said, is why the Biden-Harris campaign is trying to model proper behavior.
"Everyone wear a mask," he said. "Keep social distancing. Wash your hands. Just follow the science."
Omaha City Councilman Ben Gray, Douglas County Board member Chris Rodgers and State Sen. Justin Wayne emphasized the safety and security of voting early in person at the Douglas County Election Commission's office or by leaving an early ballot at a drop box.
Wayne said people should know this election has higher stakes than most because of the attention being received by Nebraska's 2nd District.
Said Gray: "You all need to recognize that you need to vote like your life depends on it, because it does."