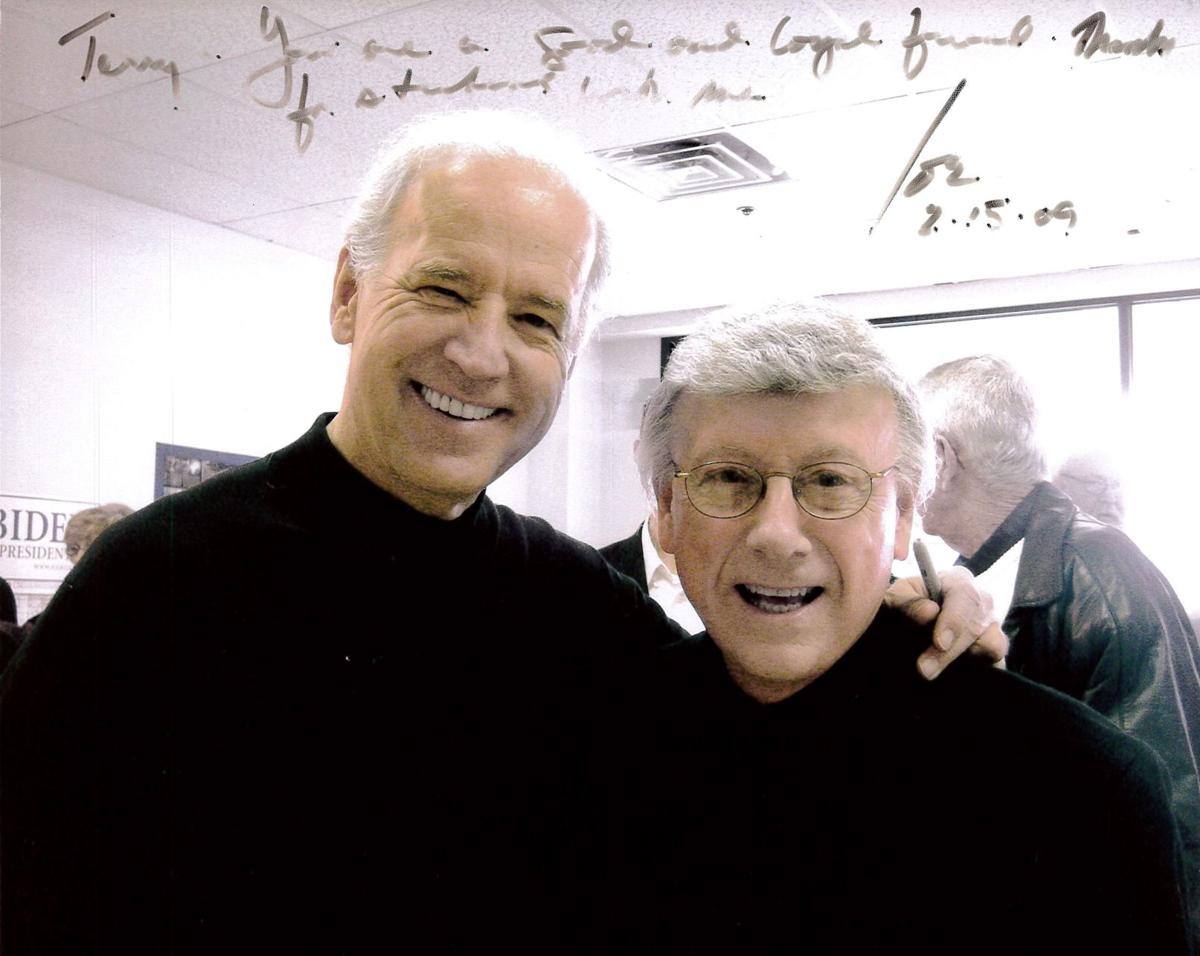 Omaha labor leader Terry Moore was grieving the sudden death of his 47-year-old-son from a heart attack in 2016 when his cellphone rang.
It was then-Vice President Joe Biden. And for 30 minutes, the man who had a year earlier lost his own 46-year-old son to cancer assured Moore that he would get through that troubled time.
"Terry, I know you're in a deep hole, and it's dark," Biden told Moore. "Keep reaching out. If you pray to God and keep reaching out, your hand will hit the ladder. And when your hand hits that ladder, get on it, and climb out of that hole."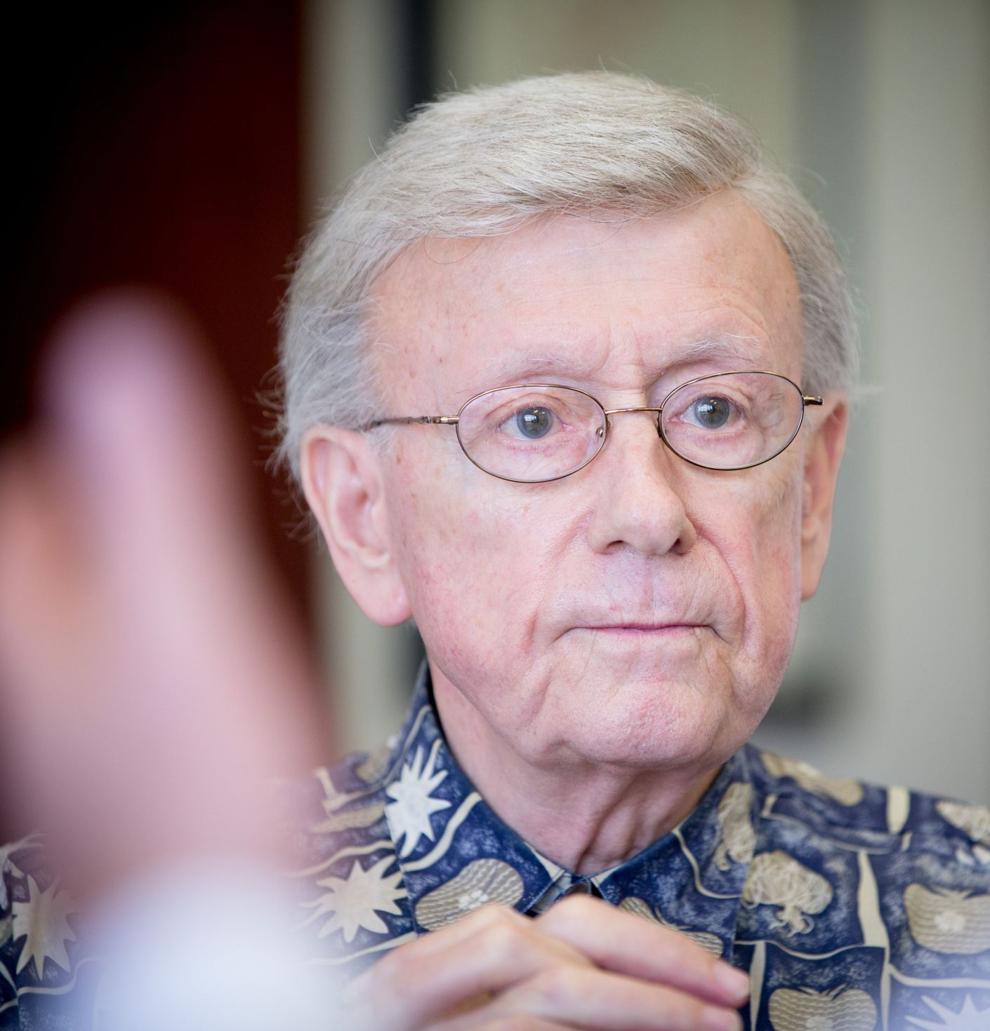 Now as Joe Biden takes the reins as the nation's 46th president, America undoubtedly finds itself in a deep, dark hole: A pandemic that's killed more than 400,000. An economic crisis that's left 10 million workers sidelined. And a nation so divided that an angry mob stirred to action by Biden's predecessor overran the U.S. Capitol.
But Moore is optimistic that the man he has known through Democratic Party circles for 44 years has the temperament, ideas, political savvy and empathy to lift the country up and move it ahead.
For one, Moore believes that the new president will deliver on his pledge for a major national infrastructure initiative that could provide good-paying jobs for millions of blue-collar workers — including thousands in Nebraska.
"He will work on infrastructure with full gusto," said Moore, the retired longtime president of the Omaha Federation of Labor.
As Biden assumes the presidency from Republican Donald Trump, he has laid out an aggressive agenda that carries the potential to reshape life in Nebraska and across America.
His many stated goals include accelerating vaccinations to end the COVID-19 pandemic, overhauling the nation's immigration system, resetting U.S.-international relations, raising the minimum wage, promoting clean energy to fight climate change and fixing the nation's crumbling roads and bridges.
Clearly, getting COVID-19 under control will be job one for Biden.
Stopping the virus is critical not only to the nation's health but also to the nation's economic recovery, said Bryan Slone, president of the Nebraska State Chamber of Commerce.
"We have to get people back to work and get the economy growing," Slone said.
A University of Nebraska Medical Center pandemic expert last week welcomed the chance for a new approach to fighting the virus. Dr. James Lawler said public messaging on the importance of masking, social distancing and getting vaccinated, as well as an overhaul of vaccination logistics, could bring the deadly chapter to a quicker close.
"Obviously a lot needs to be done," said Lawler, a manager in UNMC's Global Center for Health Security. "I think there will be additional expertise and leadership at a White House level, which has been absent for quite a while."
As for the rest of Biden's agenda, Slone says the business community sees some things that it favors, including immigration reform. But he said other Biden proposals, such as a $15 minimum wage or increased income taxes for corporations, aren't so appealing.
"Every administration brings new opportunities and new challenges," Slone said. "I would say the same for this one."
During his first hours in office Wednesday, Biden showed his ability to directly impact Nebraska, pulling the plug on the controversial Canadian oil pipeline set to pass through the state. The Keystone XL pipeline had first been rejected in the administration of Barack Obama before it was revived by Trump.
Looking at other potential administrative action that could affect the state, former Omaha congressman John Cavanaugh said he thinks it's likely Biden will thoroughly review the Trump administration's decision earlier this month to select a base in Huntsville, Alabama, as the new home of the U.S. Space Command.
Cavanaugh called the pick — over the Omaha area's Offutt Air Force Base and a base in Colorado Springs, among other contenders — "a blatantly political payoff" to an Alabama congressmen allied with the former president.
"I'm sure Biden will not let that stand," Cavanaugh said.
But most of Biden's agenda will require approval from a closely divided Congress. The Senate is split 50-50, and the Democratic majority in the House is slim.
With 60 votes needed to overcome a filibuster in the Senate, Biden most often will need to work with Republicans in a bipartisan way to see his major initiatives become law.
Biden pledged to do that during his inaugural address, reaching out with an olive branch to Republicans in Congress and nationally and calling for an end to the nation's "uncivil war."
Hal Daub, a former Republican congressman from Omaha, wishes Biden well but said he won't believe the president's words until he sees them in action.
"A president in many ways is substantially influenced by the people they pick as advisers and surround themselves with," Daub said.
Ben Nelson, a Democrat who served with Biden in the Senate, said it's long past time for the country to move beyond the polarized partisanship that for more than a decade has stalled significant progress on issues like immigration, energy policy and expanding health care coverage.
Nelson thinks the new president, who has spent four decades cultivating relationships on Capitol Hill, is ready to work across the aisle.
But doing so will likewise take cooperation from the other side, too. Nelson noted that Republicans in Congress didn't show much interest in working with Obama.
Nelson said he senses that congressional leaders have grown weary of the partisan fighting and gridlock. He thinks Biden has an opportunity to set a new tone.
"I think there's a better chance for a president who is not coming in as a pugilist," he said, "but is looking to help heal the country."
Here's a Nebraska look at how President Biden could impact some prominent issues:
Climate change and renewable energy
Yanking the permit for the pipeline wasn't the only action Biden took during his first hours in office with global climate change in mind. He also sent a letter indicating his plans for the United States to rejoin the Paris Climate Agreement, reversing the action of his predecessor.
The move to rejoin that 200-nation treaty again commits America to work toward significantly reducing greenhouse gas emissions by 2050. And that could produce economic opportunity for Nebraska — particularly in the state's rural areas, said John Hansen, president of the Nebraska Farmers Union.
While much skepticism about climate change remains in rural America, Hansen believes that farmers who work the fields know in their bones they are seeing changing weather patterns. That's climate change.
As the United States seeks to meet the accord's emissions goals, Hansen foresees more demand for ethanol derived from corn, soybeans and other sources. Biden and his agriculture secretary, former Iowa governor Tom Vilsack, strongly support the industry; Vilsack helped make his home state the nation's top ethanol producer.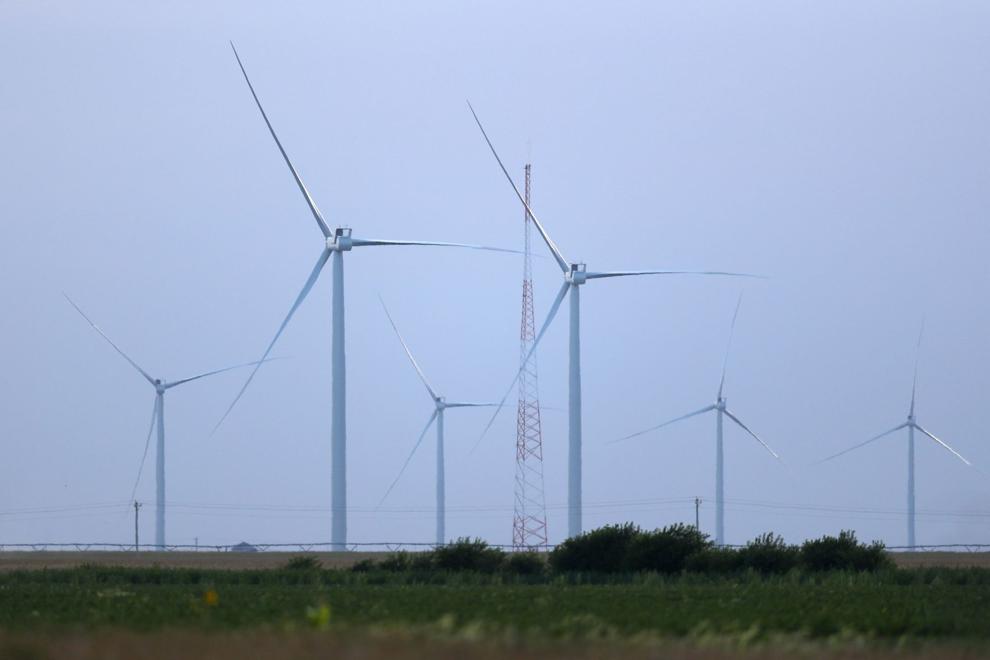 Unlike Trump, Hansen said the new administration won't be giving oil refiners exemptions from blending ethanol into their products. The Environmental Protection Agency issued more of those Tuesday as Trump was heading out the door — what Hansen called Trump's parting gift to the oil industry.
"His EPA was run by a bunch of oil guys, plain and simple," Hansen said.
Under Biden, Hansen also sees wind power generation in Nebraska continuing to flourish. That, too, benefits farmers, who can collect thousands in annual lease payments for siting the turbines on their land — money that can buy a lot of groceries, Hansen said.
"It's kind of like having a part-time job you don't have to show up for," he said. "We have enormous wind resources, and while we are not Arizona, we have good sun resources for solar, too."
Hansen also sees opportunities for Nebraska farmers to receive federal payments for planting cover crops between their crop rows. Cover plants pull more carbon out of the air while also preventing the carbon release that comes when soil is turned.
Biden last month proposed cover crops and setting aside more farmland for conservation as a way to reduce greenhouse gas emissions.
"He knows what cover crops are, and that was pretty impressive," said Hansen, who has met Biden a half dozen times in more than four decades of advocacy for farmers. "It's clear if you are serious about climate change, one way to mitigate it is engaging agriculture in a constructive way. That can be a big thing for us."
Immigration
Immigrant advocates and business leaders in Nebraska have long cited the integral role immigrants play in the state's economy. Immigrants fill thousands of jobs that would otherwise go wanting in industries like agriculture, hospitality and construction, and they spend billions of dollars annually.
"We can't do our jobs without immigrant labor in agriculture," said Mark McHargue, president of the Nebraska Farm Bureau. "We need to find a way so those who want to come and work hard can do so under legal status."
It came as welcome news to McHargue and others when Biden on his first day in office announced plans for a comprehensive immigration bill. While details of the plan have yet to be released, he has said it will include an eight-year path to citizenship for immigrants who are already in the country illegally.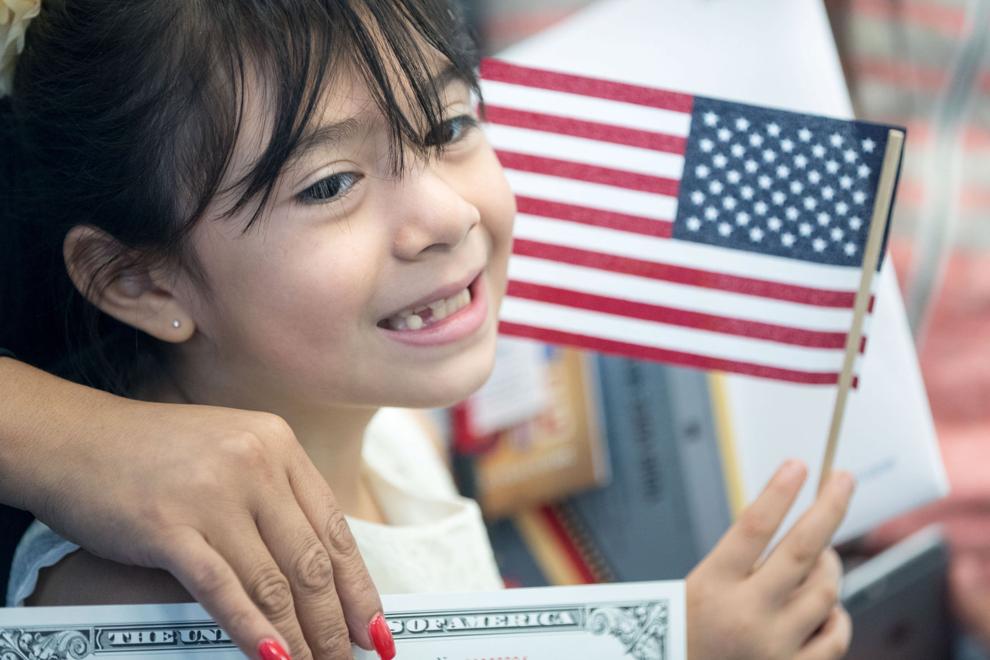 "It is time for longtime Nebraska residents who contribute so much to the social and economic fabric of local communities to have a way to apply for immigration status and citizenship," said Darcy Tromanhauser of Nebraska Appleseed, a Lincoln-based public policy center.
But such proposals in the past have faced stiff opposition from some who say it would provide "amnesty" for people who broke the nation's immigration laws. The resulting legislative stalemate, combined with the practical impossibility of arresting and deporting millions of people who have become a vital part of the nation's economy, has long left those immigrants in legal limbo.
A 2019 study estimated there are nearly 150,000 immigrants — both those who came legally and the undocumented — living in Nebraska. That's almost 8% of the state's population. And that doesn't even include those immigrants' American-born children.
The study estimated those immigrants spend $2.9 billion annually and pay almost $1 billion in taxes, including $344 million to state and local governments.
The state chamber's Slone said businesses don't want unfettered illegal immigration, but they want to get the workers they need — and to have certainty about those workers' legal status.
"We have thousands and thousands of jobs in this state we can't fill because we don't have the people," he said.
Any effort to get an immigration bill passed would require compromise with Republicans, who among other things would likely insist on more security at the nation's borders.
Even if Congress can't get the votes to pass a comprehensive immigration bill, Biden is already moving to roll back dozens of Trump administration policies that targeted immigrants and refugees.
Biden has said he will strengthen the Deferred Action for Childhood Arrivals (DACA) Program, which provides protected status to thousands of immigrants who were illegally brought to the country as children. Trump had sought to end the program, potentially making "Dreamers" subject to deportation, before his move was blocked by the U.S. Supreme Court.
Schuyler Geery-Zink of Nebaska Appleseed noted that many of the thousands of DACA beneficiaries in Nebraska aren't so young anymore. They are adults who have graduated from high school and college, are raising families and filling important jobs in the state.
Nebraska also has long been a welcoming place for refugees fleeing violence, strife and persecution around the world. Trump sharply cut the ceiling for refugees resettled in the United States from 110,000 to 18,000. Due to those curbs, total refugee settlement in Nebraska dropped from 1,441 in 2016 to 445 in 2019.
Biden has pledged to lift the refugee ceiling to 125,000, though it will likely take time to build numbers back up.
Geery-Zink said the wide support voiced by Nebraska's business community for both immigrants and refugees has been heartening. The immigration reform coalition also includes faith leaders and local elected officials from across the state.
"They recognize our current laws are outdated, unethical and unproductive," she said. "We are really optimistic."
Trade and international relations
Since Trump launched a trade war with China in 2018, Nebraska's farmers have been on a wild ride.
After China slapped retaliatory tariffs on American ag products, the Nebraska Farm Bureau estimated Nebraska producers lost $1 billion in sales.
The Trump administration made up for most of those farm losses with direct government payments to farmers.
Then the administration negotiated a new trade agreement in which China agreed to record high amounts of farm imports.
After all that, Nebraska producers seemed to come out pretty well.
"We felt like it dragged on forever," Farm Bureau's McHargue said. "China is buying like it's nobody's business. Right now on the trade front, I think things look pretty good."
So what happens now? It doesn't appear that current U.S. trade stance will change much under Biden.
Many on both sides of the political aisle believe Trump's aggressive stand against China was long overdue. China had stolen U.S. intellectual property and had long subsidized its government-owned businesses to give them a predatory advantage against competitors, contributing to a big U.S. trade deficit.
Hansen said Biden has already indicated he'll be in no hurry to eliminate the tariffs Trump slapped on China, Biden agreeing that China needs to change its trade practices. The tariffs have also been popular among labor groups.
However, it is expected that Biden will be more inclined than Trump to join forces with other countries to get China to play by the rules. The new president has said he will seek to firm up many traditional alliances that were strained by Trump's isolationist "America First" approach.
In the end, the state chamber's Slone believes Nebraska manufacturers are already benefiting from Trump's tough stand on unfair trade.
"We're not there yet, but we are clearly moving manufacturing back to the United States," Slone said. "I'm hoping (Biden) stays very strong on free and open trade and challenges trade imbalances caused by unfair practices."
Infrastructure
Ever since the 2007 collapse of an interstate bridge in Minneapolis, the need to fix the nation's aging highways and bridges has been much discussed in Washington. But other than a modest surge as part of a 2009 stimulus bill and the passage of regular highway bills, not much has happened.
Biden has pledged to change that, planning during his first year in office to propose a $2 trillion package accelerating spending on roads, bridges and modern mass transit.
"This is our opportunity to literally do the building part in 'Build Back Better,' " said Pete Buttigieg, Biden's pick for U.S. transportation secretary, during his confirmation hearing last week, referring to Biden's campaign slogan.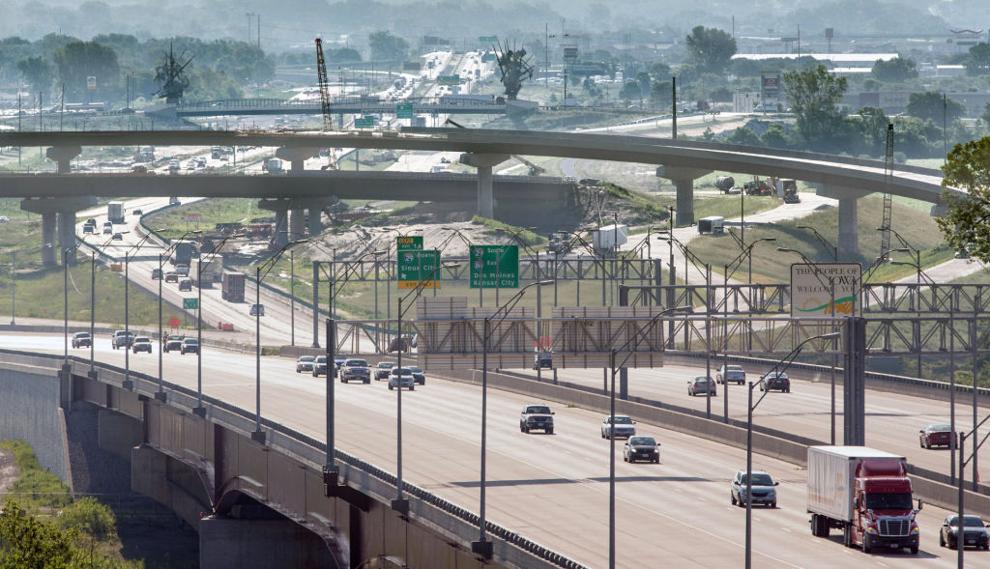 Nebraska's highway contractors are all for it.
"We need a long-term (infrastructure) plan and it needs to be bipartisan," said Katie Wilson, executive director of the Nebraska chapter of Associated General Contractors. "They need to work together to get it done."
The tricky part will be paying for it. There could be room to increase the federal gas tax — the primary funding source for roads — which Congress hasn't raised since 1993.
The state chamber's Slone said it would also be big for Nebraska if any infrastructure plan includes money to expand and upgrade high-speed broadband, which is now just as vital to commerce as roads.
Of course, labor also has a big stake in an infrastructure plan, which could produce millions of good-paying jobs. After watching Biden's inaugural Wednesday and his message of coming together and healing, Terry Moore was convinced his old friend can deliver on that promise.
"Give him a chance," Moore said, addressing those skeptical of the new president. "He is going to work for you."
Some notable stories from The World-Herald in 2020
As managing editor, I don't report or write stories anymore. But each day, I get a close look at great work by the World-Herald's reporters, photographers and other staffers. Here are a few stories that stood out for me this year. — Paul Goodsell