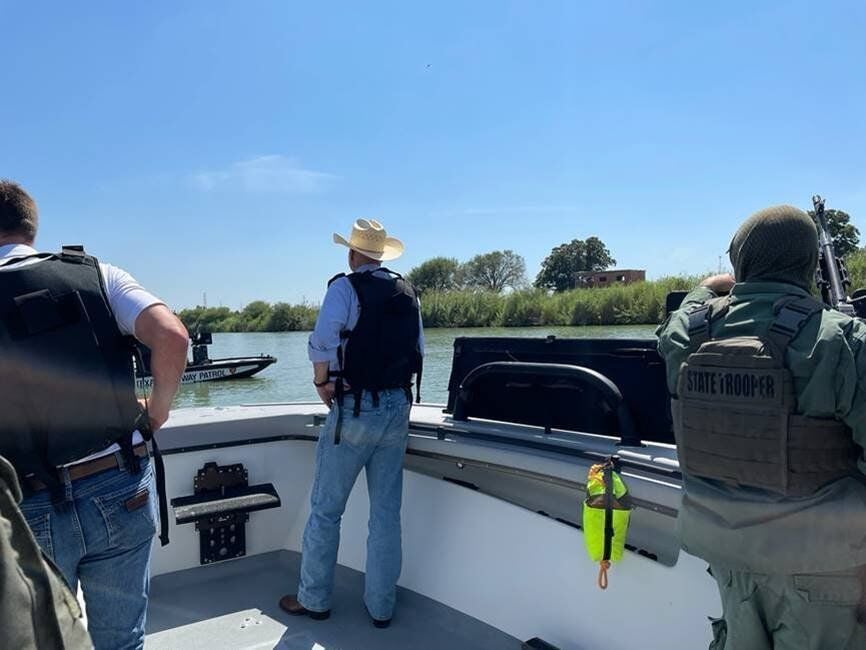 Nebraska Gov. Pete Ricketts on Wednesday was one of nine Republican governors to join Texas Gov. Greg Abbott for a tour of the state's southern border and a press conference where they decried President Joe Biden's border enforcement policies and proposed their own.
At the press conference in Mission, Texas, speakers framed the issue as a far-reaching federal failure that has forced states to step in to help.
"President Biden thinks that he can ignore this humanitarian and security crisis and it will go away," Ricketts said. "But we are here today to shine a light on what is going on here at the southern border and how it is impacting all of our states, not just the state of Texas."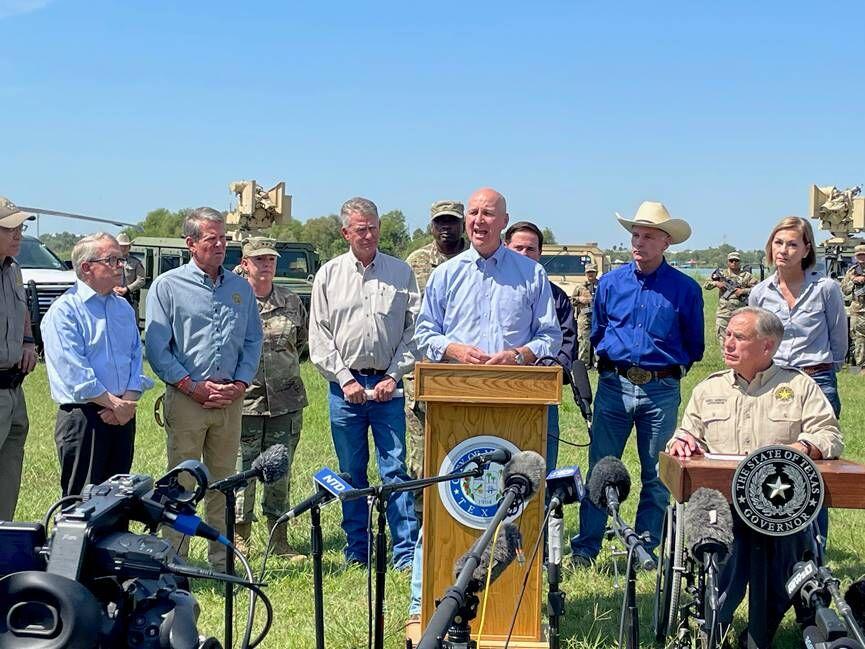 Ricketts spokesperson Taylor Gage said the governor was accompanied only by his security detail for the one-day trip. As is customary, Lt. Gov. Mike Foley was in charge of the state in his stead. The only expenses incurred by the state would be travel expenses related to the security detail, Gage wrote via email, and the governor is paying personally for his travel.
Gage did not have an estimated cost for the security detail travel expenses, though he said it would come from the same budget that funds security travel expenses on other trips.
Ricketts was among the GOP governors who deployed state troopers to the Del Rio area earlier this year in response to a joint request by Texas and Arizona. Documents obtained by The World-Herald showed Nebraska agreed to pay the cost, last estimated at $500,000.
A total of 190 Nebraska National Guard soldiers deployed to the southwestern border earlier this month at the direction of the federal government, according to Maj. Scott Ingalsbe, spokesperson for the Nebraska National Guard.
Asked if Ricketts is considering sending state troopers to the border again, Gage said in an email that the office had no announcements to share regarding state troopers.
Alongside Abbott and Ricketts Wednesday were other Texas officials and the Republican governors of Arizona, Georgia, Idaho, Iowa, Montana, Ohio, Oklahoma and Wyoming.
Abbott, Ricketts, Arizona Gov. Doug Ducey and Iowa Gov. Kim Reynolds talked about pieces of a "10-point plan" the GOP governors say they think would solve the issue. The suggestions include continuing to build a border wall, allotting more resources to address human trafficking and drug trafficking, and reinstating the Trump-era program often referred to as the "remain in Mexico" policy, which requires asylum seekers to await court hearings outside the U.S.
Ricketts cited reports that 18% of families and 20% of unaccompanied minors who recently crossed the border tested positive for COVID-19 on leaving Border Patrol custody.
Asked for a source, Gage sent a link to reporting in early August from NBC News, which was based on a document prepared for a briefing with the president and referred to numbers over the preceding two to three weeks.
Ricketts also cited a number of COVID-positive people the Biden administration may have placed in U.S. cities — however, that number came from a column on the conservative website Washington Examiner that cites a former acting commissioner of Customs and Border Protection.
A Customs and Border Protection spokesperson did not respond to an email asking how many COVID-positive immigrants had been released into the U.S. The Department of Homeland Security, which includes Customs and Border Protection, did not respond to a request for comment on the press conference.
Among other statistics, Ricketts said the Nebraska State Patrol has confiscated about 2½ times the amount of fentanyl this year versus last year. The agency has seized 25 pounds of fentanyl so far this year and seized a total of 10 pounds last year, according to State Patrol spokesman Cody Thomas.
Jane Seu, immigration fellow at the ACLU of Nebraska, said that she thinks Nebraskans across the political spectrum would agree there's a need for urgent action at the border. However, she said the ACLU has a different view of how to get there: That is, rather than scaled-up enforcement efforts, they advocate for permanent remedies that provide legal pathways to citizenship and protect the right to seek asylum. Scaled-up enforcement, she said, has not shown to be successful or lasting.
Actions such as a trip to the border and press conference, along with characterizing the issue using drugs and crime in communities, she said, distracts from those reforms.
"Politicization and mischaracterizations and those kinds of statements and gestures distract from the real need ... to offer comprehensive reform and to protect the constitutional rights of people who are immigrants," Seu said.
Democratic leaders in multiple states characterized Wednesday's visit as a political stunt. Nebraska Democratic Party Chair Jane Kleeb said Ricketts should focus on issues in Nebraska.
"Anyone who lives in a rural community or whose family is in Agriculture knows the industry would shut down without immigrants working hard to make a better life for their family," Kleeb said via text message. "So perhaps the Governor could focus on solutions for citizenship and support workers and our strong Agricultural industry rather than trying to get on Fox News again."
Ricketts was not the only Nebraskan at the border Wednesday. Charles W. Herbster, a Republican candidate for governor, tweeted shortly after 9 a.m. that he was in McAllen, Texas. Herbster, a donor to former President Donald Trump and self-described "pro-Trump candidate," criticized the Biden administration and said he was at the border "to find out how I can help" with "order on the border."