LINCOLN — Gov. Pete Ricketts on Monday described a contentious new application for credentialing news organizations as "process improvement."
"We didn't have a process for credentialing media before. Now we have a process," he said, while encouraging the reporters present for a proclamation-signing event to fill out the application.
Ricketts offered no further response to objections raised by Nebraska's major news outlets about the application, which was unveiled on Thursday. His spokesman, Taylor Gage, said Monday that the Governor's Office is "reviewing the letter."
Media of Nebraska, which represents the state's print and broadcast news organizations, including The World-Herald, responded with a letter Friday that called the new credentialing process "a red flag" for First Amendment rights and said it appeared arbitrary.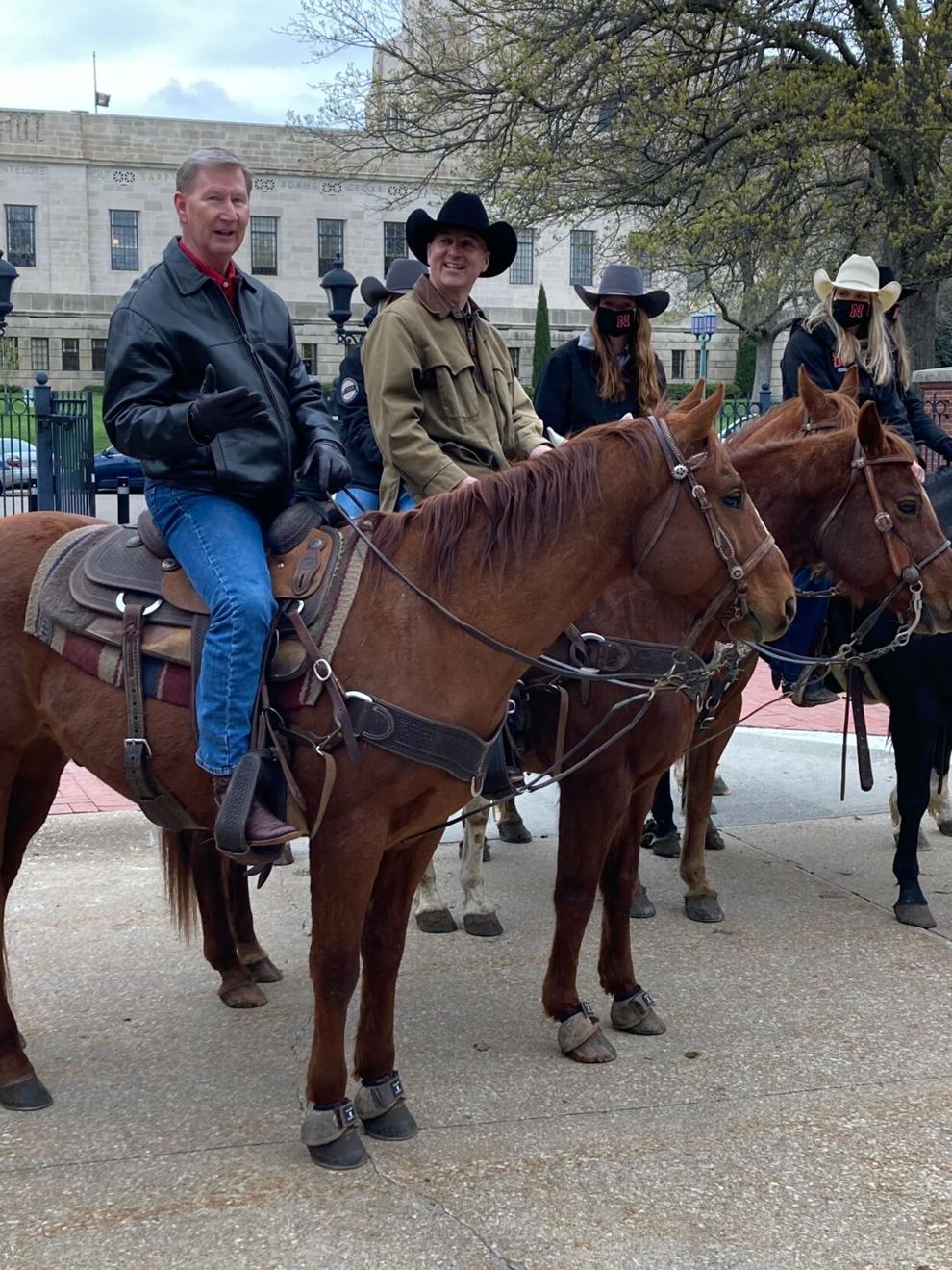 Ricketts commented after a chilly horseback ride around the Governor's Mansion to mark Rodeo Week in Nebraska. He was joined by members of the University of Nebraska Rodeo Association.
Ricketts took questions after dismounting, including a couple from NOISE Omaha, a North Omaha-based news website focused on covering stories that affect the city's minority communities.
His office has barred the outlet's staff from press events and refused to entertain questions they submitted to press conferences where questions texted or emailed by other organizations were asked. Gage said the denial was based on NOISE being "an advocacy organization funded by liberal donors" and not a mainstream news outlet.
Criticism over that action prompted the Governor's Office to release a press credentialing application form last week. The office had no credentialing process previously, even though most press events have been described as being only for "credentialed media."
On Monday, Gage said the new application process was modeled after credentialing processes used by Congress, the Wisconsin Governor's Office and the Texas Legislature. But there are some key differences.
Wisconsin Gov. Tony Evers does not have a formal press credentialing process, but the office follows a set of criteria to determine who is allowed at limited-access events. Those criteria became the focus of a federal lawsuit filed in 2019 by the John K. MacIver Institute for Public Policy after staff from the conservative think tank were barred from an invitation-only budget briefing.
A federal appeals court ruled against MacIver earlier this year, finding that "the Governor's media-access criteria are indeed reasonable and not an effort to suppress MacIver's expression because of its viewpoint."
Ricketts, similarly, holds occasional events, such as budget briefings, to which a subset of the usual press is invited. The recent controversy arose over ordinary press conferences.
In the case of Congress, news correspondents organizations, not the government, review applications for credentialing. Receiving access to congressional press areas requires journalists to agree to abide by a set of rules and regulations that cover them and their employer. The Texas Legislature similarly requires journalists to certify that they and their employers meet certain criteria.
None of the three ask the number and range of questions posed in the Nebraska application. In addition, the Nebraska application leaves it up to the Governor's Office to decide whether an applicant's answers qualify that person for credentialing.
"The Ricketts administration's proposed application appears to reach beyond the criteria on which the Governor's Office says they are based, demanding excessive and inappropriate levels of detail about news organizations' operations and finances," said Randy Essex, World-Herald editor and vice president of Media of Nebraska. "Media of Nebraska maintains its objection to the proposed application and offers to work with the administration on a reasonable alternative."