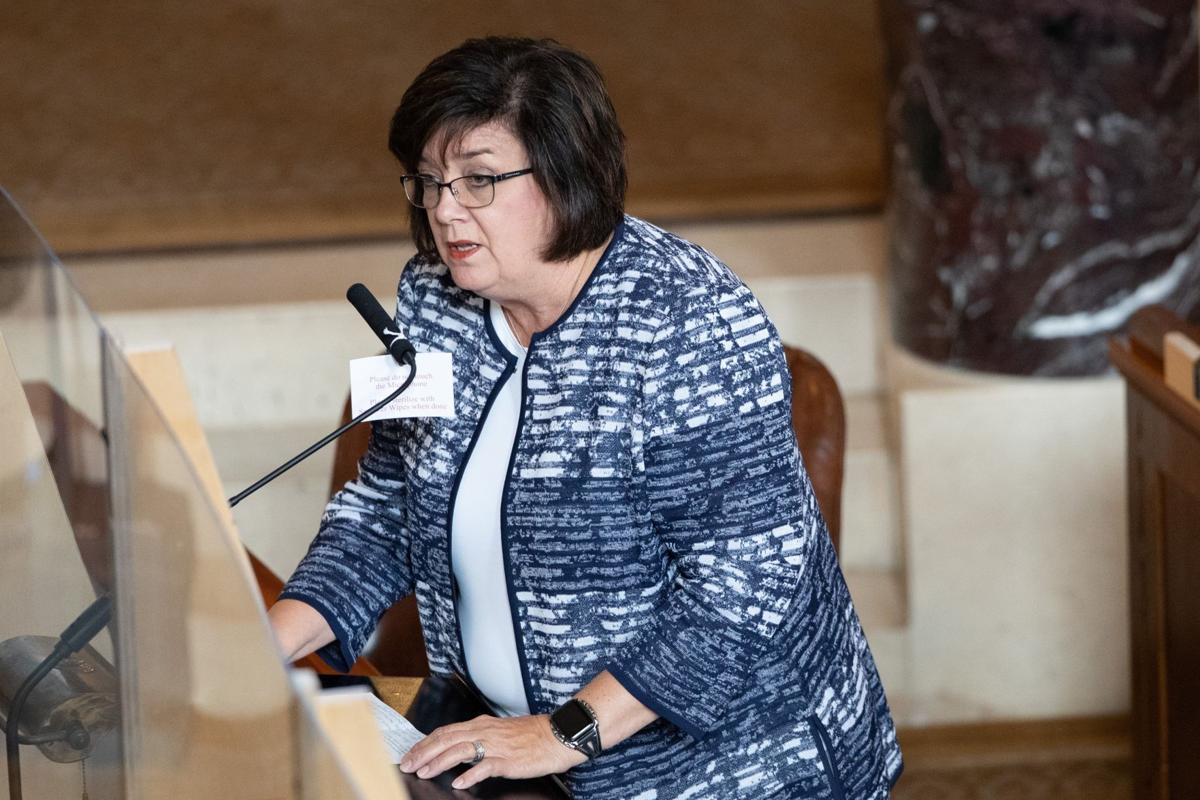 LINCOLN — The firestorm over proposed health education standards could jeopardize a bill aimed at teaching children about staying safe from child sexual abuse.
Legislative Bill 281 sailed out of the Education Committee and through first-round consideration by the full Legislature. But it did not get any further.
State Sen. Joni Albrecht of Thurston, who introduced the measure and named it her priority for the year, said she decided to put it on hold until next year. She said she wanted to ensure that it would not get entangled in the health standards controversy.
"I want to spend time over the summer looking into proper curriculum so as to not go into areas that would not be acceptable for parents," she said.
But her decision dismayed Julane Hill, a retired health educator who testified in favor of LB 281. Hill said the bill was on track to pass and should have been considered separately from the health education standards.
"It wasn't about teaching children sex education, it was about teaching children to protect themselves," she said. "To me, the main thing is to keep our little ones safe."
LB 281 is similar to laws passed in 37 other states in recent years that have prompted several children to speak up about being abused. The laws are being promoted by Erin Merryn, an Illinois woman who experienced childhood sexual abuse by an adult neighbor and later an older teenage cousin.
As advanced, the bill would require four hours a year of sexual abuse prevention lessons for K-12 students. The lessons would have to be age-appropriate and use evidence-based methods to teach about body safety and about recognizing, refusing and reporting abuse.
The bill would require schools to train teachers, administrators and other school staff about child sexual abuse prevention and reporting. Schools also would have to reach out to parents with information about preventing abuse and about discussing the topic with children.
Some of the same lessons would be part of the health education standards proposed by the Nebraska Department of Education and released in early March.
The draft standards included topics such as defining sexual abuse, learning medically accurate names for genitalia and understanding that everyone has the right to tell others not to touch their bodies. All of those are important in helping abused children know what is happening to them and be able to tell others, Hill said.
But the standards also dealt with topics such as gender identity, sexual orientation and different kinds of family structures.
The draft quickly became the target of critics. Gov. Pete Ricketts called for scrapping all of the sex education topics in the draft, saying those topics should be left to parents to address.
Albrecht led 28 lawmakers in sending a letter to State Education Commissioner Matt Blomstedt saying they were "deeply disturbed by materiel related to sex education, marriage and family, and gender." They said the standards would violate the right of parents as "first educators" of their children.
"We ask that all sex education and other ideologically motivated content be removed from the Nebraska Health Standards," they said.
All but one of the signers, Sen. Mike McDonnell of Omaha, were Republicans.
At public hearings, crowds of parents and others showed up to oppose some or all of the sex education standards. Some raised concerns about standards that relate to sexual abuse prevention, including teaching the anatomical names of genitalia and about bringing up issues of consent in the early grades.
"Why can't we just let kids be kids?" asked Brittany Holtmeyer, who spoke at a hearing in Lincoln.
Albrecht shares some of the same concerns. She said she still believes in the importance of LB 281 but wants to ensure that abuse prevention curriculum does not get into areas that parents have found objectionable in the health standards, such as learning names of genitalia in early grades.
Hill, however, said that preventing child sex abuse requires teaching some of those controversial topics, even to young children. Using accurate names for body parts is important when talking about safe and unsafe touch and for reporting abuse, she said. Knowing that they can refuse unwanted touching also is important to protecting children.
She noted that LB 281 would require that schools teach about child sex abuse prevention but would not mandate that they use a particular curriculum. She said the lessons could be part of teaching about safety.
Michael Carnes, a Wayne man who survived childhood sexual abuse and has pushed for the Nebraska legislation, said he understands Albrecht's decision to delay her bill. But he said that the measure is needed and that leaving it to parents to teach prevention can be problematic because sometimes parents are the abusers.
"Kids need to know that sexual assault is wrong and that what they are experiencing is wrong," he said. "We teach kids what to do in case of fire and in case of tornado. It blows my mind that we don't teach them what to do in case of sexual abuse."