Suzan Hisel was a junior high student in Harlan County the day President John F. Kennedy was assassinated, and what she heard that day has stuck with her since.
"One of the teachers said, 'We got rid of another Democrat.'"
When she became a teacher, that memory helped shape how she handled herself in the classroom. She kept her party loyalty to herself; she didn't try to tell her students how to think or who to support.
"It's unprofessional to tell a classroom full of kids: 'You should be a Democrat or you should be a Republican.'"
It also guided her personal life. She learned to keep her politics private, especially after moving northwest three decades ago to Grant County.
Grant County's support for Donald Trump has made it a poster child of the MAGA movement. In 2016 and 2020, more than 90% of its voters cast ballots for Trump — leading the state, pushing it toward the top nationally and drawing airtime and ink from journalists at CNN, the New York Times and overseas.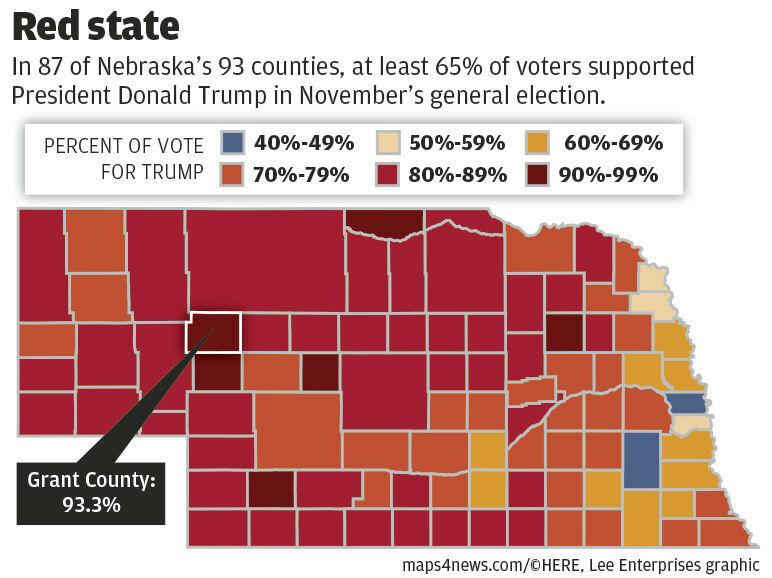 "Welcome to Grant County, Nebraska," the U.K.'s Independent wrote four years ago. "Where people love Donald Trump more than ever."
They still do: As of last month, the Secretary of State's Office counted 433 registered Republicans in Grant County and 31 Democrats.
Hisel is one of those few Democrats, which might be a surprise to her neighbors and former fellow faculty.
"I don't know of that many people who know what my party affiliation is," the retired teacher said. "We're kind of endangered species, so to speak."
Hisel is just one of 20 Grant County residents who voted for Joe Biden in November, but even though their candidate won, they didn't gather Wednesday for a presidential inauguration party in Hyannis.
Most of the Grant County Democrats contacted by the Journal Star are still keeping their votes a secret. Party lines can be drawn so tightly in their communities that business owners fear losing customers and family members fear losing relationships if their politics were made public.
"Nobody knows what party I belong to. I just say I vote for the good of my country and leave it at that," said a Grant County Biden voter. "Because it just starts an argument."
She can think of a couple specific family members who wouldn't take the news well.
"They're really, really for Trump. And, man, they're carrying it way too far," she said. "One of these days, I might just put my big foot in my mouth and tell them off."
It wasn't always that way. The voter remembers her mother, a Democrat, and her father, a Republican, poring over sample ballots they'd received in the mail.
"I can still see them sitting at the kitchen table," she said. "They'd talk over every issue and every politician."
Former State Sen. Al Davis, who represented Grant County and the rest of District 43 from 2013 to 2017, remembered growing up watching his father, a Democrat, talking politics with his Republican friends in Hyannis.
But they always remained friends, even after.
"They had a lot of good-natured banter, back and forth," he said.
That doesn't happen as much anymore. Both sides have moved so far apart, and some people take any criticism of Trump personally.
But not just in Grant County, Davis said.
"It reflects a lot of rural America," he said. "Trump is an extremely polarizing person, and there are people who don't want to hear anything negative about him."
His address is Hyannis, in Grant County, but Davis lives and votes in Cherry County. In his precinct — Mother Lake — 44 of his neighbors voted for Trump, and just two people voted for Biden — Davis and his wife, he said.
He was a registered Republican when he served in the Legislature, though he became an independent last month after Nebraska Attorney General Doug Peterson joined the Texas lawsuit challenging the results of the election.
"When the attorney general signed onto the lawsuit, I said, 'This party isn't a legitimate party anymore,'" Davis said.
But he's been openly critical of the Trump administration for years on his Facebook page. His posts attract plenty of public pushback, but he also receives private gratitude, he said.
"I probably get four or five personal messages a week saying, 'Thank you for putting your opinion out there; I don't want to have people yelling at me on my page,'" he said.
He understands their reluctance to speak up or speak out.
"In a small town, you have to have some cordiality," he said. "But it gets very hard."
And it's made harder because, without politics in the equation, most people in Grant County tend to get along, Hisel said.
"These people I don't agree with politically are, for the most part, very good people," she said.
So she won't publicly celebrate her candidate's inauguration Wednesday, but she'll likely keep gloating to her Republican husband.