GRAND ISLAND, Neb. — Lawmakers previewed the battle over how to draw new congressional district boundaries in the Omaha metro area at a redistricting hearing in central Nebraska on Tuesday.
The fight is expected to get more intense at a Lincoln hearing Wednesday and especially heated at the Omaha hearing Thursday.
Lincoln: 9 a.m. Wednesday, State Capitol, Room 1524, 1445 K St.
Omaha: 10 a.m. Thursday, Scott Conference Center, 6450 Pine St.
The hearings are an opportunity for Nebraskans to weigh in on competing redistricting plans for the state's three congressional districts. The Legislature's Redistricting Committee introduced both versions for public comment but will have to settle on one to advance to the full Legislature.
Key differences between the plans in the Omaha metro area include:
Republican plan (Legislative Bill 1)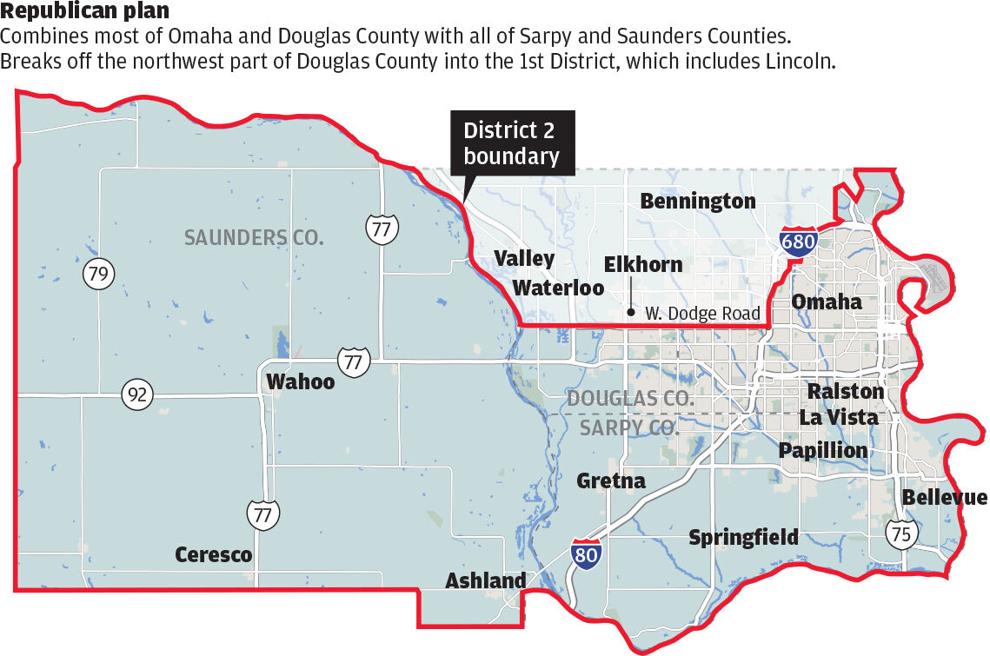 Sen. Lou Ann Linehan of Elkhorn, the committee chairwoman, developed her plan with fellow Republicans.
Her plan moves the northwestern part of Douglas County out of the 2nd District, represented by Republican Rep. Don Bacon, into the 1st District, which includes Lincoln and is represented by Republican Rep. Jeff Fortenberry. (All of Douglas County now sits in the 2nd District, which became known as Nebraska's "blue dot" following Democrat Joe Biden's electoral victory there in the 2020 presidential election and Democrat Barack Obama's win there in 2008.)
The Republican map would split Douglas County roughly along Interstate 680 and West Dodge Road. Areas north and west of those main thoroughfares would move into the 1st District. Among the areas affected: the northern part of the former town of Elkhorn, Bennington, Waterloo, Valley and the Cunningham Lake and Standing Bear Lake areas.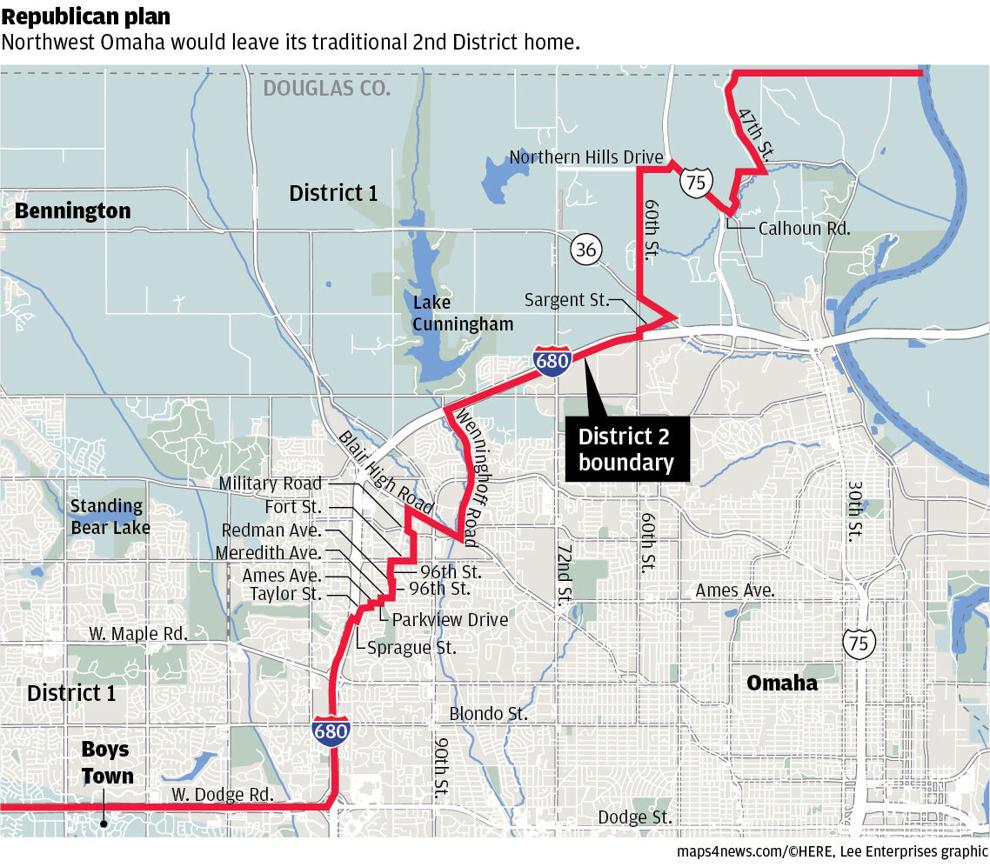 All of Sarpy County would be in the 2nd District. Currently, the county is divided between the 1st and 2nd Districts. Generally, the Bellevue area now is in the 1st District; areas to the west, including Papillion, La Vista and Gretna, are in the 2nd District.
In addition, all of heavily rural Saunders County, which is currently in the 1st District, would become the western part of the 2nd District.
The geographic size of the 2nd District would more than double.
Democratic plan (Legislative Bill 2)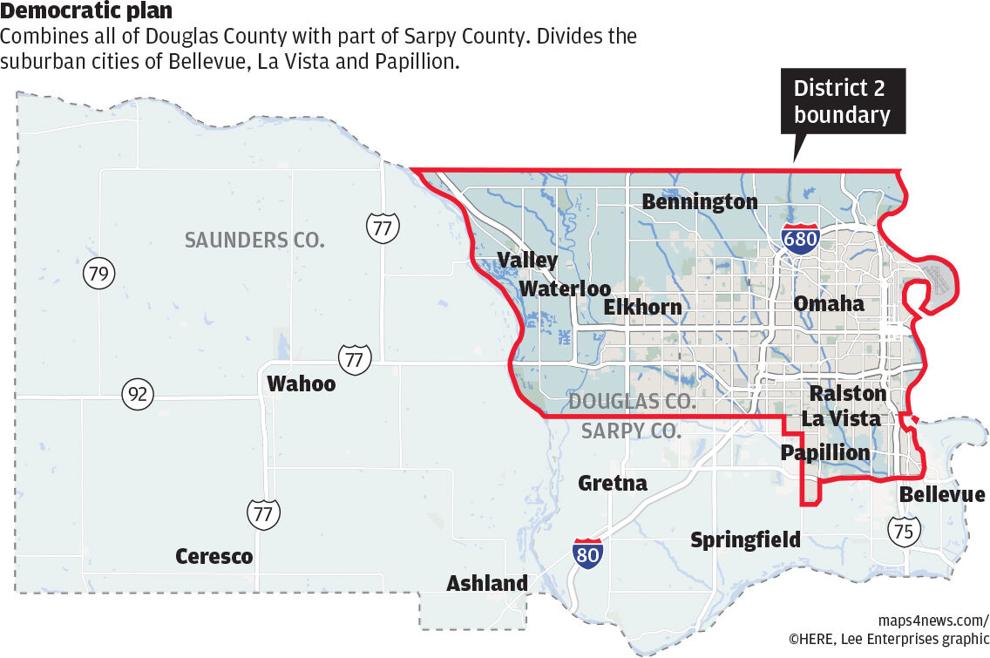 State Sen. Justin Wayne of Omaha developed his plan working with fellow Democrats.
Wayne's plan would leave all of Douglas County in the 2nd District and continue splitting Sarpy County.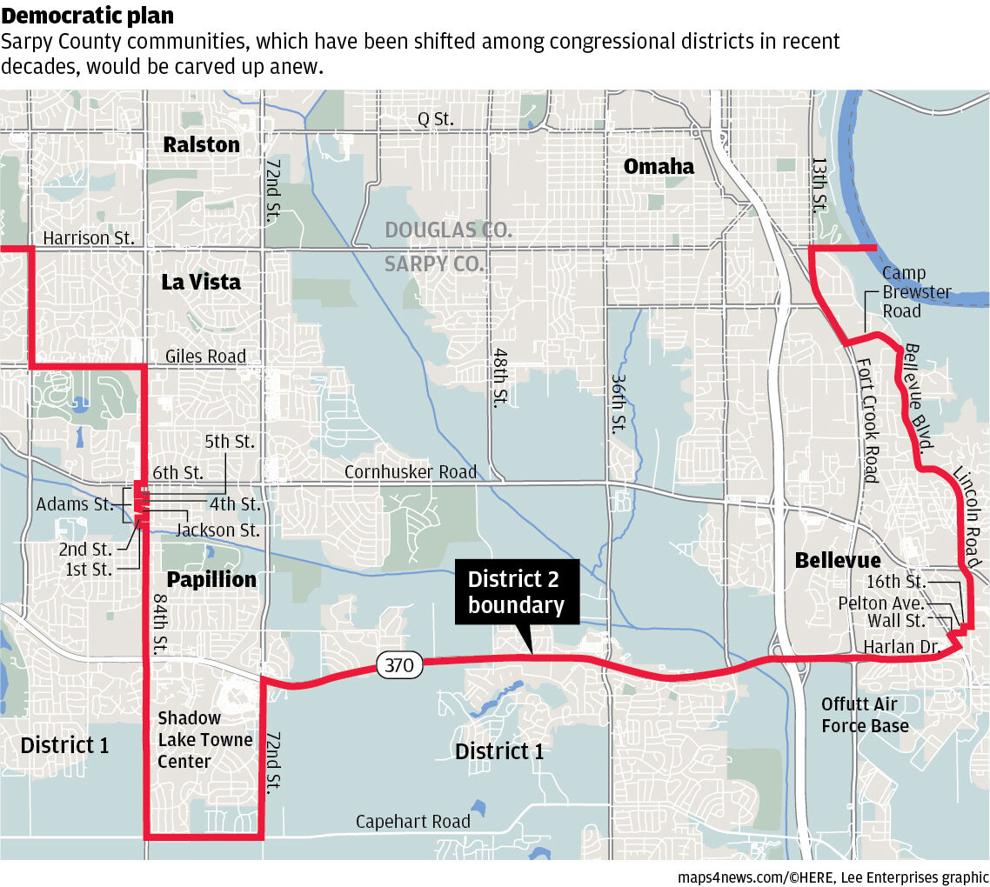 The Democrats' plan would have the 2nd District take the eastern parts of La Vista and Papillion — generally dividing those cities along 84th Street — and much of Bellevue. The rest, including most areas south of Highway 370 and west of 84th Street, would go into the 1st District. Offutt Air Force Base and Gretna would be in the 1st District.