LINCOLN — When he was mayor of Columbus, there was one question Mike Moser could never answer from companies looking to locate in his east-central Nebraska city: When are the four-lane expressways to Columbus ever going to be completed?
Moser, now a state senator, has a notebook full of expected completion dates that have come and gone over the years.
The state's expressway program, launched in 1988, was designed to connect every Nebraska community larger than 15,000 people to an Interstate with a four-lane, divided expressway. It was projected to be completed in 15 years.
But 33 years later, about 178 miles of the 600-mile system remain undone, including expressways sought by Columbus to link up with Fremont and Omaha, and to provide access to Interstate 80 at York.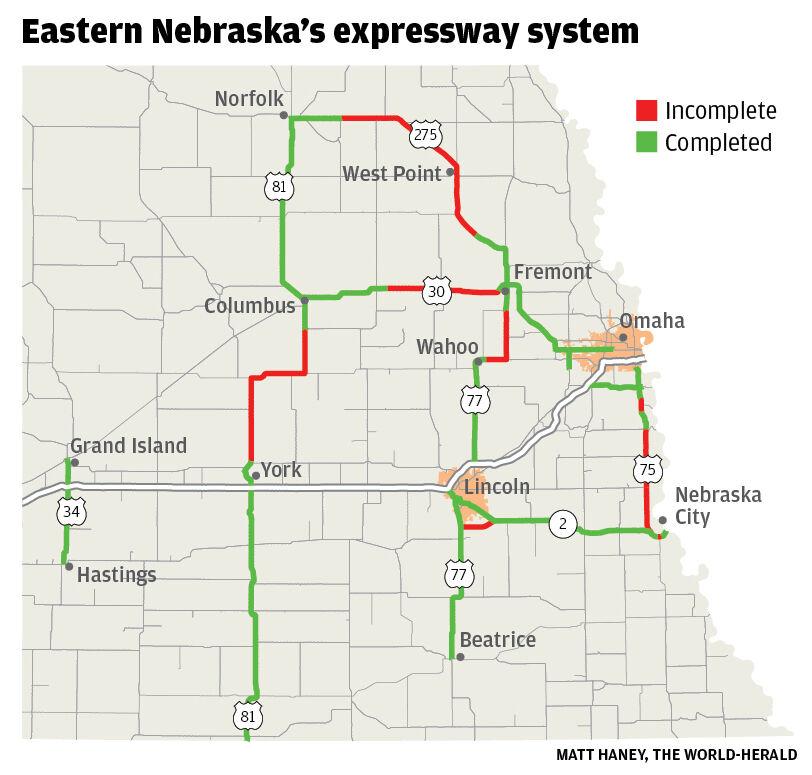 Frustration is growing, especially in northeast Nebraska where officials think they've been overlooked in completing expressways that would improve traffic safety and help businesses transport goods.
This spring, concerns sparked a concerted push by state senators and mayors from that region to accelerate progress. It was backed by a lobbying group, 4 Lanes 4 Nebraska, formed by area businesses and cities.
"We talk a lot about growing Nebraska but we don't see many hard policy tools to do that," said Norfolk Mayor Josh Moenning, who helped found the 4 Lanes 4 Nebraska group in 2015.
Contracts to begin work on a couple of key segments were signed recently by the Nebraska Department of Transportation, but the major legislation pushed by the northeast Nebraskans — to issue bonds to jump-start about $400 million worth of construction — was put off until next year.
Fremont Sen. Lynne Walz, who introduced the bonding bill, said she agreed to postpone debate on the measure after meeting with Gov. Pete Ricketts, who opposes bonding and wants to retain the state's conservative tradition of "paying as you go" to finance road building and other state projects. Ricketts agreed to visit Columbus, Fremont and Norfolk to explain the state's plans.
Walz said there's a possibility more money might be coming Nebraska's way, either in the federal infrastructure bill being pushed by President Joe Biden or an $83 million request filed by U.S. Rep. Jeff Fortenberry, so it's worth waiting to see.
"It kind of felt like we had a little leverage right now," she said. "We're not going to push (the bonding bill), but we're not going to let it go away."
Said Moser, "There's been a little burst of activity. Now, if we can keep that momentum going."
Several explanations have been given over the years about why the state's expressway plan has been delayed so long. At the top of the list has been a lack of funding, but there's also been a significant rise in construction costs, as well as delays for environmental impact studies, particularly on the U.S. 275 portion, where Ricketts has said work was delayed 12 to 18 months.
Plus, the state has other road-building priorities to deal with, as well as addressing several highway bridges and roads washed out by the devastating floods of 2019.
A spokeswoman for the State Department of Transportation acknowledged that expressway work hasn't moved as quickly as some want, but emphasized that progress has been made, particularly in recent months.
The spokeswoman, Jeni Campana, added that additional money provided by the Build Nebraska Act wasn't available until eight years ago, and it can take that long, or longer, to get a project planned, contracted and underway. The act earmarked ¼ of 1 cent of state sales taxes — about $60 million a year — for road construction, and it has been used on some expressway projects.
"Since last fall, we have celebrated work starting on the Heartland Expressway, Fremont Southeast Bypass, Lincoln South Beltway, and soon, U.S. 275 from Scribner to West Point and U.S. 75 from Murray to Plattsmouth," Campana said.
Norfolk Sen. Mike Flood said the start of construction between Scribner and West Point was "huge" given the issues with wetland mitigation. He said he thinks the state is now "getting serious" about completing the expressways.
But Fortenberry said he has to "grip the wheel tighter" when he drives the two-lane portion of U.S. 275 in northeast Nebraska, an area he says has one of the highest concentrations of agricultural production in the nation.
"It needs enhancement," said Fortenberry, who is a member of the powerful House Appropriations Committee. Fortenberry made the $83 million request — which would cover 80% of the cost to finish the West Point to Stanton portion of the U.S. 275 expressway — his priority in the federal highway bill. Whether it is approved or not, or is folded into Biden's infrastructure bill, should be sorted out by the end of the year.
Walz and Moser say that bonding — an idea floated in the past — is the answer to speed up progress, and that it has been used frequently by cities and schools to get expensive projects done immediately. The state could borrow $400 million, and get several projects started at once, instead of doing it segment by segment, they maintain.
Moser said no one would build a house like the state is building its expressway system: by first building a basement, then a few years later, the first floor, and even later, the upper story.
He added that highway construction costs have risen 50% over the past two decades while the state has been trying to "get our ducks in a row," which is raising expenses that could be avoided by borrowing now and paying off the debt later.
"We're happy to see some progress. We just aren't where we need to be yet," Moser said.
But the governor, as well as the State Department of Transportation, both oppose the bonding bill. In a recent column about "putting the brakes on bad bills," Ricketts wrote that if the state issued $400 million in highway bonds, it would be paying them off until 2033 and that millions would be "wasted" on interest payments instead of concrete.
The governor added that there is additional money available, about $25 million a year, after the Legislature passed, over his veto, a 6 cent-a-gallon increase in the state's gas tax in 2015.
"Taking on debt is forever; it never gets paid off," Ricketts wrote. Bonding would also jeopardize Nebraska's top rating as a fiscally responsible state that doesn't take on debt, he said.
Lawmakers did take one minor step this year by passing a bill, introduced by Moser, that requires the Nebraska Department of Transportation to provide more precise timetables on when segments of expressways will be completed.
Moser said that Columbus officials have heard many promises about when the expressways to the community would be completed. The first portion eastward from Columbus was finished in 2002, and the rest, he said, were supposed to be done soon after that, but have been delayed several times.
"If things aren't going to get done in a reasonable time, then the Legislature needs to step in," he said.
---