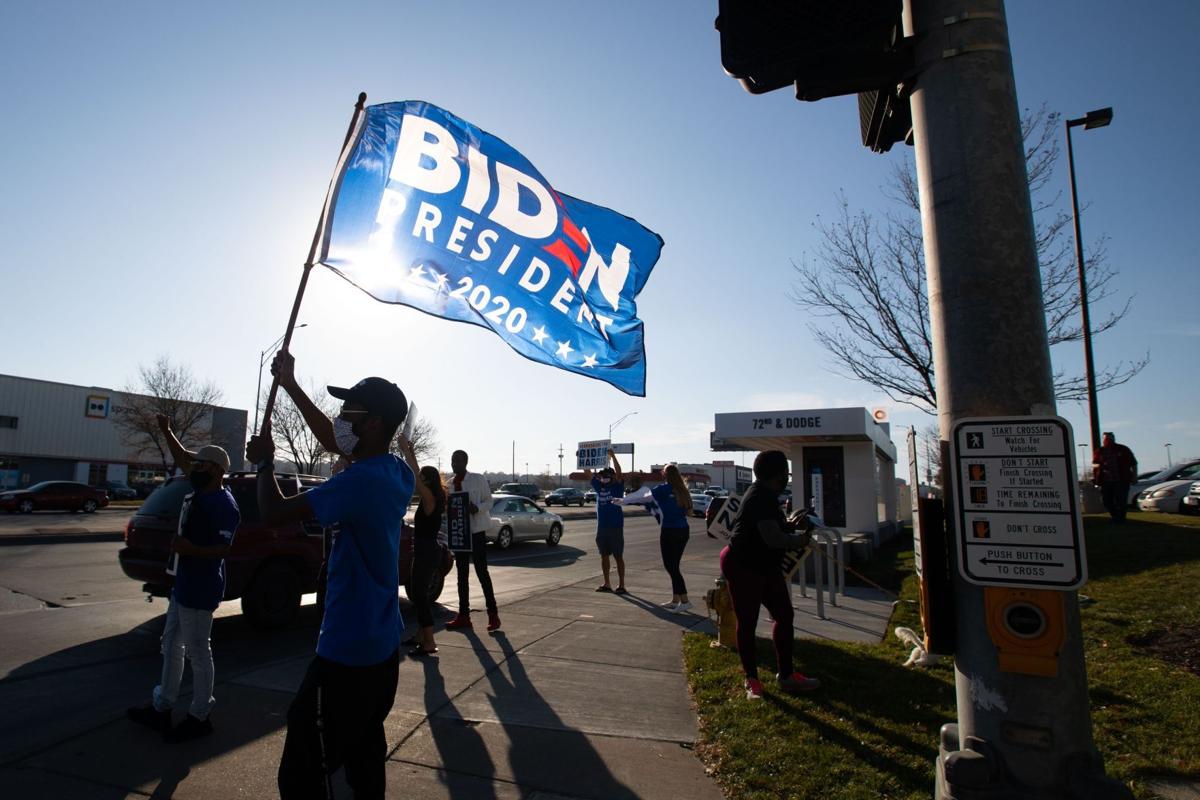 WASHINGTON — President-elect Joe Biden's supporters were jubilant Saturday, with Nebraska Democrats celebrating the part they played in sending him to the White House.
"Nebraskans can stand proud knowing we had a role in today's historic moment of Joe Biden and Kamala Harris hitting 270 electoral votes," state Democratic Party Chair Jane Kleeb said in a statement.
That's because Nebraska splits its electoral votes with one going to the winner of each district. Biden's win in the state's Omaha-based 2nd Congressional District, therefore, added one to his Electoral College vote total.
Kleeb said they intend to use the momentum of the "Jomaha Blue Dot" to rebuild relationships with the state's rural voters.
Precious McKesson is the 2nd District elector for Biden who will cast the vote for him on Dec. 14 in Lincoln.
"As a single mother and caregiver to my disabled brother, I am what everyday, hardworking Nebraskans look like," McKesson said. "I will walk proudly into the room to cast my ballot for Nebraskans who deserve better than what Trump and the Republican Party have given us these last four, very long, years."
Rep. Cindy Axne, D-Iowa, who just won her own fiercely contested reelection battle, welcomed the Biden win and said she looks forward to working with him.
"All across Iowa and our entire nation, millions of Americans cast their votes for Joe Biden and Kamala Harris to say that they are ready for new leadership and a new direction for our country," Axne said. "They cast a vote for serious leadership in the face of the greatest challenges we have faced in a generation, for unity and shared purpose, and for a restored respect and standing on the world stage."
Midlands Republicans were slower Saturday to issue their own statements about Biden's victory. They must contend with many of their party's base voters who have trouble believing they lost a fair election.
President Donald Trump's campaign is saying it will be going to court in the coming days with claims of electoral misconduct.
Nebraska's Republican Gov. Pete Ricketts took issue with news organizations calling the race.
"This election is not over until every legal vote is counted and the process is scrutinized by the courts," Ricketts said. "It is premature for some members of the media to declare a winner at this time."
Rep. Don Bacon, R-Neb., told The World-Herald on Saturday that the Trump campaign has every right to go to court but that he doesn't expect those claims to get far without compelling evidence.
Bacon said he hadn't seen such evidence of widespread fraud and that the "handwriting's on the wall" that Joe Biden is the winner.
"We don't want to de-legitimize the elections at all and so I ask the president to take a higher road on it," Bacon said. "Because in the end we've been doing these elections since 1788 and we don't want to pull apart at the seams. … I don't agree with a lot of Joe Biden's policies, but yet we honor the will of the voters when it's all said and done and we honor our Constitution."
Some other Midlands Republicans did not immediately respond to World-Herald requests for comment after Biden was declared the winner.
Bacon said he understands that many Trump supporters are angry right now. They feel — with some justification, Bacon said — that Democrats spent the past four years trying to de-legitimize Trump's election.
"I know they're angry, but I don't think the anger is healthy and I think we've got to raise the bar up," Bacon said. "We can't pull apart at the seams. I'd rather fight for my values and what I believe in, but we're going to have to do it through the checks and balances that we have, that our founders gave us."
Bacon just won his own tough reelection fight over Democratic challenger Kara Eastman in the state's 2nd Congressional District, where the same voters chose Biden over Trump.
Bacon said he will endeavor to find bipartisan areas of agreement with the incoming administration.
"I don't think our country wants gridlock," Bacon said. "So where we can find agreement I will do so while living within my promises and the values that I campaigned on."
---
 Nebraska on Election Day 2020