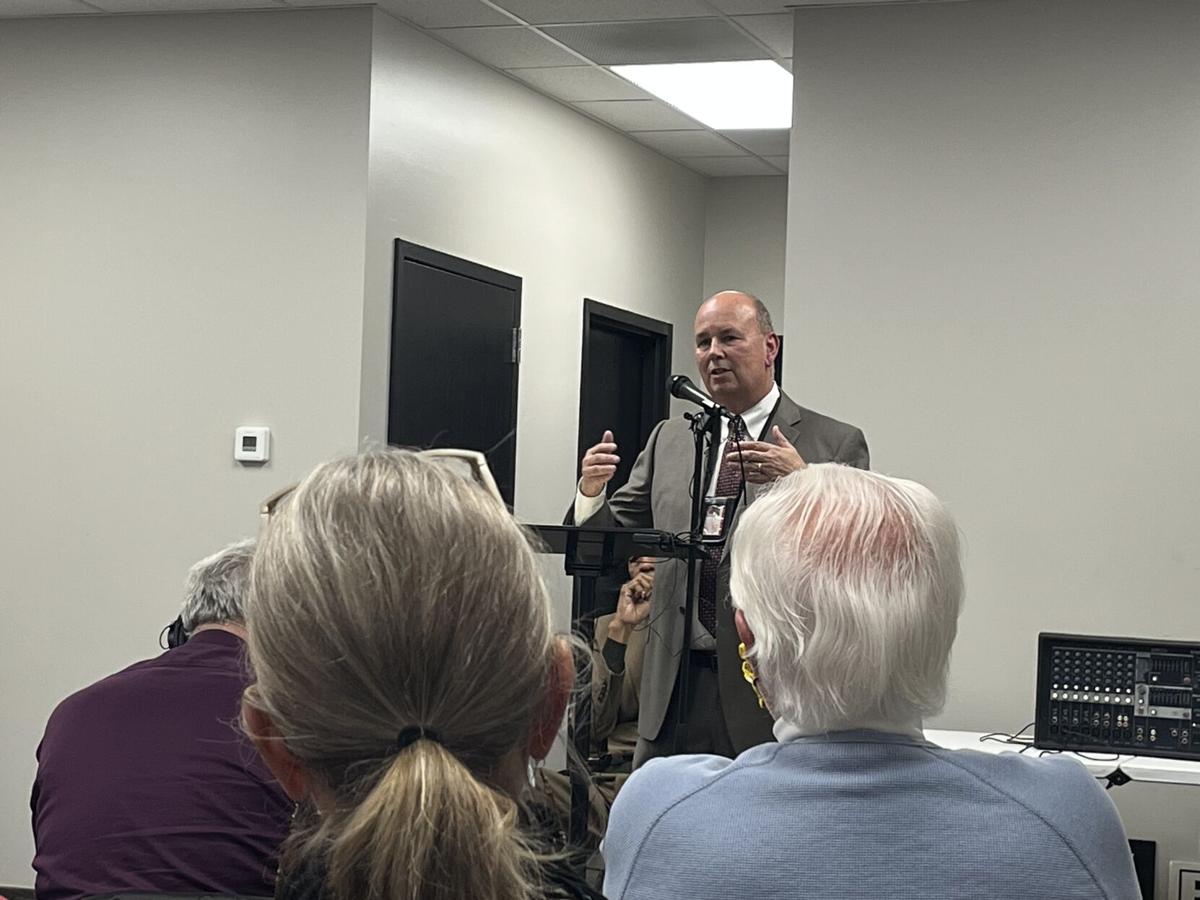 Nebraska's prison system faces immense challenges, but one of them, as demonstrated in a recent inspector general's report and testimony, appears to be at the root of many others: severe understaffing.
That point was made obvious again Tuesday, when Nebraska's top Corrections official addressed a standing-room-only town hall in North Omaha, fielding questions about the state's criminal justice system and current conditions for incarcerated Nebraskans. 
Scott Frakes, director of the Nebraska Department of Correctional Services, spoke briefly before taking attendees' questions for most of an hour, covering topics that spanned programming for inmates, costs of incarceration, staffing and an active proposal to build a new state prison.
"I've gotten to know Scott, and I trust his word," Preston Love Jr. said while introducing Frakes. "We don't agree on everything, but we talk straight about important issues."
The forum, hosted by Black Votes Matter and Spark, a community development organization, occurred at an inflection point for the state's prison system. 
Nebraska's prisons are among the most crowded in the nation, and the system faces a deepening staffing crisis. Frakes and Gov. Pete Ricketts have advocated for building a new prison with roughly 1,512 beds that was estimated, in 2020, to cost $230 million. The Legislature this year approved nearly $15 million for design and site selection but did not commit to building a new prison.
Meanwhile, a working group of public officials are in a months-long process of analyzing state data in an effort aimed at criminal justice reform. In response to a question Tuesday from State Sen. John McCollister of Omaha, Frakes said the working group's conversations have been "really good and robust."
Then there's the deepening staffing crisis: Last month, Frakes told state lawmakers that about a third of protective services positions — security and custody staff — were vacant.
Frakes started Tuesday by talking about roughly 100 jobs in Omaha he'd like to fill, and by addressing the current status of COVID-19 in state prisons. On the pandemic, he sounded encouraged, saying that it may be on the downhill of its fourth wave. At this point, he said, nine or 10 staff members are out with COVID-19, and the only inmates in quarantine are incarcerated people who've just come from county jails or who went to county jails for court issues. 
The latest numbers on the systems' website were updated Oct. 29 and show one known active case and 14 total deaths within the system. Corrections announced five deaths September through October of incarcerated people who had tested positive for the coronavirus.
Throughout Tuesday's forum, Frakes acknowledged the department's current challenges.
Multiple attendees expressed concern about whether people were getting adequate education and training while incarcerated.
Frakes said the department spends about $15 million a year on programming. There's programming for inmates to get their high school diploma and GED certificate, as well as vocational programming, he said, but not as much as he'd like. He said the current system wasn't built with programming in mind, and the staffing issue presents a challenge.
Annette Harris, who asked questions on behalf of her godson who's incarcerated, said he wanted to know why there's limited access to libraries and why educational programming stops at the opportunity for a high school diploma and GED certificate.
Frakes said the system has decent libraries, but — as it did often — the answer came back to staffing levels. 
Another attendee said she works for a nonprofit providing re-entry and programming, but that they're not able to provide a lot of those services, specifically noting difficulties at the prison in Tecumseh and the combined Lincoln Correctional Center and Diagnostic and Evaluation Center.
She also mentioned recent plumbing issues at the Nebraska State Penitentiary in Lincoln, which, according to Corrections, went without running water from 5:30 p.m. last Tuesday to about 2 a.m. Thursday.
"I would like to know: What are the ongoing efforts to get programming back in facilities, there all the time, as well as keep humane conditions such as water, which is commonly a problem?" the attendee asked.
Low staffing at those facilities, Frakes said, leads to less movement for inmates. And, at some point, it comes down to what the system is constitutionally mandated to provide.
The three largest prison complexes in the state, including the Tecumseh facility and combined Lincoln facility, are under staffing emergencies, prompting moves to two 12-hour shifts a day from three eight-hour shifts so that security posts can be filled with fewer employees. The Tecumseh prison and State Penitentiary in Lincoln have been under emergencies — originally pitched as temporary — for about two years. Staffing emergencies for the combined Lincoln Correctional Center and Diagnostic and Evaluation Center were announced this summer.
At Tecumseh and the combined Lincoln facility, Frakes said, staffing levels are at point where "if things are going well" they get 8 hours of time out of their cell those four days a week, and that time is used to check off the most mandatory needs — they get clinical treatment, he said, education programming and some other contracted services.
"I didn't come to Nebraska to help lead an agency to failure," Frakes said. "This is year 40 in this business, my heart and soul is dedicated to it, and I hate where we're at right now."
Striking a more positive note, Frakes mentioned a recent deal made with the Nebraska Association of Public Employees, which represents about 600 non-custody corrections employees, such as nurses and food service workers. Last month, a tentative deal was announced with the union that's slated to provide significant pay increases to those workers. Negotiations with the Fraternal Order of Police Lodge 88, which represents state corrections security staff, are ongoing.
Frakes said he hopes the raises will be part of what helps move department staffing in the right direction.
On crowding, Frakes said that the population had dipped from a state high of 5,675 to 5,250 during the pandemic, but was back up to 5,520 as of Tuesday morning and had hit 5,550 within the last week. The system was designed for 3,643 beds and has an operational capacity of 4,555 beds.
That's definitely concerning, he said, but he doesn't "control the inflow" and has "very little control on the outflow." Their role, he said, is to make sure people with parole-eligibility dates get access to what they need to be a good candidate for parole.
Even with the staffing crisis, Frakes said that responsibility is being met because, while programming is suffering, residential clinical treatment is what's used as a reason to deny parole.
Prison populations are elevated, Frakes said, and he fears "that it's just going to continue to eke its way up."
Harris asked, on behalf of State Sen. Terrell McKinney of Omaha, about the justification for a new prison.
Frakes said the State Penitentiary it would replace has pieces in the ground, such as the water system, that are at least 90 years old and challenging to fix — especially in an active, high-security prison. It would cost about $200 million to revamp and achieve about a 75% rehabilitation of the campus, he said. An independent group is doing a separate engineering study that should be done in the next few months and produce more data. 
"I'm not looking to build a new prison to add more prison beds, to put more people in prison," he said.
Not all attendees were satisfied with Frakes' answers. Virginia Smith, who was compelled to come because of her son's experience in the juvenile justice system, was among them.
She told Frakes it sounded like there aren't preventative measures being taken, and that the population is expected to keep growing. She spoke about how children don't get the resources they need in the educational system, then end up in the juvenile justice system, then age out into the prison system. The systems need to work together, she said, arguing that a new prison to hold more people isn't the solution.
Frakes reiterated that he wasn't trying to build a new prison to imprison more people and that those community issues need to be addressed along with each piece of the system. But, he said, he has to be "selfish" to address the needs of his department and do the work that's expected of them.
"I don't feel like I was heard," Smith told The World-Herald. "Because, at the end of the day, I don't think that him and his parties are going to go to these other systems and work together to find some type of cohesiveness."
She noted that he called prisons a "business."
"It's not a business, this is a system," Smith said. "But you just pretty much said it's a business -- and that's how we feel, we feel as if prison is a business."
At the end of his time in front of the crowd, Frakes stuck around to answer more questions. He told The World-Herald that he was happy with how the event went.
"A lot of the people I serve come from this community — I need to know this community, and they need to know me," he said.
Love said he thought the town hall had just scratched the surface, and there are areas to follow up on.
"We had a full house of community, and we had an honest, spirited — in some cases, emotional — dialog," he said. "What greater service can you do in a community but provide a forum for people to ask questions to someone who's important and to give input on serious subjects? Let the person hear the community, and vice versa."
Nebraska's 10 state prisons from least to most crowded
10. Nebraska Correctional Youth Facility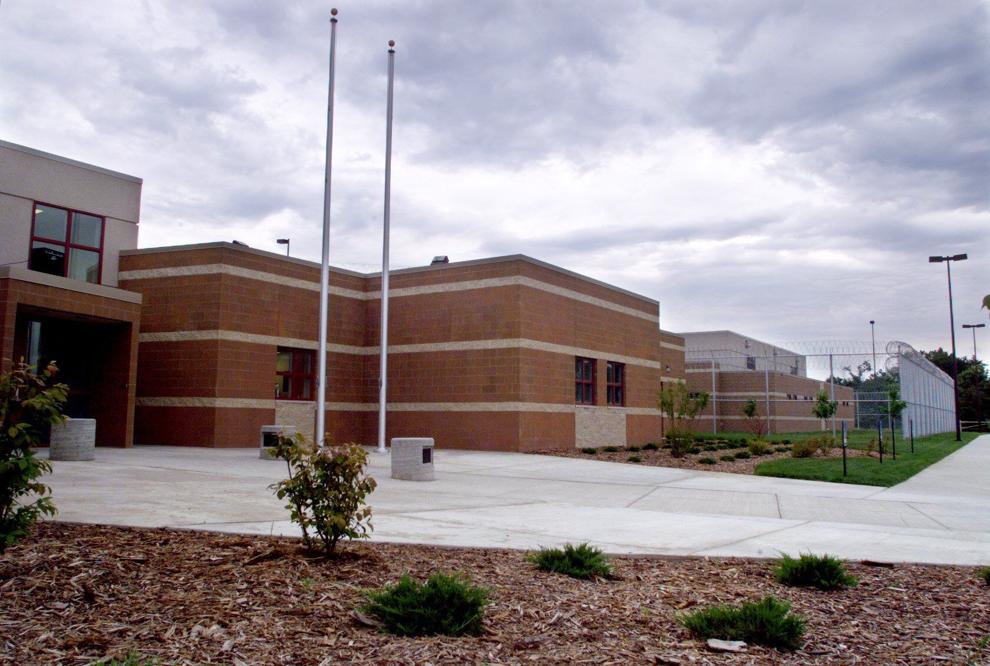 9. Nebraska Correctional Center for Women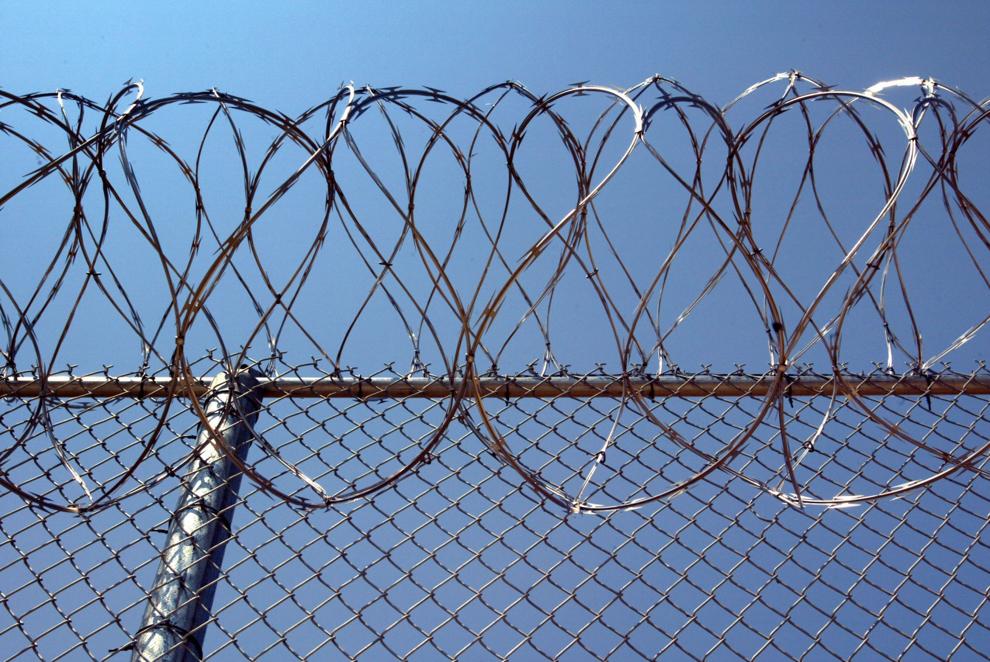 8. Tecumseh State Correctional Institution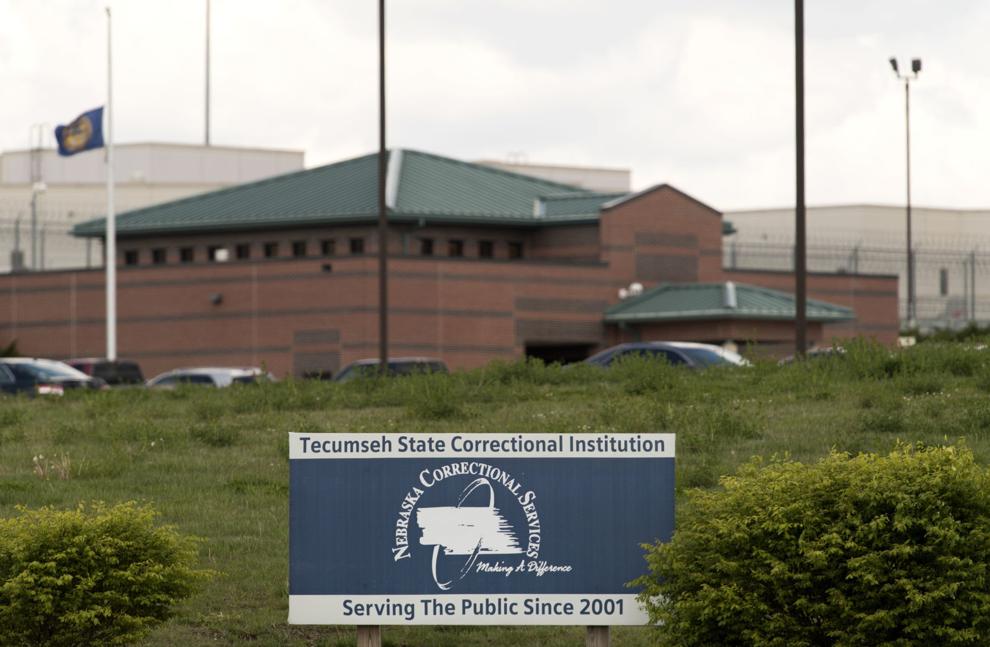 7. Community Corrections Center-Lincoln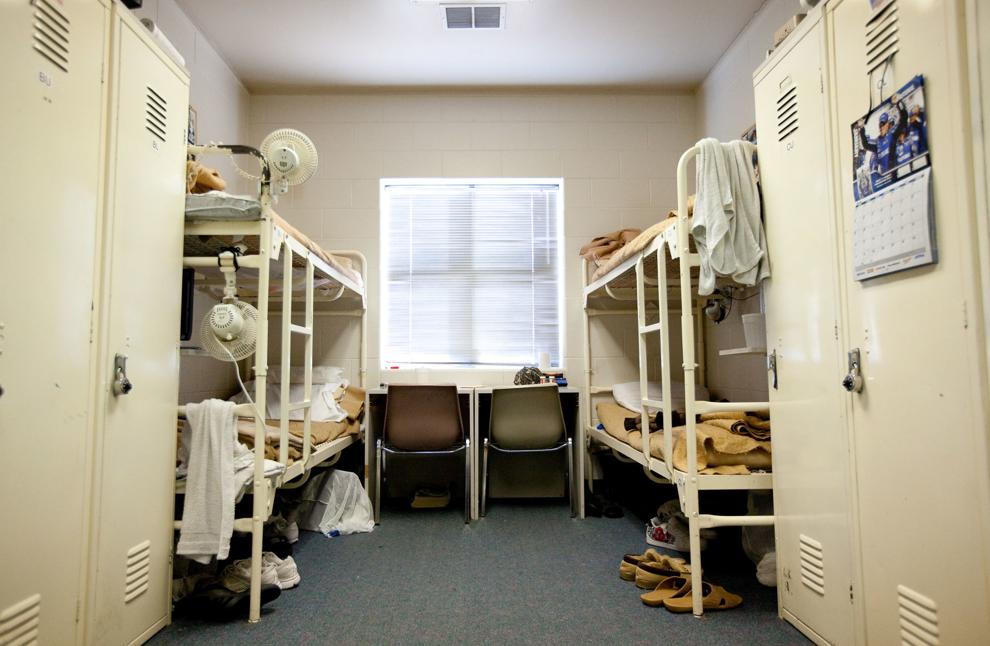 6. Nebraska State Penitentiary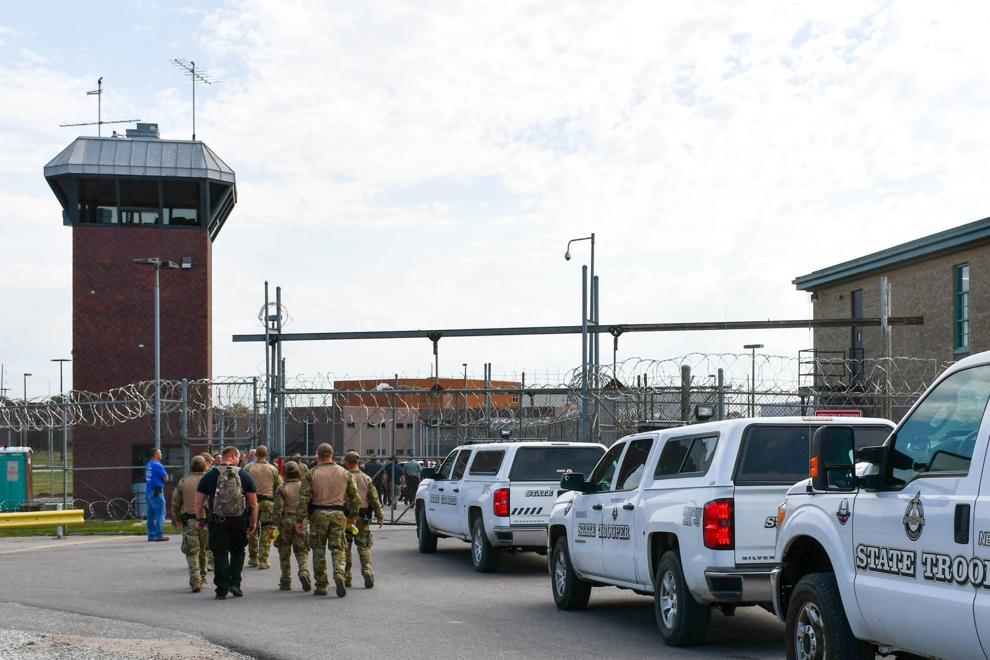 5. Lincoln Correctional Center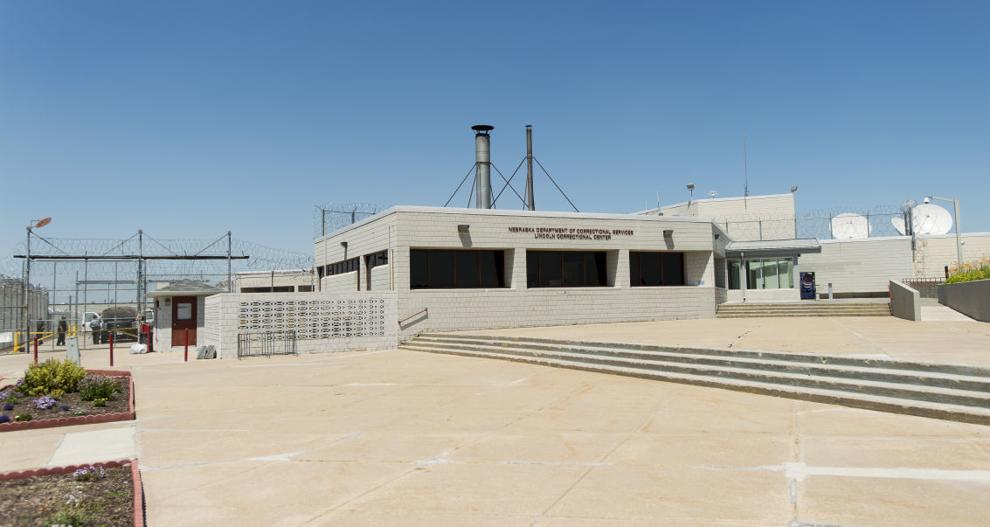 4. Work Ethic Camp
3. Community Corrections Center-Omaha
2. Omaha Correctional Center
1. Diagnostic and Evaluation Center