The Nebraska Department of Motor Vehicles on Wednesday unveiled a new design for driver's licenses and ID cards.
"This is an exciting day, which marks the culmination of a lot of collaboration and teamwork to better serve Nebraskans," DMV Director Rhonda Lahm said at a press conference.
The design will appear on cards issued starting next week, according to the DMV, but cards with the current design will still be valid until their expiration dates. The process to renew a license online or in person will stay the same.
Lahm said this is the first significant design upgrade since 2009.
About every 10 to 15 years, officials start to see people trying to counterfeit the cards, and they get closer and closer in resemblance to the real thing, according to Lahm.
"As we see that starting to happen, that tells us we need to change security features and upgrade them to make that counterfeiting difficult, so that we can prevent the fraud and secure people's identity," Lahm said.
The new cards feature Nebraska landmarks and symbols that include Courthouse and Jail Rocks, the Lincoln skyline and sandhill cranes. Its design is meant to incorporate elements of eastern, central and western Nebraska; urban and rural areas; and natural and manmade landmarks.
The laminate includes images of a windmill and hay bales, which Lahm said are meant to symbolize the state's agricultural roots.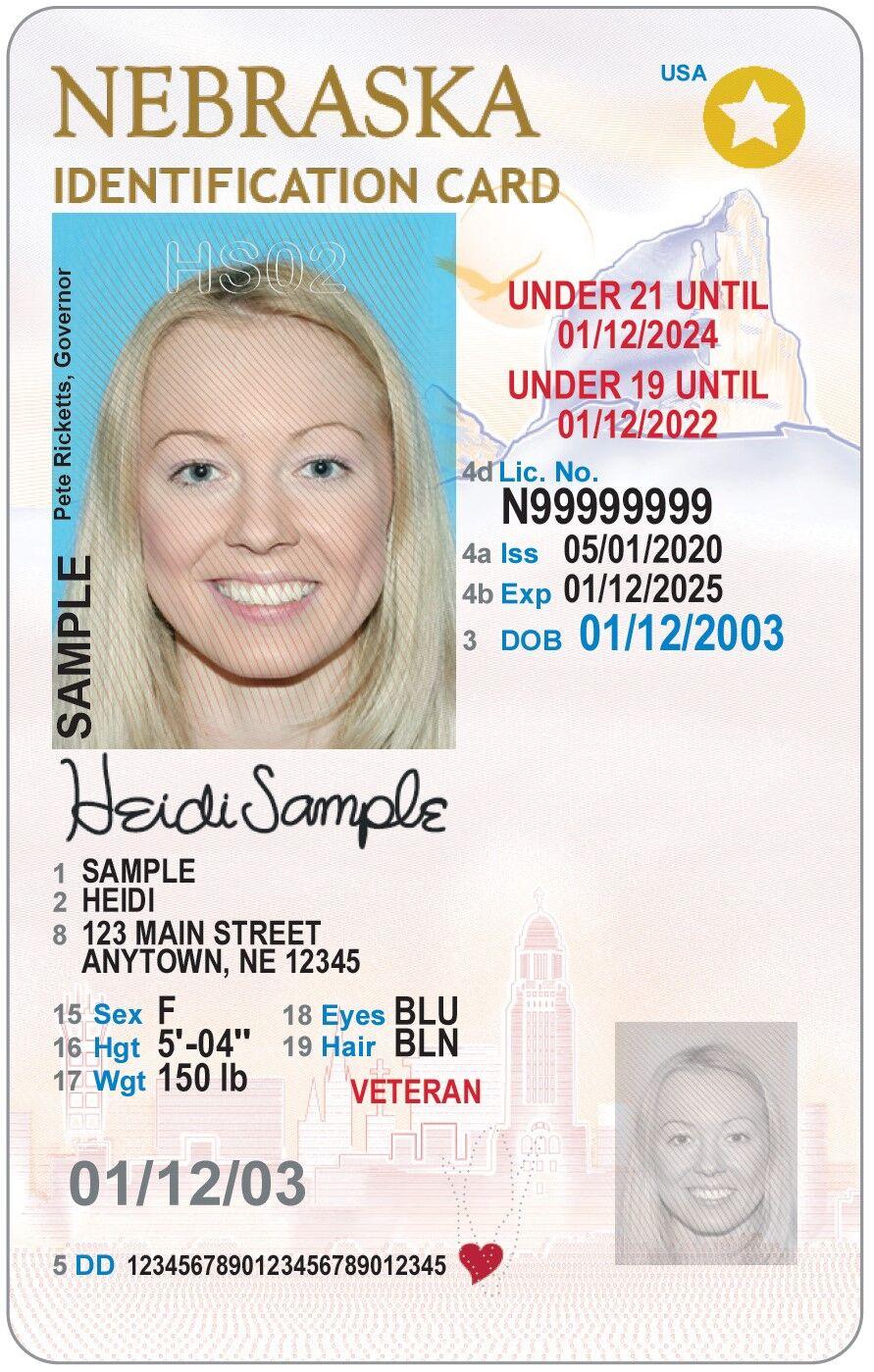 "These design elements were chosen not only for aesthetics, but more importantly because they could integrate the required security features," Lahm said.
According to an informational brochure about the new cards, the design incorporates "nearly double the fraud protection measures" compared with the current design. Those measures include "redundant data, ultraviolet (UV) ink, laser engraving and optically variable features."
The process to launch new documents started 10 to 15 years ago, according to Sara O'Rourke, administrator of the Driver Licensing Services division. The vendor Idemia was chosen to produce the cards through a bidding process.
Idemia and the DMV collaborated to choose the design and install appropriate software and hardware, according to O'Rourke.
The project was bid as a "cost per card" project, Lahm said, meaning a fee for each card issued will go to Idemia. For the new cards, that fee will be $5.60 per card. The previous card fee was $4.87.
"The cost of the card will be paid by the DMV," Lahm said in an email. "The statutory set fee for the documents will not change, so the customer will pay no different fees than they currently are paying."
The current cost of a five-year license is $24 plus a $4.50 surcharge, according to DMV spokesman Nick Gebhart.
As with Nebraska's current IDs, the new cards will be REAL ID-compliant. Starting May 3, 2023, U.S. travelers will need REAL-ID compliant documents to board commercial aircraft or visit federal facilities.
"The top priority in design of the license is the ability to incorporate security features to reduce potential fraud and to protect the personal information and identity of Nebraskans," Lahm said. "These cards will meet that need."
---