LINCOLN — The Nebraska Environmental Trust Board accepted the resignation of the Trust's longtime director Wednesday, and moved to adopt steps recommended in a recent state audit.
The board, which hands out $20 million a year in state lottery funds for wildlife habitat, recycling and groundwater improvement projects, has been under fire in recent months for defunding some conservation projects to redirect grant funds to purchase ethanol blender pumps.
Some conservation groups, including the recently formed Friends of the Environmental Trust organization, have complained that the Trust's focus has veered from its original mission of funding environmental projects that otherwise wouldn't have been funded, to promoting agriculture and economic development.
The Trust, since 1992, has awarded $349 million in grants to more than 2,400 projects across the state. The grants focus on five areas: surface water and groundwater, soil management, air quality, wildlife habitat and waste management/recycling.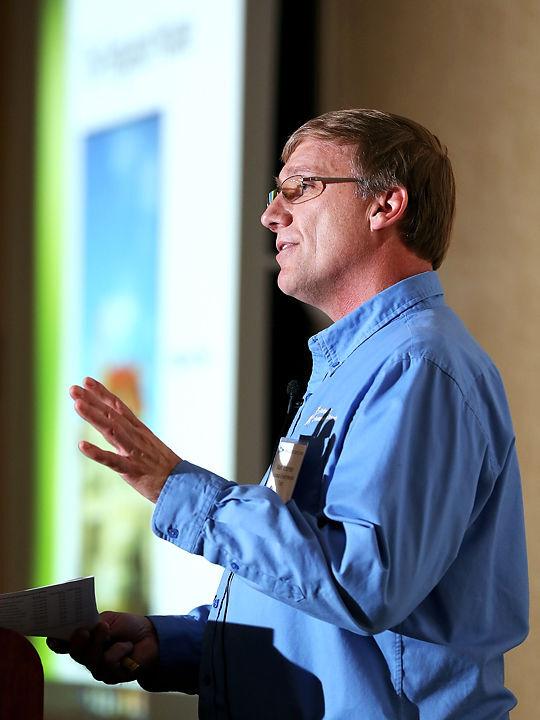 Mark Brohman, who has directed the Trust since 2006, declined to comment on his reasons for resigning. Two members of the Trust Board, Mark Quandahl of Omaha and Jeff Kanger of Lincoln, declined to comment on whether Brohman was forced to resign.
The Environmental Trust Board, in recent years, has switched from supporting conservation easements — used to preserve private land — to opposing them. That reflects criticism of such easements by Gov. Pete Ricketts, who appoints the nine citizen members of the 14-member Trust Board, and appoints three of the five state agency directors who round out the panel.
Ricketts recently declined to reappoint one Trust Board member, Gerry Lauritzen of Omaha, because she supported conservation easements.
Such easements allow a private landowner to sell or donate the rights to develop their land in exchange for preserving it. An easement can impact taxes because it limits what a property owner can do with the land, which may reduce what a buyer is willing to pay for it, thereby decreasing the taxable value. That fact upsets some agricultural interests.
Meanwhile, conservation easements aim to preserve landscapes and allow someone to continue farming or ranching in an area where land is being converted to housing.
Brohman was generally viewed as being misaligned with the new direction of the board, but was praised at Wednesday's meeting by a representative of Ducks Unlimited, a national nonprofit that advocates for wetlands and waterfowl conservation, for helping him navigate the complicated grant application process.
Brohman's resignation takes effect in 80 days or when a new executive director is hired, whichever happens first.
The president of the Friends of the Environmental Trust group, former State Sen. Sandy Scofield of Chadron, said there's concern that a new director will be beholden to a special interest group and "won't put the mission of the Trust first."
Scofield, who served as chief of staff for Gov. Ben Nelson when the Environmental Trust was created in 1992, said she also didn't understand the board's opposition to conservation easements.
"As a private property owner, it's my business if I want to establish a conservation easement," she said.
Quandahl, a former state senator who was appointed by Ricketts to the Trust Board after resigning as director of the Nebraska Department of Banking and Finance, said that a resolution adopted by the board on Wednesday that reaffirms the Trust's commitment to its mission should satisfy some critics.
W. Don Nelson of Lincoln, a former chief of staff under Gov. Bob Kerrey, and a Maryland man had sued the Environmental Trust Board 11 months ago after it decided to defund a handful of grants for wetland restoration and a conservation easement and shift the money to ethanol plants. Just recently, the request for funds for the ethanol pumps was withdrawn, removing the main issue in the lawsuit.
In other action Wednesday, the Trust Board approved two steps recommended in a recent state audit: transferring $700,000 from an endowment fund to another Trust fund and reaffirming its five priorities for grant money.
The board, on a 10-2 vote (two members were absent), also approved ending any public tours or events at the historic Ferguson House, where the Environmental Trust's offices are located.
Supporters said that renting the historic mansion for wedding receptions, events and meetings detracted from the mission of the Environmental Trust. But Brohman said he'd never complained about the time he devoted, during a 45- to 50-hour work week, to give an occasional tour or supervise a rental.
The Ferguson House, a 110-year-old mansion, was built by William Henry Ferguson, who has been called "the Warren Buffett of his day" because of his successful business interests. Trust offices are located on the second floor.
Some board members have discussed moving the Trust out of the mansion, but information from the Nebraska Department of Administrative Services indicated that the state had no space for the Trust at this time and that it would cost between $48,000 and $64,000 a year to rent private office space.
The current cost of using the Ferguson House was about $7,700 a year, according to the DAS. That expense falls to $192 after factoring in the $7,500 the Trust receives in rent from Problem Gamblers, an agency that deals with compulsive gamblers.
---