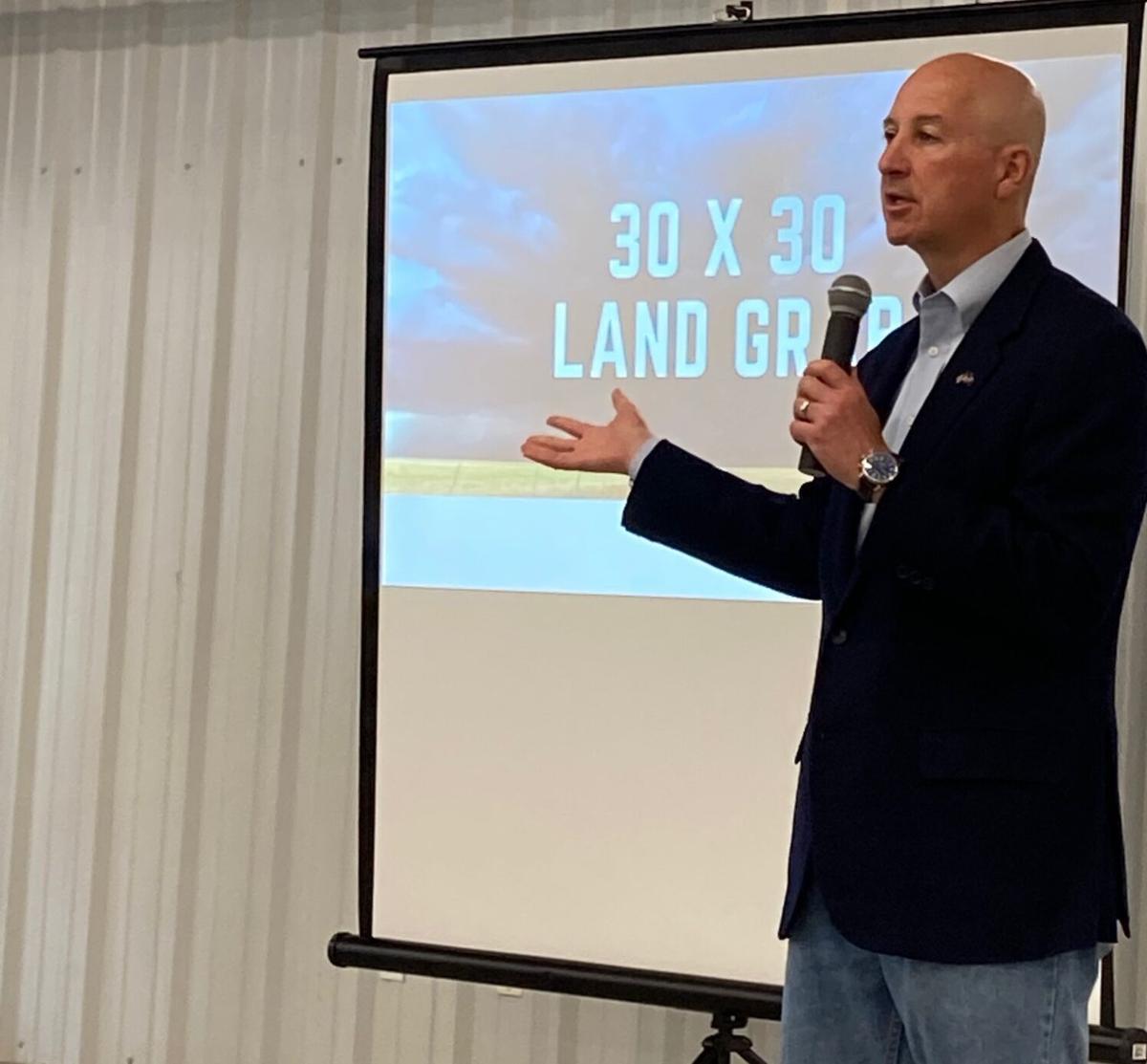 CLAY CENTER, Neb. — Farmers in seed corn hats and blue jeans crowded into a metal building at the Clay County Fairgrounds last week to hear Gov. Pete Ricketts decry what he says is the latest attempt at federal overreach.
The words "30x30 Land Grab" were projected in big letters behind the conservative Republican governor as he slammed President Joe Biden's plan to preserve 30% of the nation's land and water by 2030 as part of Biden's "radical climate agenda."
"This fight is now in our own backyard," Ricketts told the crowd of more than 200 people. "We are on the front lines. We are in the trenches."
Nebraska has become ground zero for opposition to the 30-by-30 plan, with nearly two dozen counties — the most in one state — adopting resolutions to block the plan. Last month, Ricketts launched a series of town hall meetings to foment opposition.
The governor, as well as advocates for private property rights, are suspicious of the plan, saying it lacks detail in how to preserve an area twice as large as Texas within a decade. Last month, a federal report outlined six broad suggestions for the 30-by-30 initiative, such as establishing parks in "nature-deprived communities." But even that report said the recommendations were a "starting point" for additional conversation and refinement.
That Nebraska has become the center of the storm over the initiative has perplexed some supporters who claim opponents haven't read the plan. Those supporters claim the furor is mostly about pumping up Ricketts' conservative political credentials.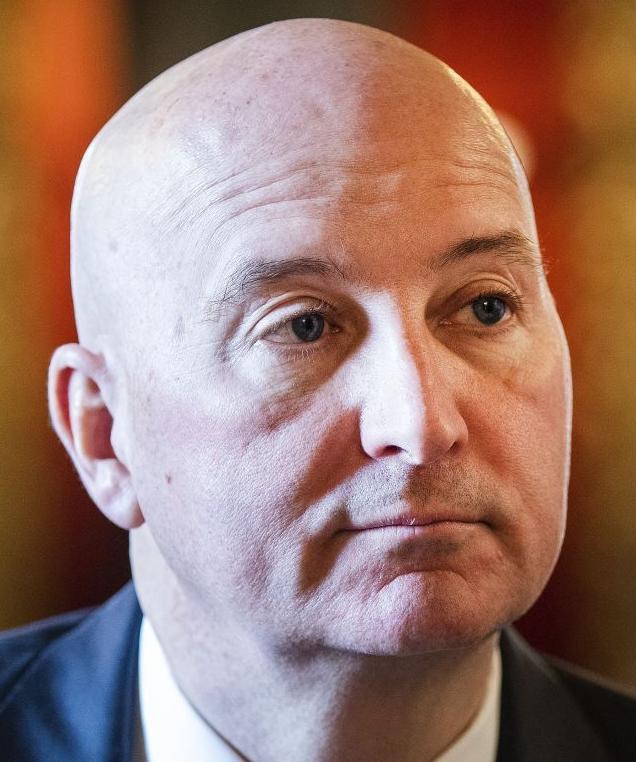 But Ricketts insists this is about bad policy, and told farmers and ranchers to be wary of new attempts by the federal government to tell them how to manage their land. He urged them to watch out for attempts to put more property into permanent conservation easements, to read "the fine print" in land set-aside contracts with the federal government, and to be on the lookout for new efforts to buy more land near existing parks and refuges.
In a state where 97% of all property is now in private hands, placing 30% in federal control would be a massive change, and would shift the property tax load onto private landowners, Ricketts said.
Some nodded in agreement. One man questioned whether the federal government would resort to using eminent domain to seize private lands.
While Ricketts said he doubted if condemnation could be used, he didn't reject that Washington, D.C., wanted more control over their farming and ranching operations, and would be seeking property in quiet, "under the radar" ways.
"When the (U.S.) Agriculture Secretary (Tom Vilsack) says it's not a land grab, then you know it is a land grab," the governor said.
But federal officials and conservationists, as well as a law professor at the University of Nebraska, said no one's mounting a takeover of private farms and ranches.
"It's a massive disinformation campaign," said George R. Cunningham, a former university professor who is chair of the Omaha-based Missouri Valley chapter of the Sierra Club.
A spokesman for the U.S. Department of Agriculture said the 30-by-30 plan is an effort to use and expand existing voluntary programs to aid conservation, as well as expand hunting and fishing opportunities and add parks in underserved, low-income areas.
It's about clean water, clean air, fighting climate change and preventing the extinction of 12,000 threatened species, Biden has proclaimed.
Vilsack, a former Iowa governor and now U.S. secretary of agriculture, recently suggested that opponents to the plan hadn't read what it really does.
"The 30x30 initiative is not a 'land grab,'" said USDA spokeswoman Kate Waters. "Protecting private property rights and supporting the voluntary stewardship efforts of private landowners are at the core of the 30x30 initiative."
Anthony Schutz, a university professor who specializes in agricultural law at the Nebraska College of Law, said there's "no history" of the federal government telling farmers and ranchers what to do with their land, except through voluntary programs in which landowners are paid to idle land to prevent erosion or preserve wildlife habitat.
He cited the long-running Conservation Reserve Program (CRP) — to which Biden has already devoted more funding as part of the 30-by-30 goal — as an example: A farmer agrees to idle some land, and plant and maintain grasses that serve as habitat for pheasants and other wildlife. In exchange, the landowner receives government payments somewhat equivalent to what might be generated by renting it for crops.
Schutz said there's even a "reverse auction" in which the USDA approves only those properties that bring the most benefits.
"It appears that the governor's reaction is more political than expressing a legitimate concern about the likely direction of the Biden administration," Schutz added.
Thursday's "Stop 30x30" town hall meeting in Clay Center — one of five organized in rural towns recently — was just the latest in Ricketts' campaign against the initiative.
The 30-by-30 plan grew out of a longtime goal of conservation and environmental groups to preserve more land and water to address climate change. The Center for American progress, a left-leaning think tank that has backed the 30% goal, estimated in 2019 that about 12% of the nation's land and 26% of its waters are currently protected.
Biden signed an executive order in January launching the initiative as part of his effort to elevate attention to climate issues.
In April, Ricketts responded by getting 14 other governors to join in submitting a letter, warning that the 30-by-30 plan could violate private property rights, and hurt the economies of rural states by taking land out of production. Nebraska Attorney General Doug Peterson and the attorney general of Kansas issued their own letter of concern. Nebraska's largest farm group, the Farm Bureau, also expressed worry, calling for giving farm groups a voice in the plan.
Like a wildfire pushed by 30 mph winds, the issue has swept across Nebraska, prompting at least 23 rural counties to pass resolutions opposing the 30-by-30 plan. U.S. Reps. Adrian Smith and Don Bacon, both Republicans, have signed onto a House proposal to kill the plan, and U.S. Sens. Deb Fischer and Ben Sasse are backing a Senate bill to do the same.
Ricketts, who will leave office in 18 months due to term limits, rejected the idea that his anti-Biden rhetoric was about pumping up his national profile in an attempt, some say, to position himself as a possible presidential candidate.
"These are just bad policies. That's why we've stepped up our program against them," he said "What happens down the road, I don't know. But I'll tell you, today, these are bad policies."
There's enough distrust that swirls through the 30-by-30 debate, on both sides, to fill a political science dissertation on today's political divide.
"I don't trust the federal government at all," said L. Wayne Johnson, the chairman of the Clay County Board — one of the county boards to pass a resolution opposing 30-by-30 — after Ricketts' rally at Clay Center.
Ricketts said he's asked for more details of the 30-by-30 plans and hasn't received them. He told those attending the Clay Center rally that a rancher in Nebraska's Panhandle was recently surprised to learn that his new CRP contract included a clause to protect habitat for the swift fox, a state threatened species. But the USDA couldn't tell the rancher what he had to do, which the governor said would allow the feds to come in later with enforcement measures.
(Waters, the USDA spokeswoman, said the clause was nothing new, and that federal agencies are required to protect habitat of endangered and threatened species.)
Ricketts said he was also concerned that Biden rescinded a Trump administration policy that allowed local counties and states veto power over proposed purchases of new park or wildlife land using the federal Land and Water Conservation Fund.
But Cunningham, the Sierra Club official, said there was nothing nefarious about ending the veto authority, which was an administrative act that had been in effect for only a couple months.
Advocates of 30-by-30 have their own concerns. They warn that the main group opposing initiative, the Texas-based American Stewards of Liberty, has links to the anti-government, Sagebrush Rebellion of the 1970s and 1980s, in which some ranchers defied rules for grazing on federal lands.
Wayne Hage's daughter, Margaret Byfield, is the executive director of the American Stewards of Liberty. Wayne Hage was engaged in a long-running legal battle over water rights with the feds, who ultimately confiscated 100 of his cattle, claiming he was overgrazing the federal range near his Nevada ranch.
Byfield, who says the government tried to run her parents out of business, has been the featured speaker at a series of anti-30-by-30 forums with farm and ranch groups across the country in recent months. A "guide to fight" the initiative, produced by American Stewards of Liberty, was passed out to those attending the governor's "Stop 30x30" rallies.
At the Clay Center event, Carl Wolfe, a former biologist with the Nebraska Game and Parks Commission, told Ricketts that he was being "less than candid" for not telling people about the "right-wing" group that was providing the anti-30-by-30 guides, and its "genesis" in the Sagebrush Rebellion and Cliven Bundy, a western rancher who had an armed standoff with federal authorities in 2014 over nonpayment of grazing fees.
Byfield, in an email, said that Stewards of Liberty rejects breaking the law as a tactic, and has never been associated with Bundy. Her father, she said, complied with the law, but challenged it in court.
Ricketts, at the Clay Center event, said all of his comments were "factual."
"A lot of people call me right wing, just so you know," he said.
The hall erupted in applause.
---