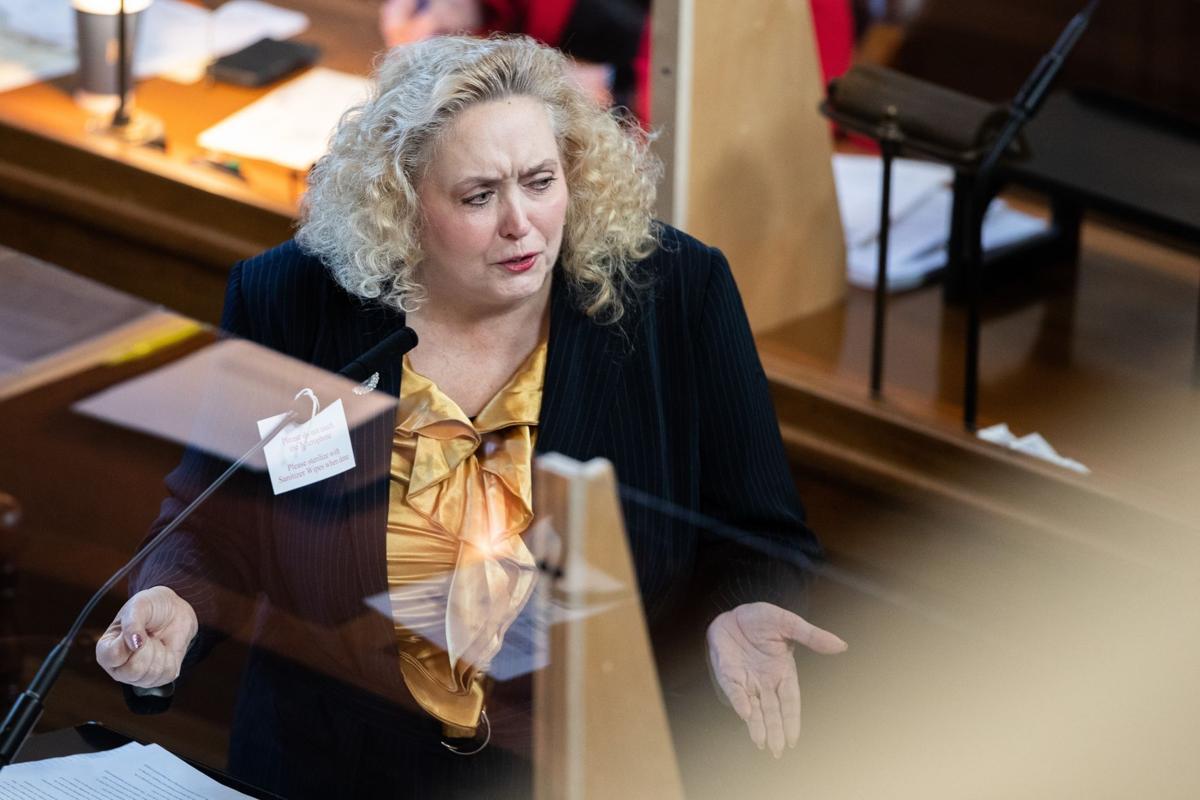 LINCOLN — A state senator expressed frustration Thursday about why a legislative committee has refused to advance a bill concerning transparency of "dark money" expenditures on political campaigns.
"I want to know what you guys are scared of, why you can't put this out on the floor," State Sen. Carol Blood of Bellevue told the Government, Military and Veterans Affairs Committee.
"I'm tired of the same old sick, sad excuses. It's time to man up, and I don't mean to sound sexist, but it's time to do something," she said.
The senator is sponsoring a proposal that would require independent groups that send campaign-related mailers or buy advertisements within 30 days of an election to report who they are, how much they've spent and in what campaigns they've spent money. It would also require reporting of anyone who has contributed more than $250 to such electioneering.
The measure is similar to others introduced in past legislative sessions that have died in committee without being advanced and debated by the full Legislature.
Blood and other advocates of Legislative Bill 8 said that such independent groups often get around campaign reporting requirements by maintaining that their mailers are "educational" in nature and by not specifically requesting a vote for or against a candidate or ballot issue, or mentioning that an election is near.
She said independent groups like Trees of Liberty and the Alliance for Taxpayers are "hit-and-run groups" that suddenly show up in Nebraska and start distributing campaign ads that are often negative or half-truths without the public knowing who they are or who financially backs them.
Blood said LB 8 was not a partisan issue because both Republicans and Democrats use dark money hits to influence voters. Polling, she said, consistently shows that voters of both parties want to know "who is putting out that garbage."
But two senators on the committee expressed skepticism about the bill.
Sen. John Lowe of Kearney said that entities could just form new "shell corporations" to hide their involvement. Sen. Steve Halloran of Hastings questioned whether LB 8 would put any dent in negative and dirty campaigning and said he doubted that people would look up the information if it was made available.
The ACLU of Nebraska also opposed the bill, saying it would infringe on free speech rights by, among other things, allowing fines if a group didn't report its expenditures within 48 hours, as required by the bill.
Blood said that the 48-hour reporting of last-minute contributions is already required of political candidates and that while her bill isn't perfect, it would be a good first step toward increased transparency.
Blood cited the 2016 legislative elections, when three incumbent Republican lawmakers were targeted by a dark money group. Among those targeted was Sen. Les Seiler of Hastings, who was defeated by Halloran.
She said that at least 21 other states have reporting requirements for independent expenditures, including Colorado, Missouri and South Dakota. Frank Daley of the Nebraska Accountability and Disclosure Commission said LB 8 would bring Nebraska in line with federal reporting laws and Supreme Court rulings on the regulation political speech.
Blood said she wasn't pushing for a debate on LB 8 this year, but she will next year.
---
Meet the Nebraska state senators