LINCOLN — The defense attorney representing U.S. Rep. Jeff Fortenberry came out swinging Wednesday during the congressman's initial court hearing over allegations that he misled and obstructed a federal investigation into illegal campaign contributions.
John Littrell, a lawyer based in San Clemente, California, told a federal judge that he will soon file motions to dismiss the charges against Fortenberry and to quash any statements the congressman made to federal investigators because "he was misled."
Fortenberry, who has represented Nebraska's 1st District since 2005, is charged with three felonies stemming from statements he made to federal investigators probing illegal "conduit" contributions made by a Nigerian billionaire to his 2016 reelection campaign. He pleaded not guilty to the charges Wednesday.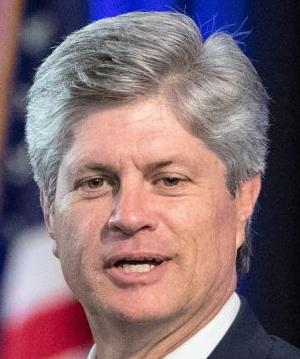 Knowingly deceiving federal agents is punishable by up to five years in prison on each charge. Fortenberry, 60, and his wife have said the allegations are false, and that he is being "betrayed" for fully cooperating with an FBI probe that included two interviews with Fortenberry in 2019.
During a half-hour-long arraignment hearing before U.S. District Magistrate Rozella Oliver, Fortenberry's defense attorney said the congressman wasn't being accused of knowing, in 2016, that $30,200 in contributions to his campaign at an L.A. fundraiser had originated from a foreigner, which is illegal. Rather, Fortenberry was charged because he "should have known" they were illegal because of a telephone conversation in 2018 in which he had been informed that the donations likely originated from Gilbert Chagoury, a Nigerian billionaire interested in Middle East policy.
Littrell said that federal investigators had employed an informant in the 2018 phone call to tell Fortenberry that the contributions in 2016 probably originated with Chagoury and were illegal. Chagoury, investigators said, gave $30,200 in cash to an associate based in Washington, D.C., for distribution to an organizer of the fundraiser at an L.A. restaurant. The donations ultimately were given by a group of people.
"He wasn't able to remember all the details of that call," Littrell said of Fortenberry during Wednesday's court hearing. "As a result, we have a federal felony case."
Mack Jenkins, the lead federal prosecutor in the case, told the judge that Fortenberry had violated his oath of office "in a particularly disturbing way" by obstructing the federal investigation.
The congressman, Jenkins said, "lied and misled repeatedly" federal investigators probing the contributions that originated with Chagoury, who lives in Paris.
The prosecutor argued that Fortenberry should be ordered to submit to pretrial supervision because "he may again seek to defend his own interest and political survival."
Whether Fortenberry, who is up for reelection in 2022, can withstand a federal indictment politically was a question that continued to swirl in political circles on Wednesday. There's already been speculation among Republicans about who might challenge the congressman from Lincoln.
His attorney, Littrell, said Wednesday that he will soon be filing motions to dismiss Jenkins from prosecuting the case because he will be a witness to statements made by Fortenberry. Another motion, the defense attorney said, will be filed to dismiss the California indictment for lack of jurisdiction because the alleged offenses involved meetings with federal investigators in Lincoln and Washington, D.C., in 2019.
The indictment alleges that Fortenberry eventually learned in a 2018 phone call that the donations originated with Chagoury, and then didn't share that with federal investigators and failed to amend his federal political contribution report. It also claims that Fortenberry, despite knowing the 2016 contributions were illegal, sought to line up a second fundraiser with the same California group.
Fortenberry, who appeared via video link at the hearing, gave short answers to questions posed by the judge. Judge Oliver declined the prosecution's request that he be formally supervised prior to his trial, but the judge did order Fortenberry to have no contact with potential witnesses in the case, and to post a $50,000 unsecured bond.
The judge set a Dec. 14 trial date for Fortenberry before U.S. District Judge Stanley Blumenfeld Jr., who was appointed to the post by then-President Donald Trump in 2020. It is unlikely that a trial would proceed then, however, if motions are filed to dismiss the charges and the prosecutor.
Also on Wednesday, Fortenberry submitted a letter to the Speaker of the House, Nancy Pelosi, asking to temporarily step down from all committee assignments while he deals with "the injustice confronting me."
In addition, Trump weighed in on the case, posting a statement saying it was "terrible" that Fortenberry got indicted for "possibly telling some lies" when half of the Congress "lied about made up scams" involving him and Russia and Ukraine.
This story has been updated to correct the trial date for Fortenberry. The trial is scheduled for Dec. 14, not Nov. 14. 
---